Explore Page, Arizona! Page has become one of our favorite places in America. You've all seen the iconic photos of the famous Antelope Canyon and Horseshoe Bend in doctors' waiting rooms. We had to go!
To explore how to take this backroads vacation, we started booking tours in Page, Az in January prior to our late April arrival. Photography tours of the famous canyons-just think!!! See our tour recommendations for Page, Az.
Antelope Canyon photo tours were already sold out. But not to worry! We found some other canyons to explore by researching online and voila! Horseshoe Bend Canyon and Antelope Canyon X became targets along with the iconic Horseshoe Bend in Page, Arizona.
HORSESHOE BEND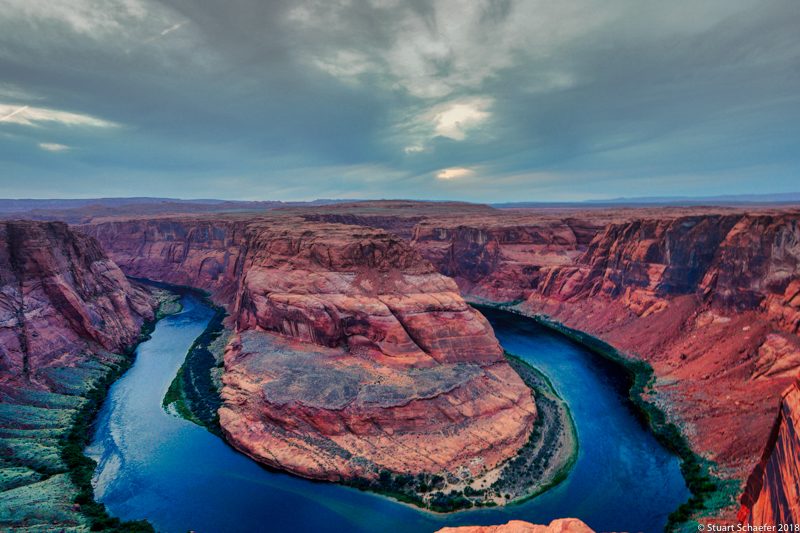 You HAVE to see Horseshoe Bend to believe it! Our first night in Page, we slogged up and down the hills on the National Park side of the Horseshoe Bend Overlook to take in sunset. We found the rim crowded even in off-season. There was a wind advisory and our skin got sandblasted as we took in the unforgettable view until the sun went down.
Wind can impact your balance and feels brutal
Free advice-if there is any wind when you go, take a kerchief to wear around your face and mouth. And wear walking/hiking shoes! The Park Service is building a railing at the Overlook but it isn't in place yet.
Truthfully, little kids running around really worried us-the rim area is no joke and sandstone is very soft and can easily give way.  Folks leaning over the edge for selfies made my hands sweat!  The next day we were told that someone was lost over the side two weeks ago. Stu and I weren't as concerned about the lack of a railing than the possibility that someone in the crowd could bump one of us while we were focused on getting a photo and whoosh! We'd be gone.
That evening we walked back to the car with a full butter moon overhead. It was so quiet. We will never forget this experience of a lifetime!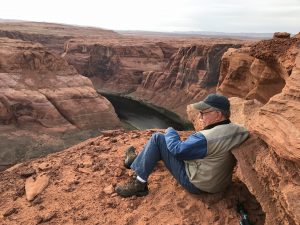 Walking to the Rim
Be forewarned! Youtube videos make the walk to the rim look like a flat walk. Beware! The uphill walk to what looks like the rim of Horseshoe Bend from the parking area is NOT the end of the tough terrain.
From there it is nearly 3/4 of a mile down to the rim which is an easy walk. But, boy, the incline coming back from the rim to the parking area had us huffing and puffing and stopping periodically to catch our breath and visit with others who aren't in Olympic shape.
So, we were only too happy to pay Horseshoe Canyon Tours to drive us to the Navajo-side of the Overlook at Horseshoe Bend the next night.  We had only a few feet of walking to the rim with our guide, Trey, there to help. The clouds hid any sunset on this night but the experience was, once again, intoxicating. Trey's family owns Horseshoe Bend Tours which we booked to get to Horseshoe Bend Canyon.
HORSESHOE BEND SLOT CANYON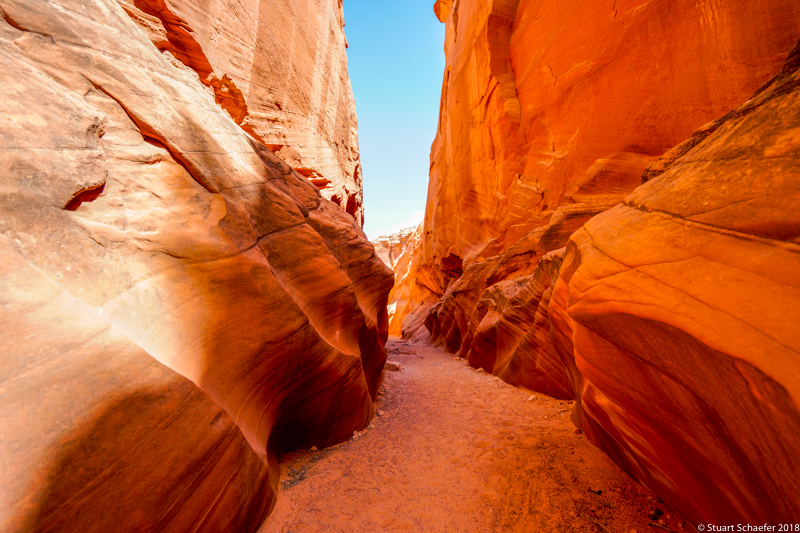 Trey, our guide, helped us into an open-air jeep-type vehicle and 8 windy miles later we entered his grandfather's 15,000 acres followed by entrance into his grandmother's 15,000 acres of land. The road in was red sand amid sage and promontories that seem to pop up out nowhere.
Photography at the Slot Canyons
Trey knows photography! His interest coupled with people everywhere we went recognizing Stu's new Sony A7Mark3, just released in the U.S. a couple of weeks ago, kept Stu busy with camera chat. Trey and Stu spoke that intriguing language of "camera." Turns out, Sony, Canon, Nikon and other major companies have gone to Horseshoe Bend Slot Canyon to test and promote their latest in camera technology.
When we arrived within about 60 yards of the entrance to the canyon, the blue sky and red sandstone was magical!!! We spent more than 2 1/2 hours just walking through the canyon on our own with Trey there to answer questions, give photo tips, offer water and tell stories. He also played the flute for us while in the canyon. This canyon turned out to be an almost spiritual experience mixed with a thrill ride!
Our open-air jeep bounced along with Stu and me in the back seat and, though tightly seat-belted in, we were flying around in the air laughing our heads off. We felt 6 years old and loved it! Trey asked if we wanted some fun and we screamed, "yes!" So he banked the jeep a few times off dunes and we felt like we were at Six Flags!!! Stu and I were in hysterical laughter! Good thing we are both little kids inside.
A Navajo Hogan
As an unannounced bonus, Trey took us to a hogan he and his family had just built the previous Saturday. He became very serious, describing the emotion of tearing down the hogan where his grandparents had lived for 42 years only two weeks ago.
Trey's Spiritual Journey
Our guide, Trey, spoke of his spiritual journey using crystals and the out-of-body feeling which he now experiences when he prays. He sees himself in the fire with the Gila monster he sought to pray with. The Gila came out of its home as Trey and his friend prayed. The Gila climbed Trey's arm and stayed, praying with Trey, with his head on Trey's shoulder. A female hogan and a tiny sweat lodge on site intrigued us too!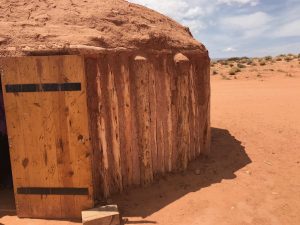 Horseshoe Bend Canyon Tour Company
We HIGHLY recommend Horseshoe Bend Canyon Tours for seeing both the Canyon and the Navajo side of Horseshoe Bend! The company is extremely professional, is family-owned and operated, and offers a lounge, coffee, restrooms, provides water, lollipops and protein bars and an unforgettable adventure.
The whole family made us feel like we had joined the family too. In fact, we had taken the Canyon tour and ended up wanting to go to Horseshoe Bend again the same evening. We hadn't signed up for the Canyon/Bend combination tour but the family said for $30 they would let us park on their acreage and they would pick us up at the gate and take us to the Bend.
It worked out so well! Trey led the group again and we only had to walk about 100 feet with Trey there to help, if needed. Only 6 other people were with the group so access for photos was unmatched and we were only 100 yards from the much more crowded National Park Overlook! Trey knew we were hunting sunset shots and said, based on the following night's cloud cover, to just give him a call and he would get us to the Overlook once more! Trey is the best guide you could want-we HIGHLY recommend this company!
ANTELOPE CANYON X
Jackie owns the Antelope Canyon X tour company and her extended family owns the land on which the 3 canyons are located. There are two tours offered here. One is for those with smart phone cameras and one is for photographers. Tripods and gear are allowed on the photography tour so we hopped into Sergio's SUV thirty minutes ahead of our 10 a.m. tour time. Sergio handed us off to Eugene – a real expert in photography, who led us into the first canyon.
Regular tour groups came and went but Eugene gave us hours to photograph canyons 1, 2 and 3! He was extremely helpful to me (being a wanna-be photographer) by suggesting positions for photographs. Meantime, he gave Stu full-reign of anywhere he wanted to go. He spent 45 minutes just photographing the landscape located between canyons.
Robert's Navajo Song & Explanation of Dance
Robert is Jackie's father. Stu and I estimate him to be in his late 70s or in his 80s. I'd seen Robert explaining the meaning of Navajo dance and drums to a tour group from China and, as luck would have it, Robert drove us from the canyon back to the base camp parking lot. Robert, Stu and I sandwiched into the front seat of his SUV for the ride.
We started talking to Robert about the old ways, tribal wisdom and the Navajo language. Robert is fluent in Navajo and estimates that only about 30% of the Navajo young people know the language. He is fearful that the stories and culture are being lost. I asked Robert if he would sing and explain dance to me while I videotaped and he said yes! But…he wanted to video away from it all so he turned the truck down a dirt road into native lands while the rest of the passengers wondered what was happening. "The lady wants to see something", he told them.
I was so honored to capture Robert's song and dance on native land. The other passengers eagerly disembarked and joined in as the wind blew Robert's hair and carried his voice into the vastness of space around us.