Yes! TRAVEL SOLO! Do it! Should you book with a tour group? Maybe. It all depends!
Our Experience with Solo Travel
Stu and I have both traveled alone internationally and in North America.  I'll never forget one of my first travels alone over a Memorial Day weekend. I went to Chestertown, Maryland. It's a picturesque and historic small town that has slumbered for centuries along the Chester River. It had a tea party before the one in Boston! I booked a room at a B&B. As I settled in, the B&B owner asked if I was alone and I replied, "yes." "That's a shame," she said. Gulp! What? Why? Can't I have just as much fun by myself? Well, of course! And I did!
International Solo Travel as a Woman
As an older woman, I have traveled alone to Belize and Egypt. YES, I went alone and I had a blast!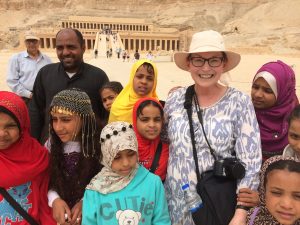 Now, since I don't speak any Arabic, I DID use a fantastic company (ladyegypt.com) who supplied a driver and Egyptologist to accompany me. Traveling alone, I was able to set the itinerary. If I didn't want to do what was suggested any given day, I could subsitute with a site I found interesting. I didn't feel unsafe or uncomfortable one second during my 3-week stay! My dream came true and I truthfully have never been happier in my life!
Should I Travel Solo with a Group Tour?
Stu and I are not huge fans of tour groups. But, that doesn't mean they aren't for you. Being photographers (I'm just a wanna-be), we want to be able to spend as much time somewhere as we want. That is not always possible if you travel with a tour group. If you are hesitant about striking out on your own, don't want to handle details, or would find it stressful, a tour group may be a fabulous way to "get your sea legs" and make some friends while you travel!
Just Start! It is so Easy!
A great resource we have used is Solo Traveler found at: solotravelerworld.com.
The important thing is to start! Travel. Experience. Make your dreams come true, however you feel most comfortable!
Question: Where have you traveled Solo? Tell us!