Reaching the park mid-day in late May was like opening the door into a fantasy-land. The scale and quiet strength of the place cannot be described adequately. The accurate name of the park is "Monument Valley Navajo Tribal Park" and it will take your breath away!
Who doesn't have Monument Valley on their bucket list? 
This park is NOT a national park but is located in a part of a 25,000 square mile Navajo Nation Reservation. Therefore, Monument Valley is administered by the Navajo Nation.
WHEN TO GO
Monument Valley can be very hot in the summer months. We visited in late May and the weather was perfect, staying in the 70s. You will get to the park via US-163 which is just north of the Arizona-Utah border. When you reach the park, you must drive through a toll-booth looking structure to pay the park fee. You will be charged $20 per vehicle (for up to 4 people) whether you stay a couple of hours or several days. 
WHAT TO EXPECT
Some people will tell you that you can see Monument Valley in 3-4 hours. We recommend staying for three days at the park. One day alone can be spent driving the 17-mile loop road. Even if you don't have a 4WD vehicle, you can negotiate the road but you'd better plan on the lowest speed limit possible. We were in a jeep vehicle and the deep ruts and washed-out portions of the road were extremely rough.  This drive is the only portion of the park you can experience without a Navajo guide.
You can SEE Monument Valley in a few minutes by driving by. But the magic of Monument Valley is experiencing it!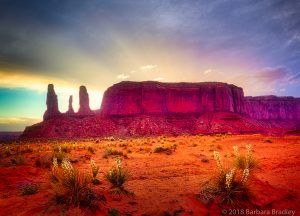 WHERE TO STAY
We had hoped to stay at The View Hotel, the most popular hotel with rooms that look out over the most-photographed formations in the entire park. The hotel is just inside the park and is considered fairly luxurious. The View, we found out, is booked months and months in advance. The View features fully-furnished rim cabins. As a friend of ours told us, "The view from the hotel is the prettiest I have ever seen."
The View also has a campground with RV sites and wilderness camp sites. There is a trading post with Native American art and memorabilia from Monument Valley. The View restaurant has wall to wall windows for viewing the miracles of nature while you dine. We found the food better elsewhere but the view is worth your order and the cost of a meal! 
If you want to camp in a separate area inside the park, you can only do so with a Navajo guide. You will need to make arrangements months in advance. Some of the tour companies offer an all night stay so you can camp overnight with a guide. You'll be treated to Navajo legends, music, and your guide will serve up a barbecue dinner! Imagine watching the endless sky fade into countless stars! That's our aim next time we visit.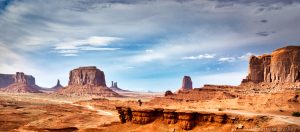 If you can't arrange for lodging at The View, go visit the hotel anyway. The serenity of what is referred to as "The John Wayne Terrace" tempts visitors to just sit and look out at the park's grandeur all day. This spot is said to have been Wayne's favorite as he and John Ford filmed "Stagecoach." The view will captivate your soul and is the perfect spot for photographers. The Terrace has multiple levels with tables and seating so you can enjoy food or beverages and just gaze!  The View is also the place you'll meet up with the guides from various tour companies.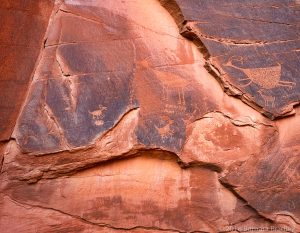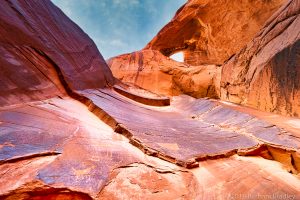 We reserved a spacious 2-bedroom, one-bath room with living room, dining area and kitchen at Goulding's Lodge which is the next best base of operations for a visit to the park. Goulding's has tons of rooms-from small to suites to cabins. There is an RV park and campgrounds, a gift shop, an indoor swimming pool, and a theatre. Goulding's also has a museum/trading post, gas/convenience store and a restaurant called the Stagecoach Dining Room. We loved the restaurant! Try the Navajo Tacos! They were a staple for me and are delicious!
You'll find "John Wayne's Cabin" behind the Goulding's Museum/Trading Post. The "cabin" was originally a vegetable cellar. When "She Wore A Yellow Ribbon" was filmed in 1949, the "cabin" became the exterior of the personal quarters of the Cavalry Post's commanding officer (John Wayne).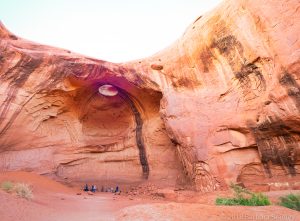 TAKE TOURS!
There are numerous tours available! There are hiking and camping tours, cultural tours, family-friendly tours, 4WD, ATV and off-road tours, nature and wildlife tours, sunset tours, overnight camping tours, and more!!
We took a sunset tour the first evening we were at the park. Although the sunset wasn't spectacular, the scenery was! We stopped at a hogan and learned from a Navajo woman how she cards wool! Many Navajo families have their private homes in the park and their livestock roams free, creating a picturesque tableau.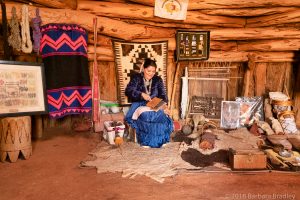 MONUMENT VALLEY IN THE MOVIES

You may wonder how Monument Valley became the location for so many famous western films. We did.
In 1938, Harry Goulding and his wife (owners of Goulding's Lodge) drove to Hollywood with photographs of Monument Valley in hopes that film making would boost the local economy. They "bullied" their way in to see John Ford and showed him the photographs. Ford was convinced to make the first of several films on location in Monument Valley and, over time, the Valley became his favorite place to film. The very first film was "Stagecoach." Released in 1939, the film made John Wayne a star.
Ford filmed his second western in Monument Valley in 1946 ("My Darling Clementine"). Ford then began work on what is called his "Cavalry Trilogy." "Fort Apache" with Wayne and Henry Fonda was filmed in the Valley in 1948. Ford's first color film in Monument Valley was "She Wore A Yellow Ribbon" in 1949. A scene in Ford's "Rio Grande" was filmed here too.
Ford wasn't finished in Monument Valley. "Wagon Master" with Ben Johnson and Ward Bond was released in 1950;  "The Searchers" with John Wayne was released in 1956; and "Sergeant Rutledge" appeared in theaters in 1960. John Ford was one of three directors on "How the West was Won," also filmed in Monument Valley. "Cheyenne Autumn" was the last western directed by Ford in 1964.*
Other films were filmed in the park including portions of Forrest Gump; National Lampoons Vacation; Mission: Impossible II;  2001: A Space Odyssey; and, the recent HBO series called Westworld.
WHAT IS THERE TO SEE?
With so many films being shot in Monument Valley, you may feel familiar with the park already. Here is a map of the park: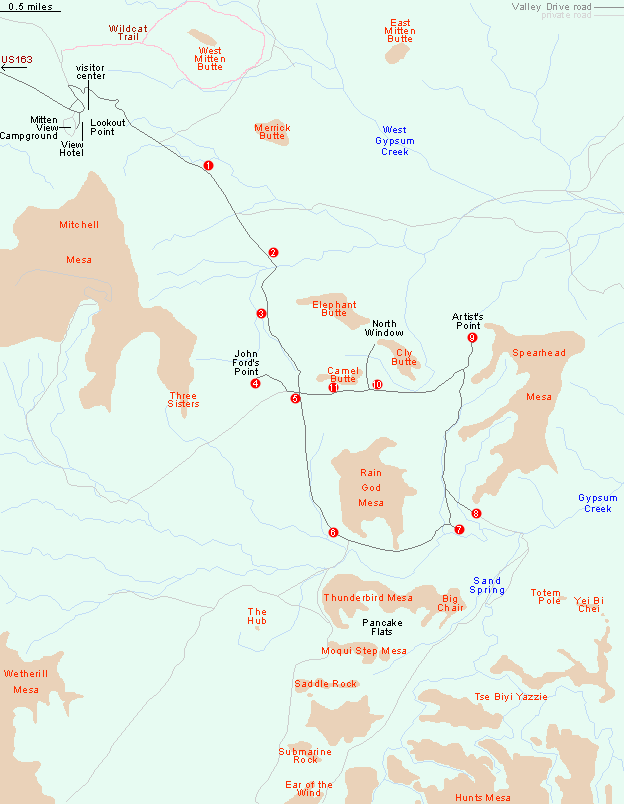 Petroglyphs and ruins approximately 1700 years old, the endless sky, a sense of freedom that typifies the West, and the lore of the Navajo Nation are only a part of why we loved Monument Valley. You have to go!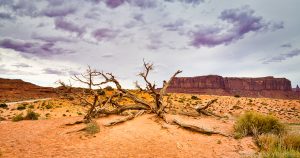 Monument Valley FEES:
Per Vehicle Pass: $20 per non-commercial vehicle up to 4 people ($6 each additional passenger)
Per Individual Pass: $10 per walk-in, bicycle, or motorcycle
Commercial Pass: (based on capacity of vehicle)

1-4 Passengers: $35 (additional $6 each)

5-15 Passengers: $100

15-25 Passengers: $125

26+ Passengers: $300
Visitor Center Hours of Operation
April 1 – September 30 (Peak Season): 6 a.m. – 8 p.m., 7 days a week
October 1 – March 30 (Off Season): 8 a.m. – 5 p.m., 7 days a week
CLOSED: Thanksgiving Day, Christmas Day, and New Year's Day
Note that the Navajo Nation honors Daylight Savings Time, DST
*"Monument Valley in the movies." CBS News. March 2, 2014.