Hi and Welcome! Explore America with us on backroads.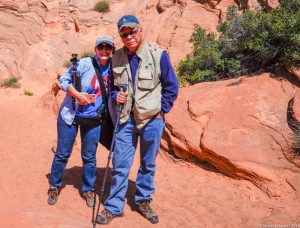 We're Stu and Barb, The Traveling Seniors. Thank you for checking us out! 
We graduated high school together 50 years ago (that can't be true)! We lost touch for 30 years but suddenly we're exploring America together! And, yes, senior travel is thrilling! 
We photograph, giggle and blog our way down backroads exploring America. Think local food, colorful people and surprises everywhere.  Long live mom & pop establishments and backroads!
Follow The Traveling Seniors and find inspiration to travel, learn travel tips, find resources,  see the most up-to-date senior travel discounts, and share our backroads trips!
The Traveling Seniors are also on Instagram, Facebook, and YouTube. Please pin our blog and find us on Pinterest.  
Stu's photographs have been featured in such national magazines as Sailing World and Backpacker Magazine as well as the Pensacola Visitors' Guide and national park brochures. We invite you to purchase Stu's photographs at SmugMug.
Email us your travel ideas, travel advice, recommended destinations and your experiences. We look forward to hearing from you.

LET'S GO!