Foodie Alert!  Tucson has it all!
Explore America via food. A great city to start in is Tucson!
Tucson is an unmatched destination for mouth-watering mom & pop delights regardless of budget! Prices are extremely reasonable everywhere. Eat lunch at some of the more famous restaurants and you will pay less.
Our favorites include: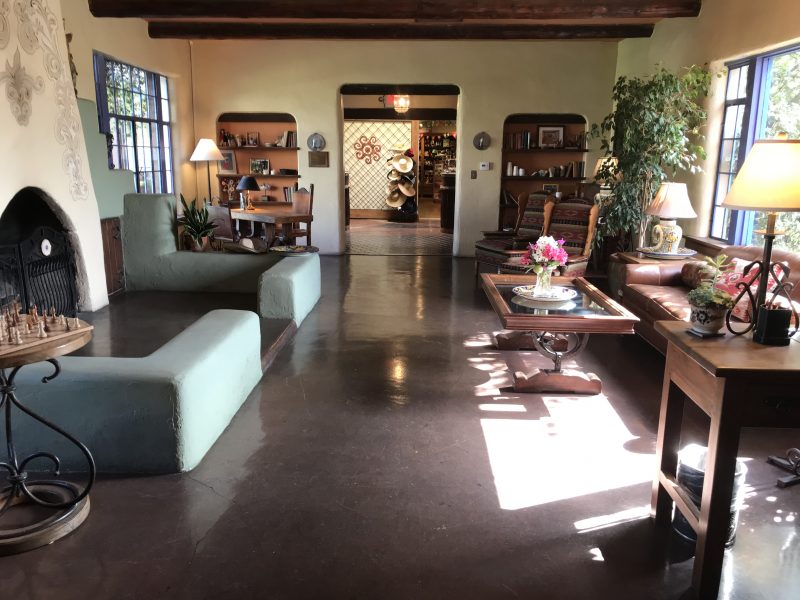 An historic and beautiful respite located at 5501 N. Hacienda del Sol Road in Tucson, for those looking for an equestrian and spa experience. Hacienda was a girls' boarding school at one time and still boasts the suite where Hepburn and Tracy stayed for extended periods. Reservations are a good idea and so worth it! This is a farm-to-table restaurant where even the hamburgers will be the tastiest you have ever tried. The Grill and Terraza Restaurants feature locally-sourced meats and vegetables and herbs and fruits from the Resort's gardens.
Hacienda offers casual dining at the bar or on the outdoor terrace as well as an elegant dining room. You can select from over 700 wines-they have earned the "BEST AWARD OF EXCELLENCE" designation from Wine Spectatorfor 19 consecutive years. The weekend buffets are to die for! Hacienda features live music every night of the week in both The Grill and Terrazzo Garden Patio & Lounge areas. Try the scrumptious Rack of Lamb!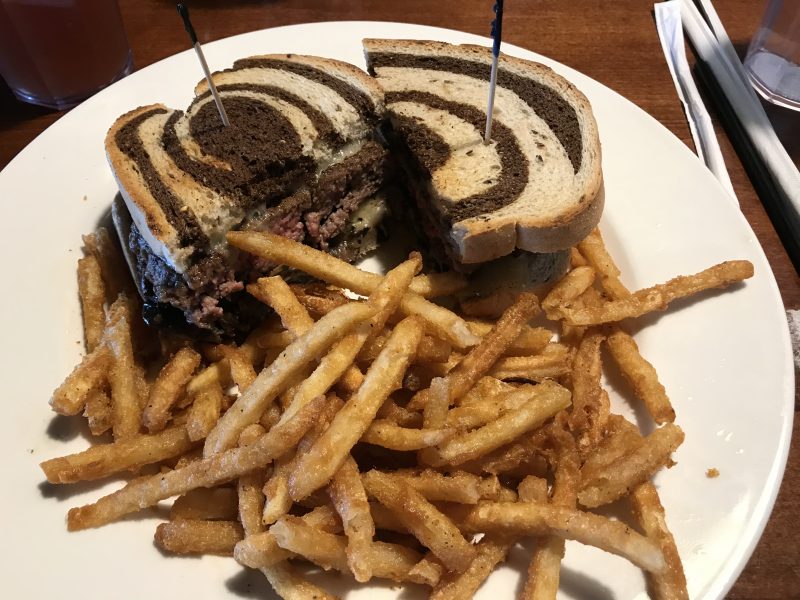 Risky is a favorite family restaurant and sports bar. There are several locations in Tucson. The starters at Risky are varied from fried calamari, seared ahi, bruschetta, spring rolls and quesadillas to pair with soups and salads. Burgers, sandwiches and pizza are fantastic at Risky's! Don't forget the chocolate peanut butter mousse cake to finish off your meal.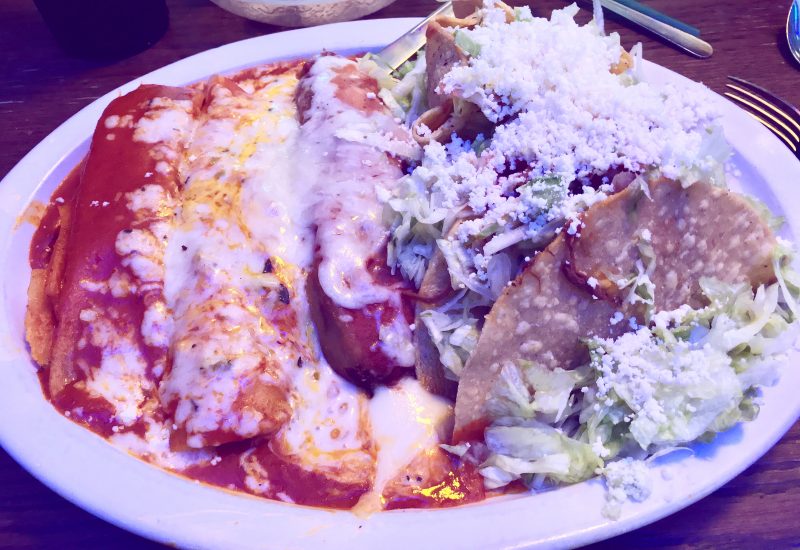 Want authentic Mexican food? Head to 1813 South 4th Avenue in Tucson! Mi Nidito was President Bill Clinton's favorite. He couldn't choose what he wanted so ordered "one of each" and the Presidente Plate was born! Better be super hungry! It is a mountain of food! They don't take reservations but wait for your table with a drink or tea and look over the photos of all the famous people who have eaten there-from George W. and Laura, to Arizona coaches and Goldie Hawn. You will NOT be disappointed! Delicious!!!
Piazza Gavi is located at 5415 N. Kolb Road in Tucson.  Go for breakfast, lunch or dinner where the likes of Lance Armstrong and other celebrities have dined. We had a delicious lunch one day at Piazza Gavi. Frittata and Omelets are the breakfast specialities with Eggs to Order.
You can create your own pancakes with blueberry, apple spice, strawberry banana, chocolate pecan and other delicacies. French toast and Strawberry Blintzes are available. Dinner and lunch menus include Shrimp Romana from $26 for dinner, hot and cold sandwiches at lunch for $10 to $26 and salads that can't be beat!
Located in three locations (4131 W. Ina Road, 4811 East Sunrise Drive, and 2936 E. Broadway Blvd.) There is also a Breakfast Club in Mesa, Arizona. This place is FUN! We visited the location on Sunrise Drive and it is in an old, converted gas station! The menu is huge and has gluten-free options. Talk about reasonable menu items. Four of us ate a mountain of food for about $40.00 one morning. The cheery staff and decor make the fabulous food taste even better!
The family-owned market is located at 2513 E. 6th Street and is open 8 a.m.-8 p.m. Known for their catering, the Ricon Market and Restaurant has been in business close to the University of Arizona since 1926. Delivery is available. Dining is cafe style and is in an informal comfortable environment. It is tempting to stay all morning, sipping coffee and catching up with friends! Made-to-order omelets and skillets are fantastic. Or, order Eggs Benedicts topped with their signature market-made hollandaise. The bakery cases are full and coffee is from a local roaster. Lunch and Dinner are available with Happy Hour Monday-Friday 3-6 pm. with wine and beer.
Inca's was featured with Guy Fieri and you will see why! Located at 6878 East Sunrise Drive, treat yourself to lunch and/or dinner. Try the Carapulcra (dyhydrated potato casserole), or any number of the delicious vegetarian dishes. You can order a whole chicken, seafood, pasta and wash it down with Chicha Morada, a homemade Peruvian beverage that is out of this world! 
Live Peruvian music will waft over you at a table outside. It is an enchanting experience with delicious food!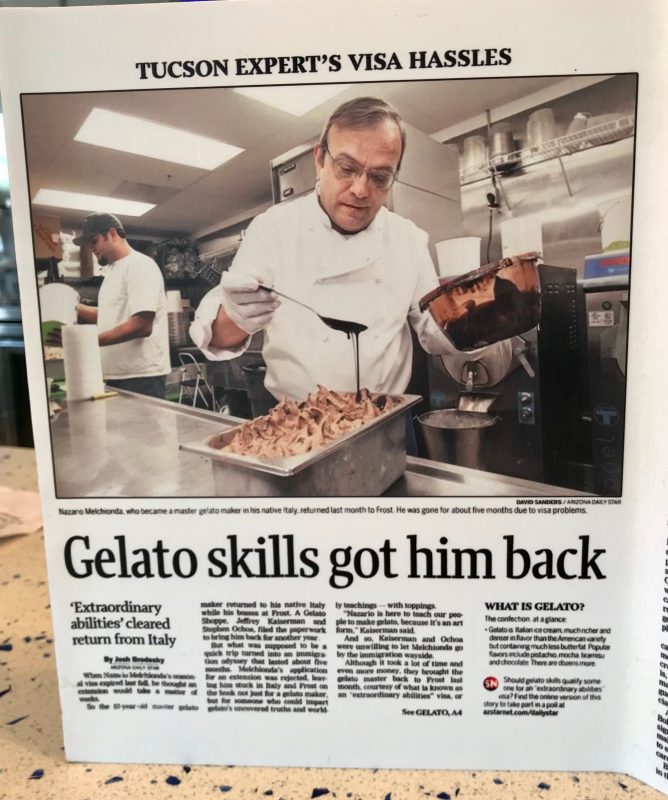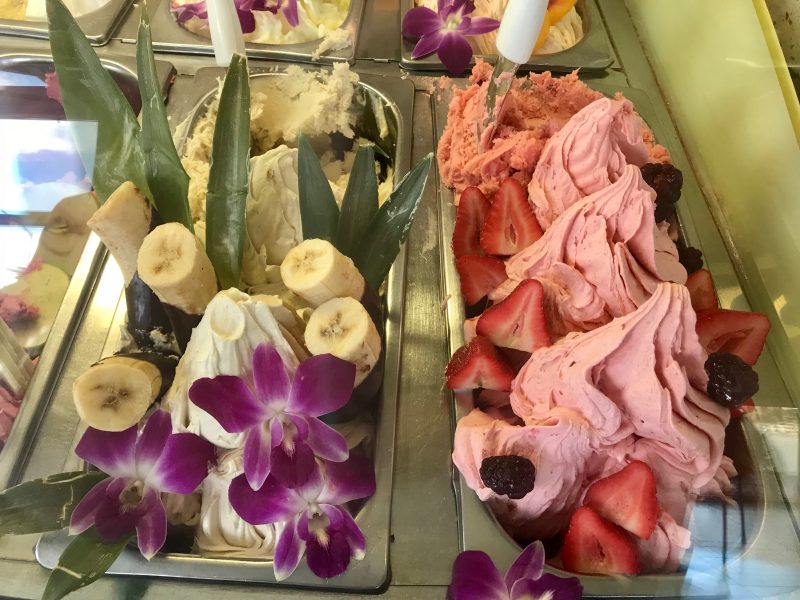 Wherever you decide to eat, save room for Frost Gelato! Begun in Tucson, franchises are in 13 locations in the U.S. with more coming in the Middle East soon. All ingredients are shipped in from Italy and the gelato is made fresh daily using a chef's recipe! Gelato has a low percentage of butterfat for the weight conscious and Frost offers diabetic varieties. Frost carries more flavors than I can name and has sorbet and coffee too. Need catering? Frost can accommodate! Stop in for an unforgettable treat!
Question: What is your ONE very favorite restaurant and what city is it in?