Nestled in the Blue Ridge Mountains, the Pisgah National Forest and fronting the French Broad River lies tiny Hot Springs, North Carolina.
The first time we came across Hot Springs, it was by happenstance. We were exploring the area around Asheville, NC by driving Highways 208 and 209, both scenic byways in North Carolina.  Hot Springs is easy to miss, if you don't know its rich history or current day importance to nature lovers and hikers. There are, after all, only 500 residents.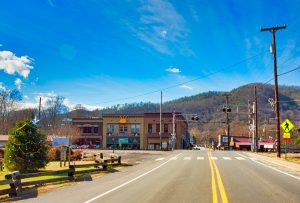 The second time we visited Hot Springs, it was on purpose. What a cool 2-block town! Certainly, not impressive architecturally, the quirky combination of the town's history, location as the only town on the Appalachian Trail in the whole state, and center for outdoor adventures, make it a very special place.
Through hikers on the Appalachian Trail know and love Hot Springs, North Carolina! In fact, the AT runs straight down Main Street!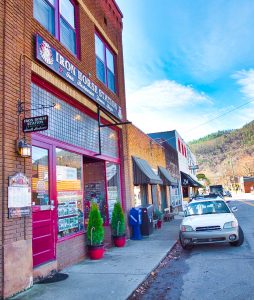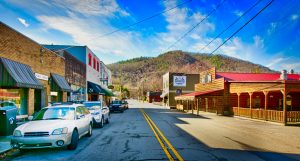 On the banks of the French Broad River, the town is also a favorite for river rafters, canoeists and kayakers who shoot rapids and hikers trekking in the Pisgah National Forest.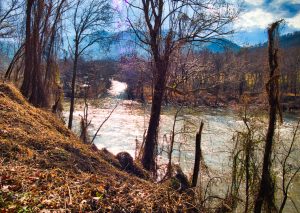 Those who love to soak in hot mineral springs also visit Hot Springs in large numbers. 
LOCATION ON THE APPALACHIAN TRAIL

The 500 residents of Hot Springs support the hikers with food, drink, laundry facilities and lodging while the intrepid adventurers rest their bodies "for a spell".  Hot Springs has published a Hikers Resource Guide for while they are in town. See: https://www.hotspringsnc.org/appalachian-trail-hikers-resource-guide-for-hot-springs/  
Each April, when most AT hikers pass through town, Hot Springs holds its Annual Trailfest.  Trailfest celebrates the Appalachian Trail with live music, food, games, and more.
Hot Springs sees over 2,000 through hikers each year. Most of the hikers are on the way north to Maine.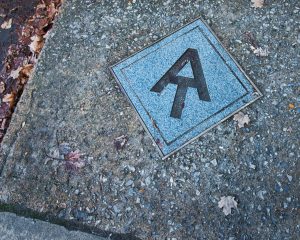 Appalachian Trail hikers aren't the only ones who love Hot Springs.
OTHER HIKING TRAILS
There are lots of hiking trails near Hot Springs aside from the Appalachian Trail.
1. Max Patch is easy enough for people of all ages. You can drive the 6 mile gravel road to the parking lot and then hike up the trail to the summit where you have a 360 degree view of the surrounding mountains.

2. Lovers Leap Loop Trail starts at the bridge near town and follows the French Broad River. It ascends a hill with great views of the river and town. This trail is difficult and is 1.6 miles. The trail has exposed roots and vines so is not a good choice for those unused to hiking or unsteady on their feet.
3. Laurel River Trail is great for all ages. It is a super easy hike that follows a pretty path near the Laurel River. Jump in the river to cool off! The trail follows Big Laurel Creek for 3.2 miles until it reaches the French Broad River.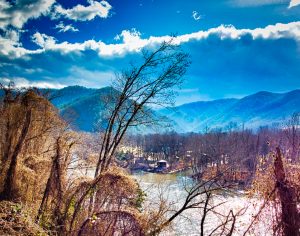 4. Betty Place Trail & Bluff Mountain Loop in the Pisgah National Forest is 3.5 miles round-trip with an 850 foot elevation gain. It is moderately difficult.
5. Pump Gap Loop Trail is 2.4 miles long and is moderate to difficult.
6, Roundtrip Ridge Trail is 3.2 miles one-way and is difficult.
7. Spring Creek Nature Trail is 1.6 miles long and is an easy trail.
8. Van Cliff Loop is 2.6 miles and is difficult.
You can find information on additional hikes at: https://www.hotspringsnc.org/hiking-2/
HOT MINERAL SPRINGS' HISTORIC TIMELINE*
The town has been a resort for mineral springs since the late 1700s. The Cherokees visited the area even earlier to drink the carbonated healing waters but were driven out by white settlers.
1788: a town called Warm Springs was located on the "Bumcombe Turnpike" as drivers moved livestock from Greenville, TN to Greenville, SC.
1830: Wade Hampton built the Hampton Cottage along the now-called Buncombe Pike to serve travelers and was the first "hotel".
1832: The Patton Brothers bought Hampton Cottage and added to it to create the Patton Hotel.
1884: The Patton Hotel burned and the majestic Mountain Park Hotel was built.  
The Mountain Park Hotel had four stories and had the first golf course in the state. There were 200 rooms lighted by electricity ad heated by steam. The bathhouse which was built over the hot springs, had 16 marble pools. The hotel had tennis courts, horseshoes, bowling, riding, target shooting, croquet and an orchestra that played each evening.***
When WWI began, travel to Hot Springs became more rare. When war was declared, 2500 Germans were in NY Harbor on luxury liners and could not return to Germany. The German detainees were brought to the Mountain Park Hotel and created a small German village on the grounds of  the hotel, which, in reality, was an interrment camp.  In 1920 the Mountain Park Hotel burned to the ground.**
In the 20th century, the location of the hot springs was rediscovered and a man named Eugene Hicks, put two hot tubs down by the French Broad River. Even celebrities showed up to avail themselves of the healing waters including Robert Redford, the Dalai Lama and Lance Armstrong!****
Today, there are 17 hot tubs to use every day of the year other than Thanksgiving and Christmas Days.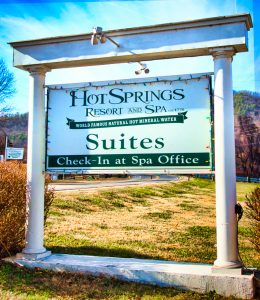 RAFTING AND KAYAKING
You may be interested in a gently and relaxing drift down the French Broad from Hot Springs to the Tennessee border. Locals call this section of the river "Section 10" and is 7 miles long.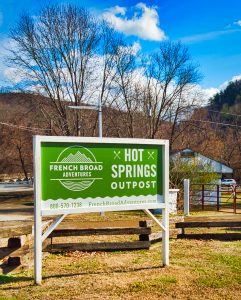 If you want to conquer whitewater, "Section 9" is upstream from Hot Springs. The rapids there range from Class 1 to Class 3. There are several rafting companies in Hot Springs. You can rent tubes, funyaks, rafts or do a whitewater kayak trip with a guide.
PAINT ROCK PICTOGRAPHS
About 6 miles from Hot Springs is Paint Rock, where pictographs created by Native Americans circa 2500 BC, can still be seen. Scientific testing of the rock showed that the petroglyphs were created about 5,000 years ago. Centuries ago, Paint Rock served as a landmark for travelers in America's early history. A man named John Strother wrote about Paint Rock in his diary written in 1799. Botanist Andre Michaux mentioned the rock in 1796.*****
When in the area, you should definitely go see Painted Rock!
As you can see, Hot Springs is a rustic and unique town at the confluence of the French Broad River and Spring Creek. Just walking around town, you will meet friendly people and marvel at the euphoric mountain vibe.
Join those who have discovered and relished relaxing Hot Springs for 200 years!
*https://www.romanticasheville.com/hot-springs-soak
**https://www.nchotsprings.com/history/
***http://vickilanemysteries.blogspot.com/2009/06/mountain-park-hotel-hot.html?m=1
****www.ourstate.com (https://www.ourstate.com/hot-springs/) 
***** Atlas Obscura (https://www.atlasobscura.com/places/paint-rock)