updated 12/19
Zion National Park is perfect for senior travel and is my personal favorite of all the national parks. It doesn't matter if you are in hiking shape or not!  Seniors, put Zion on your travel list! We have put together a guide to visiting Zion for those who stay in Springdale, Utah.
We stayed in Springdale to visit Zion National Park for 4 days. We wanted to stay even longer and cannot wait to go back!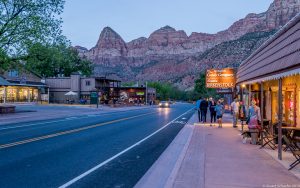 HOW TO GET THERE
Utah's Zion National Park is close to the Arizona and Nevada borders.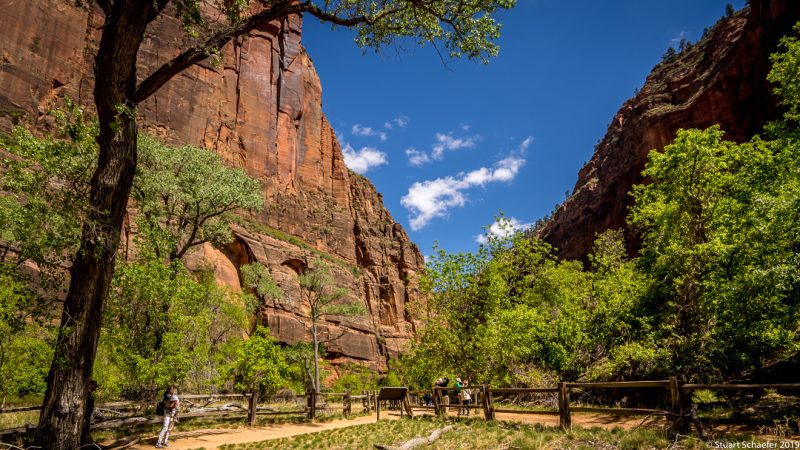 COMING FROM Las Vegas:
Take Interstate 15 north from Las Vegas for about 130 miles. Just past St. George, Utah, exit at Exit 16 and follow Route 9 east. Follow Route 9 for 20 miles, which will take you through the towns of Hurricane, La Verkin, Virgin and Rockville until you arrive in Springdale.
COMING FROM THE NORTH:
Take Interstate 15 south to Exit 27 (Toquerville) and follow Route 17 for 6 miles until it joins with Route 9 in La Verkin. Take Route 9 east. After about 19 miles, and having gone through Virgin and Rockville, you will arrive in Springdale.
COMING FROM THE EAST:
If you are coming from Bryce, the Grand Canyon or other places east, take route 89 to the small town of Carmel Junction. Head west on Route 9. After about 12 miles, you will reach the eastern border of Zion National Park where an entrance fee will be required. Once in the Park, the views are tremendous. You will travel through the Zion/Mt. Carmel Tunnel and will arrive in Springdale.
WHERE TO STAY NEAR ZION
When visiting Zion National Park (nps.gov/zion), we highly recommend staying in Springdale, Utah. What an adorable town! Springdale has no franchise restaurants, no street lights, and artists' shops galore. All the shops and restaurants are within walking distance from each other, so drop your luggage and walk! Springdale is also a perfect home base because it is so close to the Park. Getting to and from the Park couldn't be easier.
We stayed at the Best Western Plus Zion Canyon Inn & Suites in Springdale. Our rooms had wonderful views and small terraces with chairs for watching the stars. The hotel has two outdoor fire pits which capped off perfect days in the Park. There is a fitness room and free hot breakfast to boot. 
A big bonus to staying at the Best Western is that the free National Park Service shuttle to Zion National Park stops directly across the street, in front of the Desert Pearl Hotel.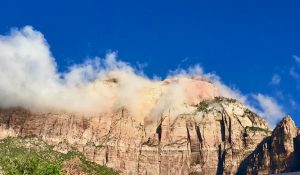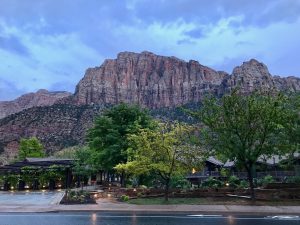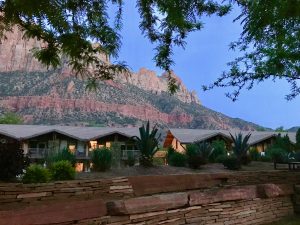 TRAFFIC & PARKING 
While traffic is allowed along Route 9 (the Zion-Mt. Carmel Highway that connects Springdale with Mt. Carmel Junction, Bryce Canyon and the north rim of the Grand Canyon), traffic is not permitted up the Zion Canyon Scenic Drive past Canyon Junction unless you have a reservation to stay at the Zion Lodge.
If you plan to drive to Zion National Park for the day, the primary parking lot is at the Zion Visitor Center just inside the southern entrance to Zion. The parking lot fills very early each morning which is why using the Park Service Shuttle to reach Zion from Springdale is so appealing.
Parking in and near the Park is at a real premium and costs $20.00 near the Visitor's Center. While parking lots exist on the highway near the Park, parking is $20 along the highway too-we even saw parking meters along pull-outs on that highway (we'd never seen that before)! Parking in Springdale is very limited too so riding the shuttle is definitely your best option.
Be aware that the City of Springdale has begun charging for street parking, in the few parking lots and roadside. You will be ticketed if you park in prohibited areas in town. 
1. Avoid going in the summer months. Some suggest the best time to visit Zion is the week before and the week following Thanksgiving.
2. Explore the Kolob Canyons of the park.
3. Go on weekdays and avoid holidays.
4. Stay in a town close to the park (why we like Springdale) and get started early.
5. Just accept the crowds.
6. Don't try taking and parking your car. Depend on the shuttles instead.
7. Go to the last in-Park Shuttle Stop first and work your way back toward the Park Entrance.
8. Hike at night.
THE PARK SERVICE SHUTTLES
THE SHUTTLE FROM SPRINGDALE TO ZION NATIONAL PARK: The Springdale Shuttle is free and stops at nine different locations in town.
TIPS ON RIDING THE FREE PARK SERVICE SHUTTLE FROM SPRINGDALE TO ZION
1. During the summer months, buses run at six-minute intervals during the middle of the day, so there is no need to rush to catch a bus. During the summer months, shuttles operate from 6:30 a.m. to 11 p.m. daily. Shuttle schedules and frequencies change with the season and with the time of day.
2. There is no need to present passes to ride the shuttles to Zion from Springdale. The Park Service operates the Shuttles which are free-of-charge and accessible to anyone whether you are staying in town or not.
3. The Shuttle from town will drop you off at the Zion Park Visitor's Center.While there is a tiny information station as you leave the Shuttle, keep walking and cross a bridge to the actual Visitor's Center. After crossing the bridge, you will pay to enter the Park or present your pass. The complex of buildings there includes the Visitor's Center, Restrooms, a Bookstore, Gift Shop and more. This area has wide paved sidewalks.
THE NATIONAL PARK SHUTTLE WITHIN Zion National Park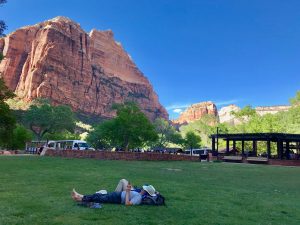 The Park Service Shuttle takes visitors up the Zion Canyon, stopping at interesting locations, trail heads, the Zion Lodge, the Grotto (beginning of the Angel's Landing hike), Weeping Rock, and the Temple of Sinawava (close to the Zion Narrows where the canyon walls converge).
Courtesy of NPS: Map of both Springdale, UT shuttle stops and the shuttle stops within Zion National Park
TIPS ON RIDING THE SHUTTLES WITHIN Zion National Park
1.    Be prepared for a line to board the free shuttles that stop at nine locations along the Zion Canyon Scenic Drive within the Park. Bring water, hats and sunscreen.
2. You can board and get off at any of the shuttle stops all day long. Shuttles within the park are free and wheelchair accessible. The shuttles run as often as every 7 minutes.
Located at the entrance to the Park is the Zion Canyon Brew Pub which serves a fabulous brat sandwich with red cabbage! Sit outside and be mesmerized by the views at the beginning or end of a day in the park.
3. Months during which the Zion Park Shuttles are not running inside the Park, the Zion Canyon Scenic Drive is accessible by car, but most months, access to the scenic drive is by Shuttle only. The shuttles (in 2019) stop running within the Park as of December 1.
4. No pets are allowed on shuttles.
5. In the summer months, expect standing room only on shuttles.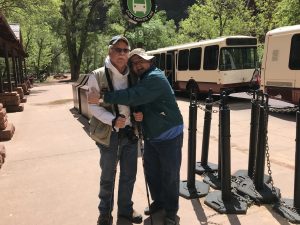 TRAILHEAD SHUTTLES
The National Park Service Shuttle within the Park stops at the primary trailheads. There are a handful of private companies which offer shuttle service with pickup from Springdale or the Zion Park Visitor Center. Advance reservations are recommended, especially during the busy season. You can reach all Zion trailheads, plus other destinations by request, via the following services:
Red Rock Shuttles – (435) 635-9104
Zion Adventure Company – (435) 772-1001
Zion Guru – (435) 632-0432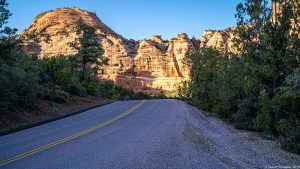 PARK FEES AT Zion National Park (2019)
Entrance Fees: All park visitors are required to purchase a recreational use pass upon entering Zion National Park. Passes are non-transferable. Credit Cards are accepted at all fee collection areas.
Stu and I sincerely hope all you seniors have obtained your Lifetime Passes to the National Parks!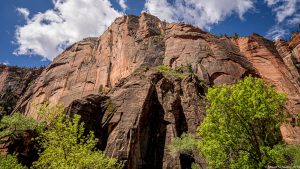 Weekly Passes
Weekly passes are non-transferable and are valid for 7 consecutive days including the date of purchase. Weekly passes may be upgraded to annual passes within 7 days of purchase.
Private Vehicle: $35. Valid for 7 days.
Admits private, non-commercial vehicle (15 passenger capacity or less) and all occupants to Zion National Park, including both the Zion Canyon and Kolob Canyon areas.
Motorcycle: $30.Valid for 7 days.
Admits one non-commercial motorcycle to Zion National Park, including both the Zion Canyon and Kolob Canyon areas.
Per Person: $20. Valid for 7 days.
Admits one individual with no car to Zion National Park, including both the Zion Canyon and Kolob Canyon areas. Typically used for bicyclists, hikers and pedestrians. Youth 15 and under are admitted free.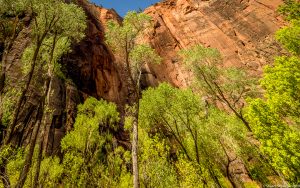 Non-Commercial Organized Groups: Valid for 7 days.
Organized groups such as Scouts, Rotary, Clubs, Youth Groups, Churches, Reunions, etc. that do not qualify for an Academic Fee Waiver are charged as follows: $35.00 Non-commercial vehicles with a vehicle capacity of 15 or less;  $20.00 per person Non-commercial vehicles with a capacity of 16 or greater. Fees will not exceed the commercial fee for the same-sized vehicle. Youth 15 and under are free. Individuals or families with any valid Annual or Lifetime pass may use their pass for entry at the per person rate. Pass and photo ID must be present upon entry.
All of the passes listed below are available at park entrance stations.
Interagency Annual Pass

– $80.00. Admission to all Federal fee areas for one year from date of purchase.
Zion Annual Pass

– $50.00. Admission to Zion National Park for one year from date of purchase.
Military Annual Pass

– Free. Active duty military admission to all federal fee areas for one year.
Senior Annual Pass

– $20.00. Admission to all federal fee areas for one year from date of purchase.
Lifetime Passes
Lifetime Senior Pass – $80.00. Admission to all federal fee areas for life, U.S., citizens 62 years or older.
Lifetime Access Pass – Free. Admission to all federal fee areas for life, permanently disabled U.S. citizens
Appreciation Passes
4th Grade Pass – Free. Admission to all federal fee areas with valid paper pass. Good from September 1 through August 31 of the 4th graders' school year. Also available at the Nature Center.
Volunteer Pass – Free. Admission to all federal fee areas for one year from issue date. Volunteers with over 250 hours of service are eligible.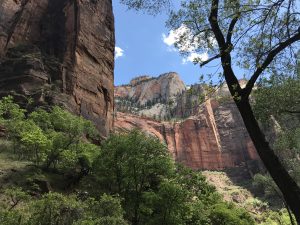 WHAT TO SEE WITHIN ZION
We like how Joe Braun describes the various sections of Zion National Park:*
THE MAIN CANYON
The main canyon (Zion Canyon) features all of the amenities: the Visitor Center, the Zion Human History Museum, the Zion Lodge, and the tourist town of Springdale just to the south of the park. The majority of maintained trails are found here. Famous landmarks include the Emerald Pools, Angels Landing, Weeping Rock, and the Great White Throne.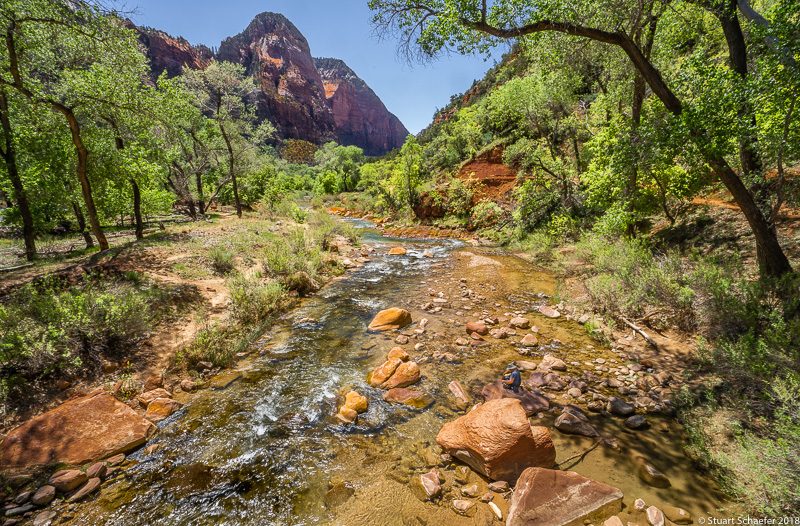 UPPER EAST CANYON 
Route 9 travels through the beautiful Upper East Canyon's formations and connects to the main canyon via the Zion-Mount Carmel Tunnel.  The Upper East Canyon is home to Checkerboard Mesa, one of the more famous Zion formations. Big-horn sheep can often be spotted from the road.
ZION NARROWS
Beyond the end of the Zion Canyon Scenic Drive at the Temple of Sinawava, the walls of the main canyon close in to form the famous Zion Narrows, an amazing section of canyon that stretches for over a 12 miles. The North Fork of the Virgin River snakes through the cliffs. Hiking the Zion Narrows is a thrilling experience and should not be missed! You walk through the river waters from the high plateau down through slot canyons and back to the main canyon. You can rent appropriate gear for wading The Narrows nearby.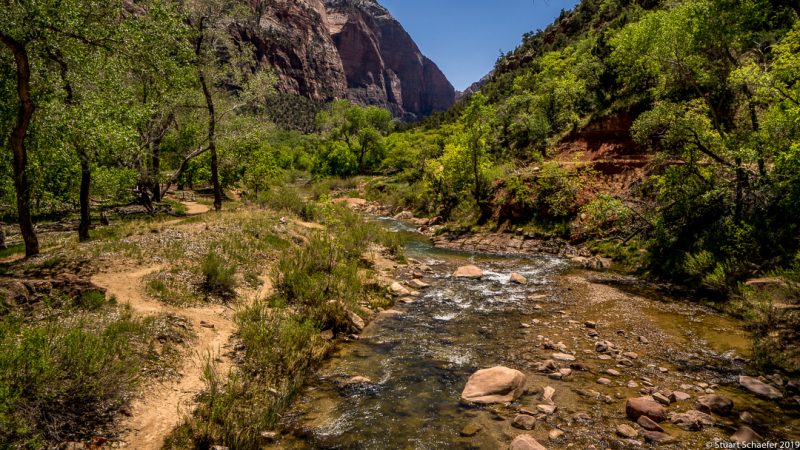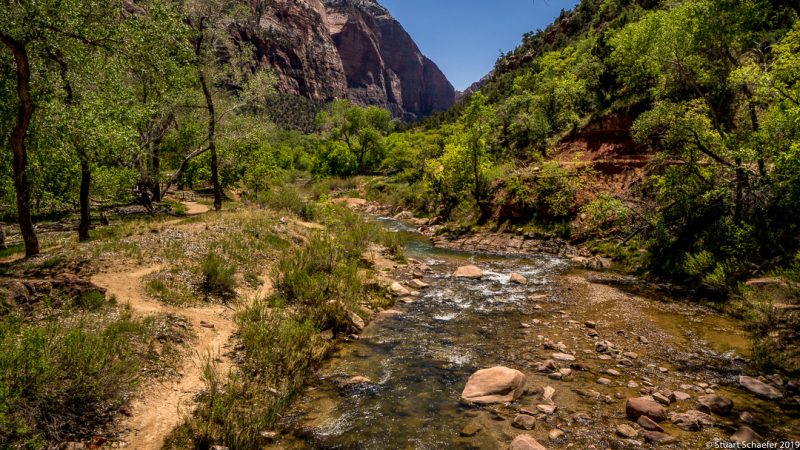 KOLOB TERRACE
The Kolob Terrace is a lesser-traveled section of Zion, accessible via the Kolob Terrace Road that heads north from the town of Virgin. The drive through the Terrace up to Lava Point offers diverse views-from valleys to the North and South Guardian Angels. The Kolob Terrace is home to one of the most popular canyons in Zion: the Left Fork of North Creek, known as "the Subway."  Remember that the upper sections of the Kolob Terrace Road are not plowed during winter. This drive was one of our favorites within Zion!

THE KOLOB CANYONS
The Kolob Canyons is in the isolated northwestern section of Zion National Park. It is roughly a 40-mile drive from Springdale to the Kolob Canyons entrance at Exit 40 off of I-15; the Kolob Section has its own ranger station and visitors center. The Kolob Canyons Road is a great five-mile scenic drive from the entrance up to a viewpoint of the finger canyons.
This section of the park is much more remote and subdued than the main canyon, and hiking or backpacking in this area is great if you are looking to get away from it all. Landmarks include the Double Arch Alcove in Taylor Creek and the large Kolob Arch.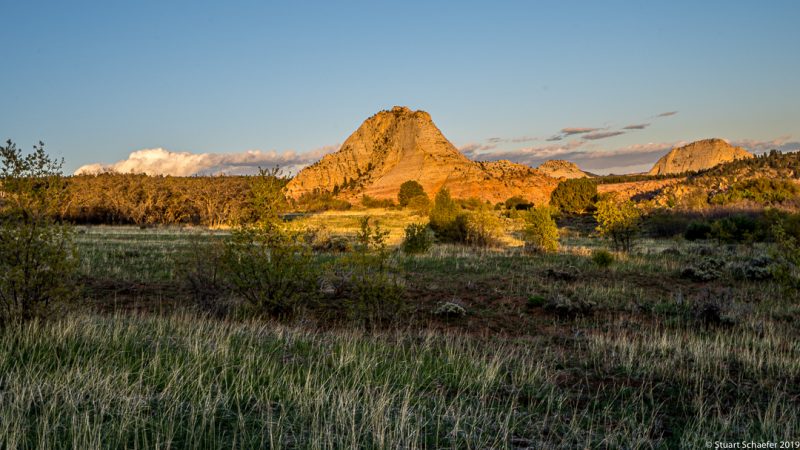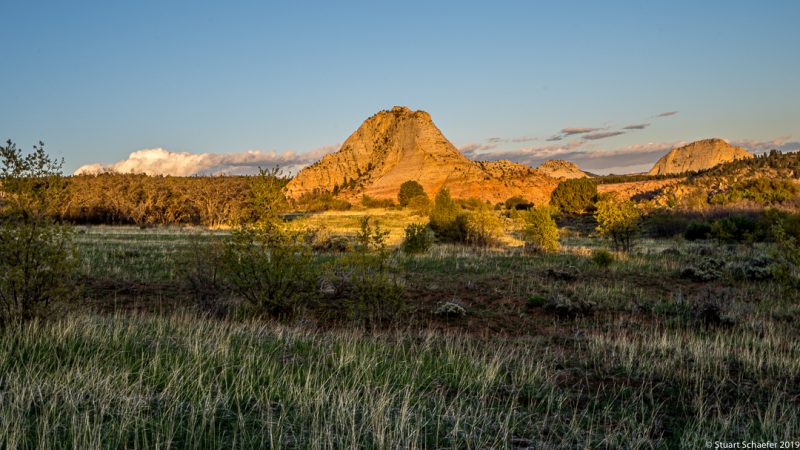 THE DESERT LOWLANDS
Southwest of Springdale and north of Route 9 is the hottest, driest section of Zion National Park and is overlooked by most visitors as they drive to and from the main canyon. Beyond Zion National Park and south of Rockville on BLM land, routes to the Eagle Crags formations and Canaan Mountain offer remote hiking and backpacking possibilities.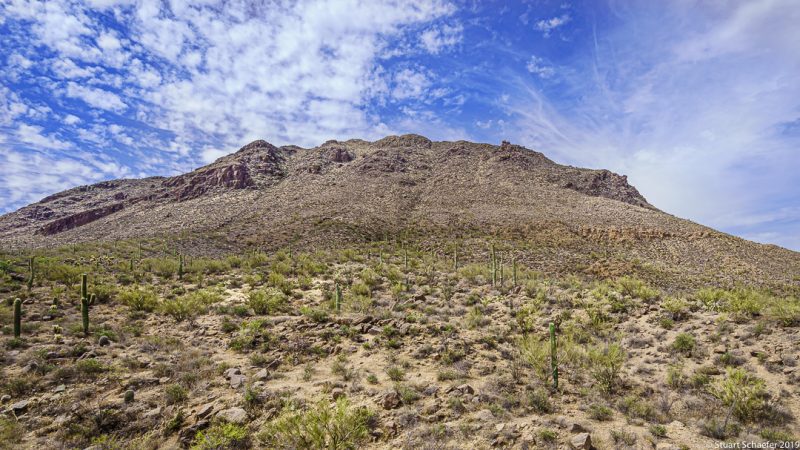 TRAILS IN ZION
No fees or permits are required for day hiking on any Zion trail. However, you must obtain a wilderness permit if you want to spend an overnight, hike top down through The Narrows, hike through the left fork of North Creek (called the Subway) or on any canyoneering route.
Permit fees are $25 for 1-2 people, $20 for 3-7 people or $25 for 8-12 people.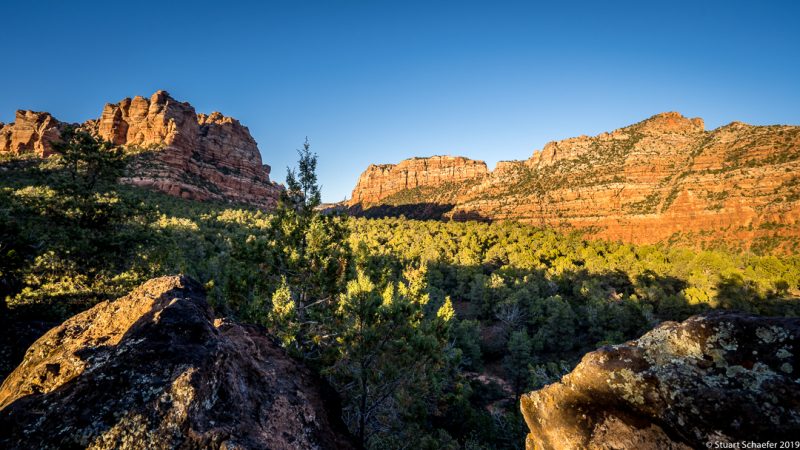 The National Park Service** provides trail descriptions.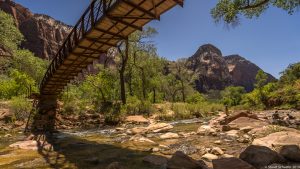 B

eing oldies (not of good physique), we chose trails in Zion that were classified as "easy" or wheelchair accessible.
Our favorite was the easy-to-walk Riverside Walk (last stop on the Shuttle). One day we stayed for hours soaking in the sun, the peace and quiet and sounds of rushing water. It was heaven! We attempted the hike to the lower Emerald Pools on a hot day and although rated as easy, the incline in places was challenging for us, so BE SELF AWARE AS YOU EXPLORE.
We passed a woman having a great deal of trouble with her asthma on the way to Emerald Pools and by the time she was half-way down, she was in real trouble with chest pains and shortness of breath. Her friends poured water over her head and made her drink but it was clear that help was needed fast.
Someone had gone for a Ranger, but the wait turned long, so we also ran for help. The Rescue Squad arrived with loaded backpacks moving quickly up the trail with two more rescue personnel close behind with a sling-back rolling chair gizmo for patient removal. Seven more rangers arrived with a rolling gurney.
Thankfully, she came down the trail looking much better than she had looked up on the trail. She was loaded into an ambulance. We heard of several rescue operations during our 3 days in the Park. Be forewarned-know your limits and take more water with you than you think you will ever need.
Zion is magnificent!!!
Even if you don't hike or trek, make your way into the park and find a spot to sit and watch the light play off the cliffs.
The Zion Lodge Shuttle Stop has a wonderful cafeteria-style eatery with views and an outdoor terrace. A huge lawn shaded by ancient trees was covered with families sitting, napping, doing yoga and talking the day we were there. We stayed there until the sun set behind the cliffs-it was a perfect day.
WHERE TO EAT IN SPRINGDALE, UT
Back in town, if you are ready for lunch or dinner, don't miss Blondie's Diner (hours: M-Sat. 11-8 p.m.) in a 1930's 2-bedroom house where six daughters were raised. Staff there are a delight and we giggled our way through inexpensive and tasty home cooking. Don't forget the homemade pie! Yum!
Our favorite may have been Casa De Amigos where we had $2.99 soft tacos with seasoned pork that melted in our mouths! After dinner, cross the street to the Springdale Candy Company, the chocolate shop where you can pick up a hot chocolate made with Belgian chocolate if it is cool out. If hot, choose some ice cream. If neither, what the heck, choose some of the countless house-made chocolates for dessert!
Finish your hikes early if you want dinner in town-no one stays open much after 9 p.m. but Porter's Smokehouse (M-Sunday 7 a.m.-8 p.m.) (open til 9 p.m. on Friday and Saturdays) let us in late and the ribs/prime rib sandwiches hit the spot!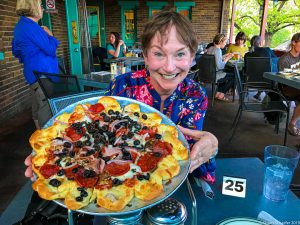 Or, make your way to Pizza & Noodles (open 4 pm. til closing 7 days per week)-a tradition in Springdale that has homemade crust on their 12" pizza.The view from Pizza & Noodles (once an old church) is out of this world! There are views from everywhere in town-it is a stunning place.
We think Zion National Park is heaven on this earth. Whether you want to scale Angel's Landing high above the cliffs or nap on the lawn of the Zion Lodge, you will never forget your experience!  We are here to answer any questions or give suggestions. Do not miss this national park!