updated 11/19
Only an hour and a half from both The Grand Canyon and Zion National Park is Page, Arizona. Yet, most people bypass Page and some of the most incredible national wonders in America!
SPECIAL UPDATE December 24, 2019
According to azcental.com, traffic jams have led slot canyon tour operators to discontinue the popular photography-only tours of the slot canyon on the Navajo Reservation near Page in northern Arizona as of Dec. 20,  2019.  You can still take photos with your phone or camera on regular tours, but no tripods will be allowed.
As the number of visitors increased, tour operators found it increasingly difficult to carve out the extra time professional photographers need to get that perfect shot. Tour operators thus voted to cancel photo-only tours, Antelope Canyon Tours posted on its website.
As you enter Page, Az, you may feel you have arrived in a remote, dusty, small town with nothing of interest to see. You'd be so wrong! 
Page has become one of our favorite places in America. We've all seen the iconic photos of the famous Antelope Canyon and Horseshoe Bend-we had to go!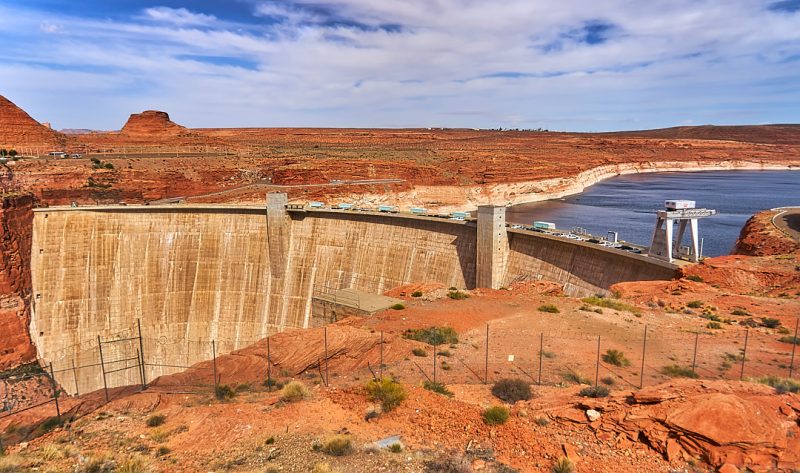 Travel Note: To access slot canyons on Navajo land, you must be with a Navajo guide. So, to take full advantage of our time in Page, we started booking tours in Page, Az in the January prior to our late April arrival. 
Page is a part of the Grand Circle, a portion of 5 southwestern states containing America's largest concentration of national parks, monuments and scenic byways.  
HORSESHOE BEND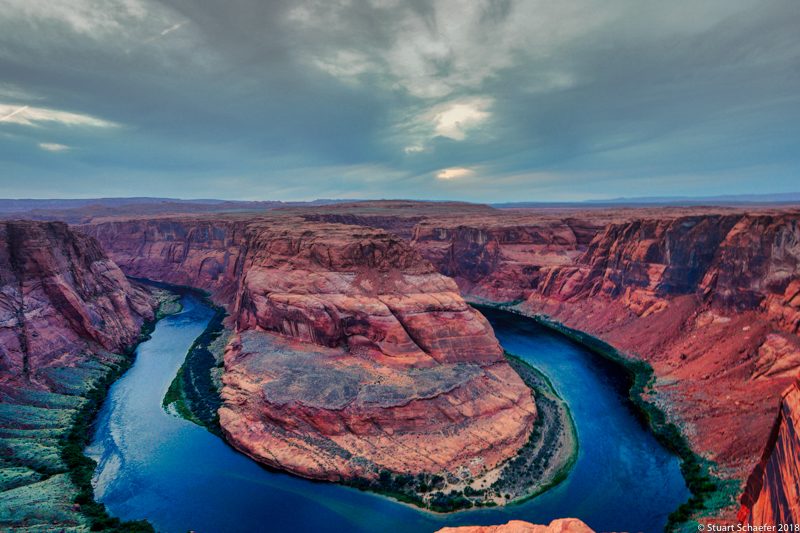 We couldn't wait to get to Horseshoe Bend!!  It was our first stop in Page! Horseshoe Bend is 1,000 feet above the Colorado River and takes your breath away!
You HAVE to see Horseshoe Bend to believe it! The scale of the place is unreal!
Our first night in Page, we slogged up and down the hills on the National Park side of the Horseshoe Bend Overlook to take in sunset. We found the rim crowded even in off-season.
There was a wind advisory and our skin got sandblasted as we took in the unforgettable view until the sun went down.
We walked to the rim carefully because the rim edge is intimidating. The scale is tremendous and the river lies 1,000 feet below sheer walls of sandstone.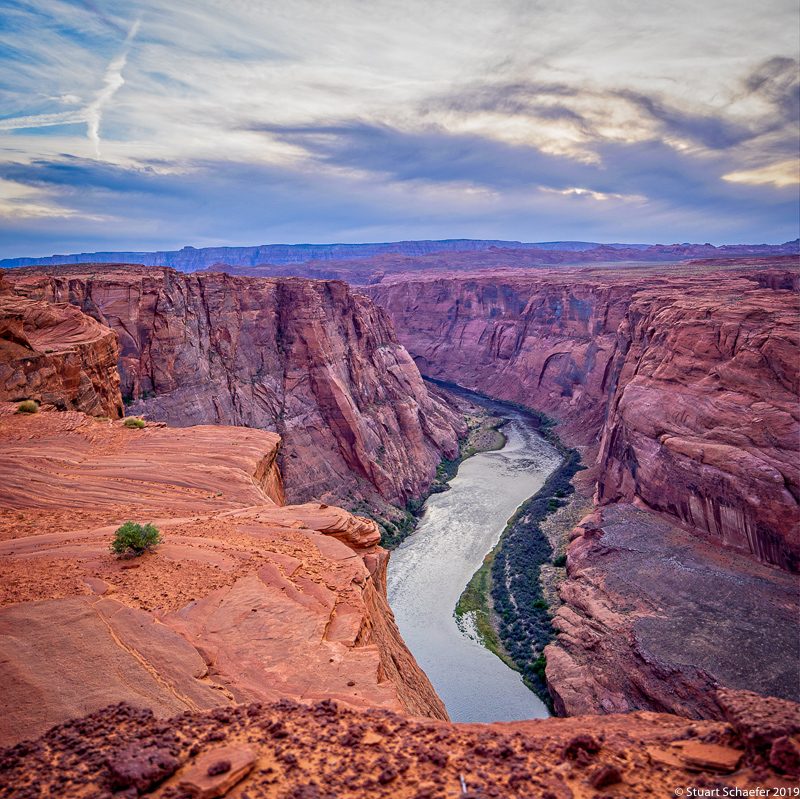 There is no railing so be careful. Truthfully, little kids running around really worried us-the rim area is no joke and sandstone is very soft and can easily give way.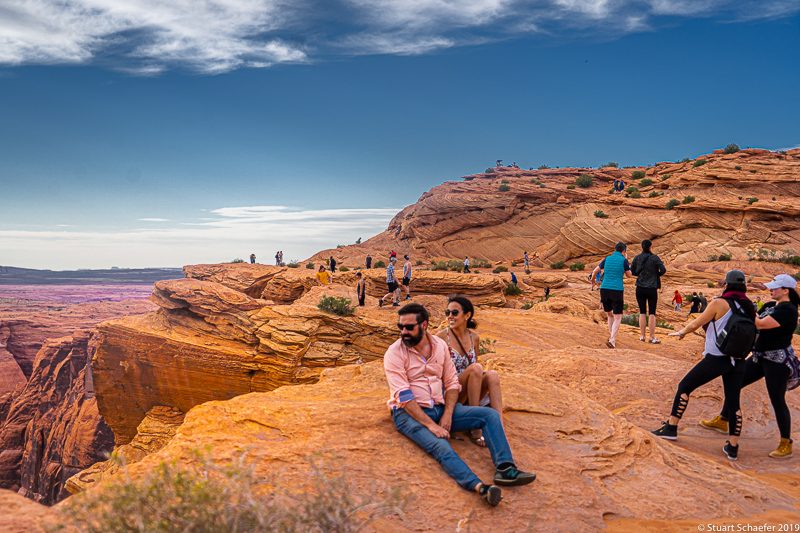 Folks leaning over the edge backwards for selfies made my hands sweat!  The next day we were told that someone was lost over the side two weeks prior.          
Stu and I weren't as concerned about falling off the rim ourselves as the possibility that someone in the crowd could bump one of us while we were focused on getting a photo and whoosh! We'd be gone.                            
We waited for sunset, overwhelmed by the view for a couple of hours.  That evening, as we walked back to the car, a butter-colored full moon was rising over the vastness of Navajo lands. 
It was so quiet. We will never forget this experience of a lifetime!     
There are actually two sides of Horseshoe Bend accessible. One is the National Park overlook which we visited first.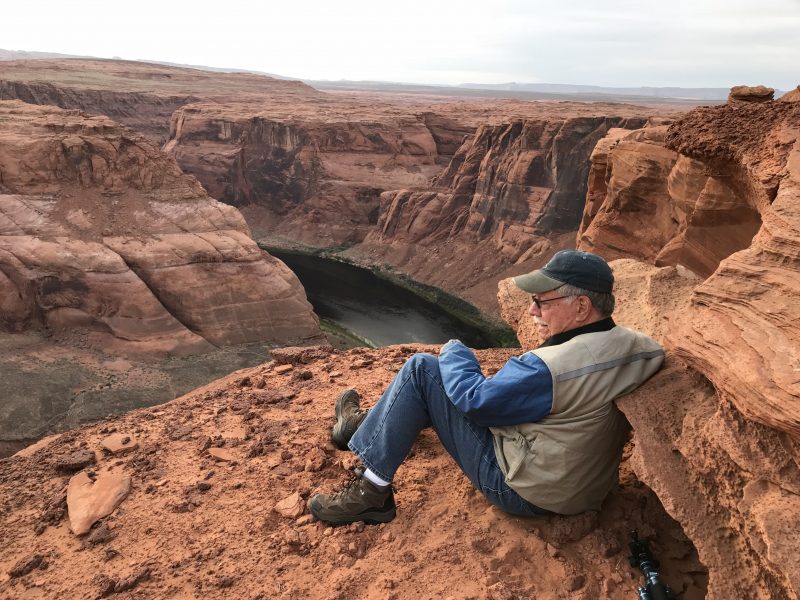 The second evening, we took a tour to the side of Horseshoe Bend on Navajo Tribal lands.
Since we are out of shape for the walk, we were only too happy to pay Horseshoe Canyon Tours to drive us to the Navajo-side of the overlook at Horseshoe Bend the next evening.  We had only a few feet of walking to the rim with our guide there to help.
The clouds hid any sunset on this night but the experience was, once again, intoxicating.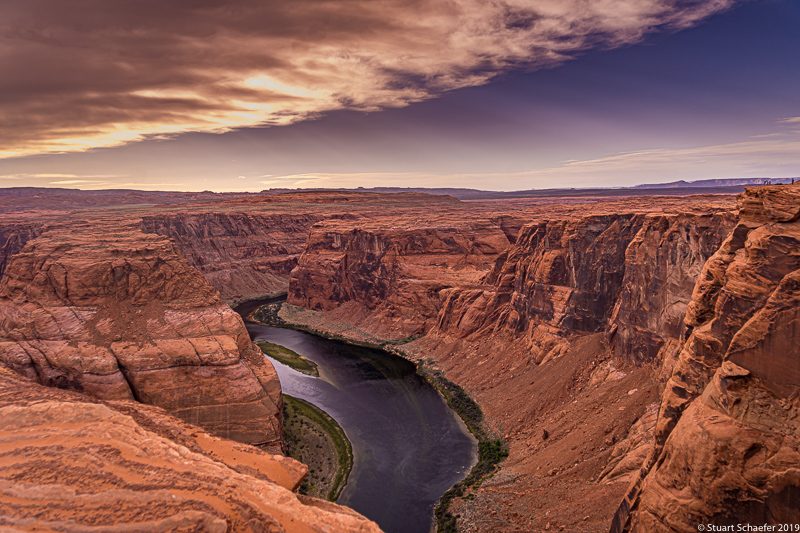 How to get to Horseshoe Bend                         
By Car:

From Page, AZ, drive south on Highway 89 to between mileposts 544 & 545. Look for the exit and a good-sized dirt road on the west side of the highway. Drive a short distance to the parking area. This stunning sight is south of Page about 5 miles on Highway 89.                     
Via Shuttle:          
There is one shuttle offered by Horseshoe Bend Slot Canyon Tours that leaves each hour from 8 a.m. to 4 p.m. This will take you to the Bend via Navajo Indian Tribal lands. This company also offers a sunset tour of Horseshoe Bend.            
Parking at Horseshoe Bend       
You'll find a small dirt parking lot at the National Park side of Horseshoe Bend. The City of Page is working to improve the parking.  Parking is $10.    There are restrooms by the parking lot.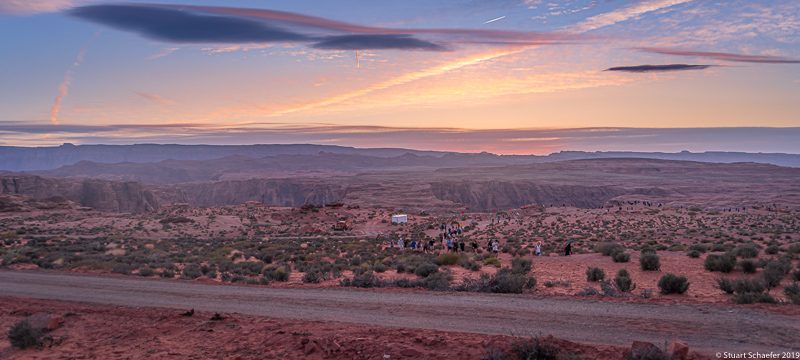 DO NOT park on the side of Highway 89 because you will be towed and fined.     
PLANNING YOUR TRIP TO HORSESHOE BEND

There is no "best" time to go to Horseshoe Bend. Bear in mind that temperatures can reach into the 110 degree range in the summer and winds are not mitigated by trees or other obstructions. 
We were at Horseshoe Bend the last week in April and the wind was so strong it impacted our balance and the blowing sand felt like we were being sandblasted!     While we sat and waited to take photos at sunset, we wished we had brought face masks or kerchiefs.    Take a handkerchief or mask with you and plenty of water. Wear walking or hiking shoes!  
You'll notice that Youtube videos make the walk to the rim look like a flat walk. Not so! It is a 1.5 mile (up and down and up) hike.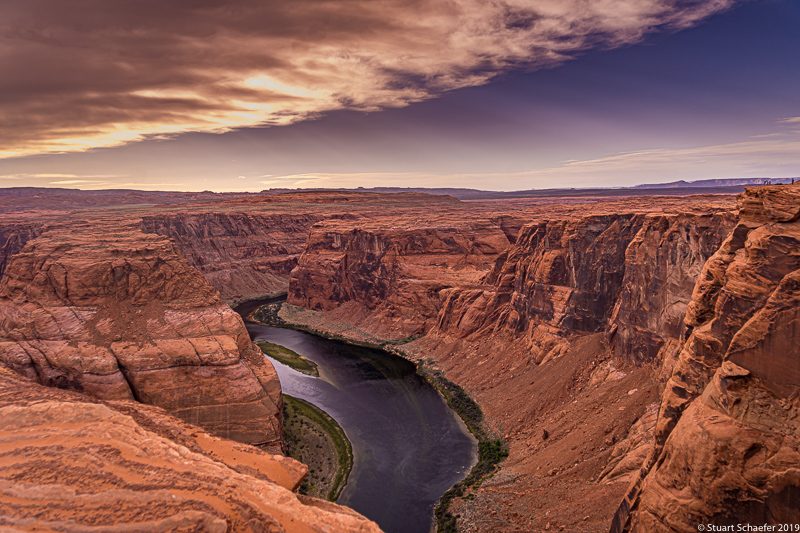 The uphill walk from the parking area (which can be strenuous) is at the beginning and on videos looks to lead to the rim of Horseshoe Bend. However, from that hill,  it is nearly 3/4 of a mile down to the rim. The walk down is easy. 
But, boy, the incline coming back from the rim to the parking area is a real challenge and had us huffing and puffing and stopping periodically to catch our breath and visit with others who aren't in Olympic shape.
If you are out of shape like we are, just take your time. There are concrete benches every few hundred yards. You will be walking on soft, fine red dirt. Take a hiking stick if you need one.
Believe us, the walk is worth it!!!!!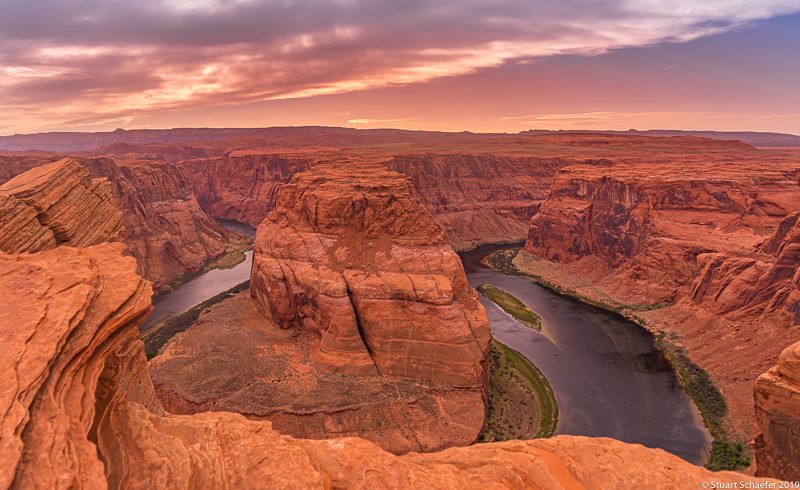 There are ways to see Horseshoe Bend besides walking.
1. Take a half-day Colorado River Float Trip through the Canyon.  Such float trips are available through Colorado River Discovery Half-Day Float Trip. Float trips depart once each day at 11 p.m. March1-31; and October 1-November 30th.
They leave twice daily at 7:30 and 11 a.m. from April 1-30, then at 7:30 and 1 p.m. May 1 through September 30. You can also kayak the Colorado River to Horseshoe Bend.  Contact Kayak Horseshoe Bend (928) 355-2261.

2.Take a flight in a fixed wing plane or by helicopter.  Among the many flight options available are: Papillon (888-635-7272)/email: res@papillon.com;  Westwind Air Service (928-645-2494);  or Grand Canyon Helicopters (855-326-9617); Sundance Helicopters (800) 653-1881; or Adrenaline (888-992-3736). 
There are other air companies you may find online.
3. Take a trail ride by contacting Horseshoe Bend Trail Rides/(928) 209-2430.
THE SLOT CANYONS
We had seen photos of the famous Antelope Canyon, but knew nothing else about the Slot Canyons in Arizona. Slot Canyons are enchanting and simply unforgettable natural wonders!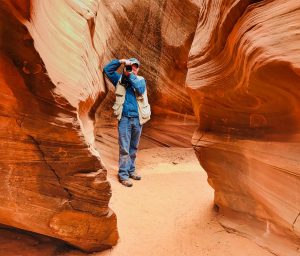 Our slot canyon experiences are among our very favorite in America.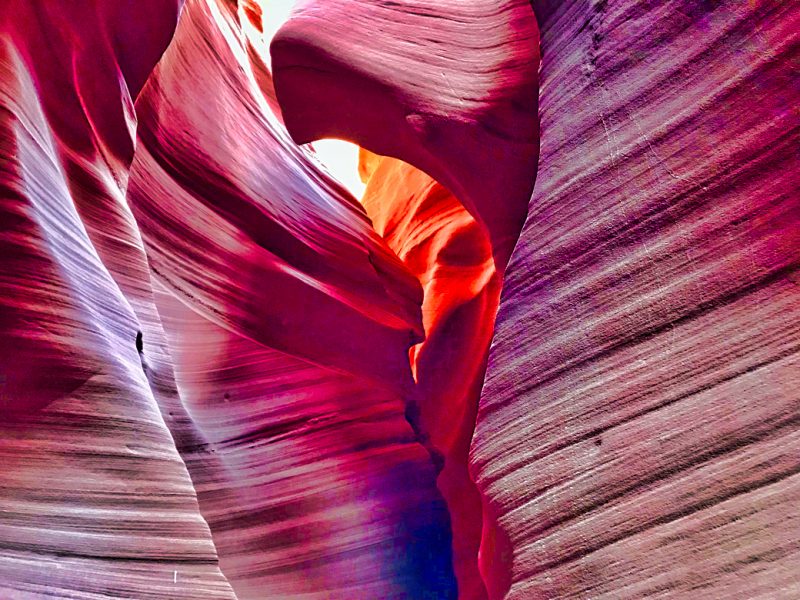 Slot Canyons are narrow canyons, formed by water rushing through rock. Slot canyons are deeper than they are wide. These canyons are mostly found within the Colorado Plateau of northern Arizona and southern Utah.
Slot Canyons near Page, Arizona
The canyons that cut through the soft Navajo Sandstone rock south of the western end of Lake Powell near Page, Arizona are generally regarded as the most beautiful and photogenic in the American southwest.
The rocks have bright red to orange colors with extraordinary textures and patterns. Watching the movement of light and shadows in the Slot Canyons is an unforgettable experience!
Most Slot Canyons are remote, hidden and difficult to reach and explore.
Planning your visit to the Slot Canyons: Which ones should I see?
The Antelope Canyons

The most famous, the Antelope Canyons, must be booked months in advance. "Antelope Canyon" includes two separate slot canyon sections, called Upper Antelope Canyon and Lower Antelope Canyon. 
January is NOT too early to book time slots in May! See Antelope Canyon
1.Upper Antelope Canyon
The upper portion of Antelope Canyon rises some 120 feet above a stream bed and is about 100 yards long and fairly flat. 
Upper Antelope Canyon gets very crowded. Upper Antelope is easy to enter and has a shaded waiting area, so elderly or physically challenged visitors should visit Upper Antelope Canyon.
You can drive directly to the Tribal Park Entrance on Highway 98, or take a tour from downtown Page, AZ.
Many people want to see Upper Antelope because of the well-known beam of light which transforms the canyon from around 10:30-1 p.m., depending on season. Guides throw dust into the beam and the effect is unforgettable.
We found the same effect at Antelope Canyon X, however.
There are many tours of Upper Antelope Canyon but book your tour at least 3 months in advance and be prepared to pay from $68 to $78 per person. (2019) Note: Some tour companies no longer offer photography tours here as of 2018.
2.Lower Antelope Canyon
The Lower Canyon is less expensive to see and usually has fewer crowds. However, you must be able to climb  ladders to see Lower Antelope Canyon. You will climb down a series of ladders as you explore the canyon.
To see Lower Antelope Canyon, you must drive to the Tribal Park Entrance gate directly. 

Note: Some tour companies no longer offer photography tours here as of 2018. Tours of Lower Antelope Canyon average $40 per person.(2019)

IF you are looking for a photography tour (which we highly recommend since you get more time in the slot canyon with less of a crowd), visit other slot canyons or research for a tour company which offers such tours.

For photographs, most people recommend Upper Antelope Canyon. For fun and adventure, most people recommend Lower Antelope Canyon.

BOTH OF THE ANTELOPE CANYONS ARE SO BUSY, some people find a waiting time of several hours. We heard (not verified), that in Upper Antelope Canyon, you are given 2 minutes to explore and are then moved on. 
If you want to visit both, book the 10:30 tour of Upper Antelope and Lower Antelope at 1:30 p.m. See Antelope Canyon for tours. 
Since Antelope Canyon was sold out when we started booking tours, we turned to two companies to see other slot canyons; Horseshoe Bend Slot Canyon and Antelope Canyon X. Neither disappointed!
Other Slot Canyons Near Page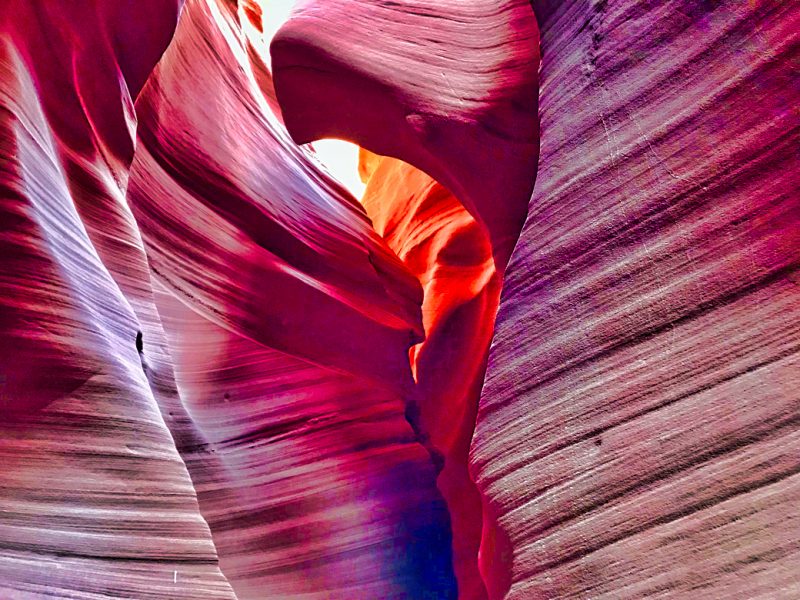 The following list represents only a few of the Slot Canyons in the Page, AZ area:
Antelope Canyon-the most photographed canyon. Two sections are open to visitors; the 600 foot-long Upper Narrows south of AZ Highway 98, and the deeper Lower Narrows to the north.
Blue Pool Wash-1.2 miles, 80 feet. This is a minor "drainage" with a short narrows section through light-colored Entrada sandstone.
Butterfly Canyon-3.5 miles, 800 feet. Shallow, very pretty Narrows followed by a much deeper and darker slot canyon. May be closed to hikers.
Starting Water Wash-2.5 miles, 400 feet. This is a long slot canyon tributary of Kaibito Creek. These extended Narrows become totally dark in places. This is one of the best slot canyons on the Colorado Plateau but may be closed to hikers.
Stateline Canyon-2 miles, 300 feet. Short and shallow but a photogenic and easily explored slot canyon. Located via a short walk from US Highway 89, and ending at Lake Powell.
Upper Kaibito Creek-.8 miles, 200 feet. Deep, exciting, challenging slot canyon and one which requires repelling in many places. The Navajo Nation may have this canyon closed to visitors.
Upper Kabito Creek, East Fork-2 miles, 300 feet. This is a beautiful tributary of Kaibito Creek with many "fins," small arches and interlined potholes, all very colorful. May be closed to hikers.
Water Holes Canyon- 1.6 miles, 400 feet. This is a branched "drainage" that forms several gorgeous sections of slot canyon, separated by wide, sandy washes. There is a deeper, extended gorge lower down. As of May 2018, this canyon may only be visited as a part of a guided tour, but is a gem and uncrowded.
Note: Slot Canyons may be closed on Navajo Nation lands. This is due to the cost of expensive search and rescue operations to find unprepared hikers who get trapped in some of the deeper canyons. Rain is also a concern as flash rains can flood the canyons in an instant and kill hikers and campers.
We visited:    
HORSESHOE BEND SLOT CANYON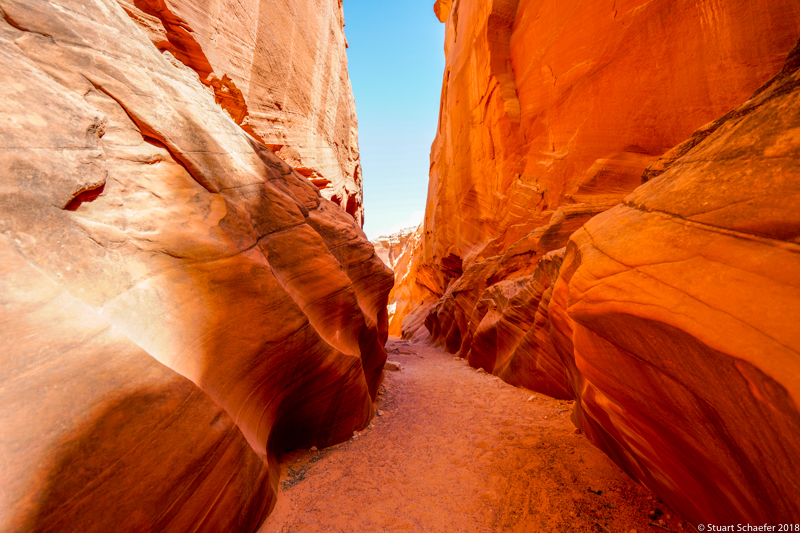 | | |
| --- | --- |
| Horseshoe Bend Slot Canyon | Horseshoe Bend Slot Canyon |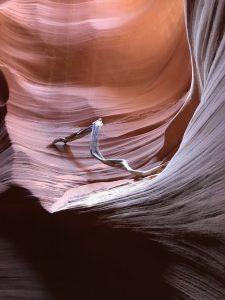 At Horseshoe Bend Slot Tours, Trey, our guide, helped us into an open-air jeep-type vehicle and 8 windy miles later we entered his grandfather's 15,000 acres followed by entrance into his grandmother's 15,000 acres of land. The red sand road was surrounded by sage and promontories that seemed to pop up out of nowhere. 
Our open-air jeep bounced along with Stu and me in the back seat and, though tightly seat-belted in, we were flying around in the air laughing our heads off. We felt 6 years old and loved it!
Trey asked if we wanted some fun and we screamed, "yes!" So he banked the jeep a few times off dunes and we felt like we were at Six Flags!!!
Stu and I were in hysterical laughter! Good thing we are both little kids inside.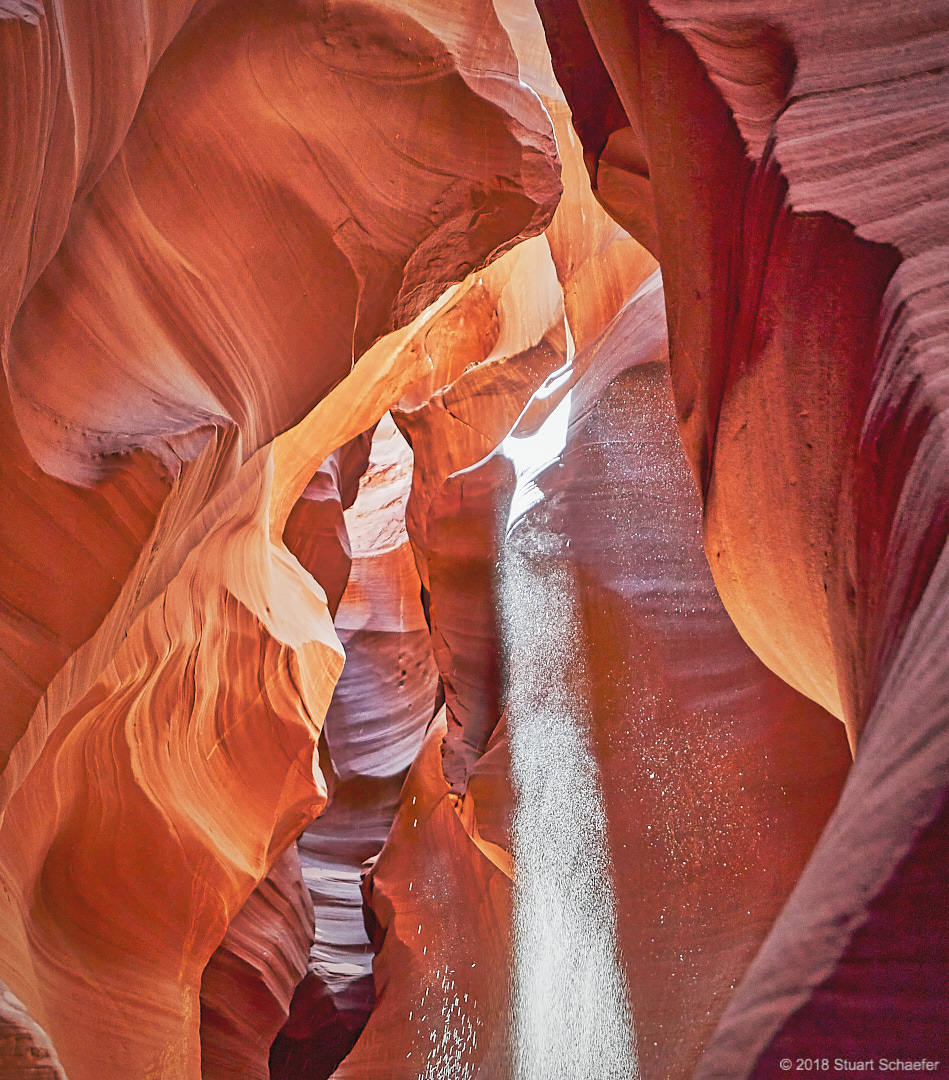 Trey knows photography! Stu was photographing with the just-released (2018) Sony A7Mark3, and he and Trey compared cameras and techniques. Trey and Stu spoke that intriguing language of "camera." Turns out, Sony, Canon, Nikon and other major companies have gone to Horseshoe Bend Slot Canyon to test and promote their latest in camera technology.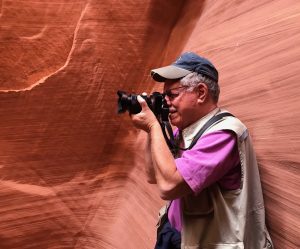 When we arrived within about 60 yards of the entrance to the canyon, the blue sky and red sandstone was magical!!! We spent more than 2 1/2 hours just walking through the canyon on our own with Trey there to answer questions, give photo tips, offer water and tell stories.          
Other than an exciting jeep ride to Horseshoe Bend Slot Canyon, the canyon is easy to access. The ground is fairly flat (though soft) as you approach and when inside the canyon.    The walk to the entrance is less than 50 yards from where the guide parked.    Our guide also played the flute for us while in the canyon. This canyon turned out to be an almost spiritual experience mixed with a thrill ride! 
ANTELOPE CANYON X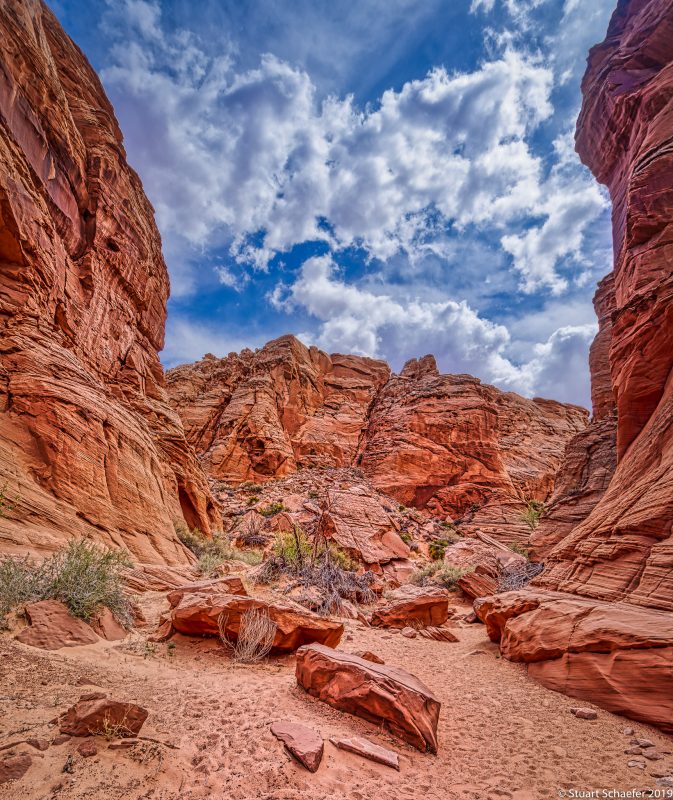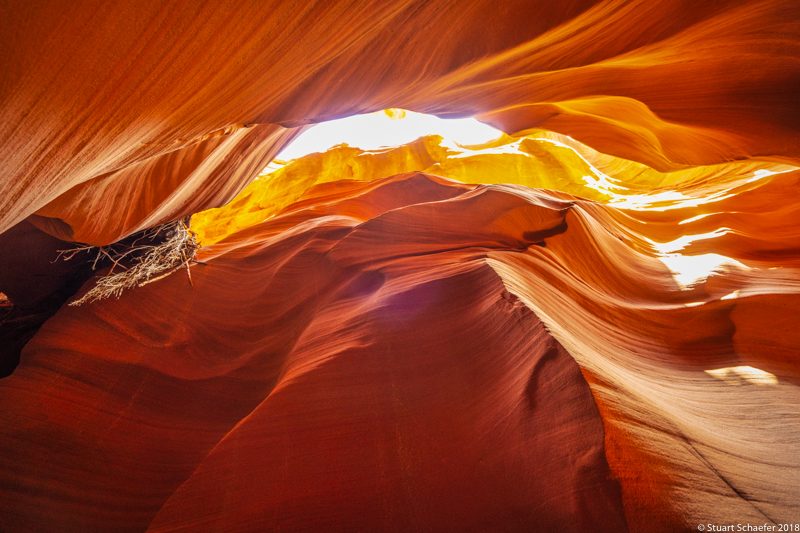 How to Get to Slot Canyons
Most Slot Canyons are located on land that is privately owned or part of the Navajo Reservation. You need a permit to hike and camp.
Permits cost $5 for hiking and may be purchased at the Navajo Tribal Parks Office beside the Leche-e Chapter House, 3 miles south of Page, Arizona.
However, if you book a tour, the cost of the hiking permit is included in the tour price.
Most of the Slot Canyons may only be visited as part of a Navajo-guided tour. See our post with two recommended tour companies. 
We STRONGLY recommend taking a photography tour. You will be accompanied by guides who know photography, will have fewer people on the tour with you and will be given more time to enjoy photographing this enchanting part of America.
Photography Rules & Process at the Slot Canyons  
If you have plans to sell any stills, videos, or even post on social media for sale, you MUST have a photography permit from the Navajo Nation.
We found the process a little confusing but well worth the effort. Photographers who do not obtain permits prior to their travel/tours, have been turned away upon arrival.
We also felt that since the Navajo Nation has scant resources to support themselves, a small fee for a permit is not only worth the trouble but something we want to support.
HOW TO GET A PHOTOGRAPHY PERMIT ON NAVAJO LANDS
1) Contact the office of the Navajo Nation Parks and Recreation Office and request an application form.
Louis Tsinijinne, Media Representative
Navajo Parks and Recreation Department
P.O. Box 2520
Window Rock, AZ 86515
Phone: 928-871-7057
2) Send the completed application to the appropriate Navajo Parks and Recreation Office in the region you are visiting. Our tours were near Page, AZ so, in our case, this was the Lake Powell Office. You can find the appropriate office online.
3) While the fee is $50 per photographer (or $50 if you are a married couple), this is where the process became confusing to us. We were told the $50 fee covers photographing on both the tours we had booked even though we planned on taking them on different days. The permit is actually good for 3 days. 
The application cites use of only cash, money order or cashiers check. However, when we contacted the office by phone, we were told a credit card was fine.
Unfortunately, there is no spot on the application for a Credit Card number. We opted for the cashiers check and had it made out to the Payee requested: The Navajo Nation.
We then mailed the check and application together to the Lake Powell office. We created a paper trail just in case there were any problems. For clarification, we recommend contacting:
Shaina Begay-Smith, Office Assistant
Lake Powell Navajo Tribal Park
Phone: 928-698-2808
Fax: 928-698-2820
→ Please see more details about the Slot Canyon Photography Permit Process at our post: https://thetravelingseniors.com/tours-in-page-arizona/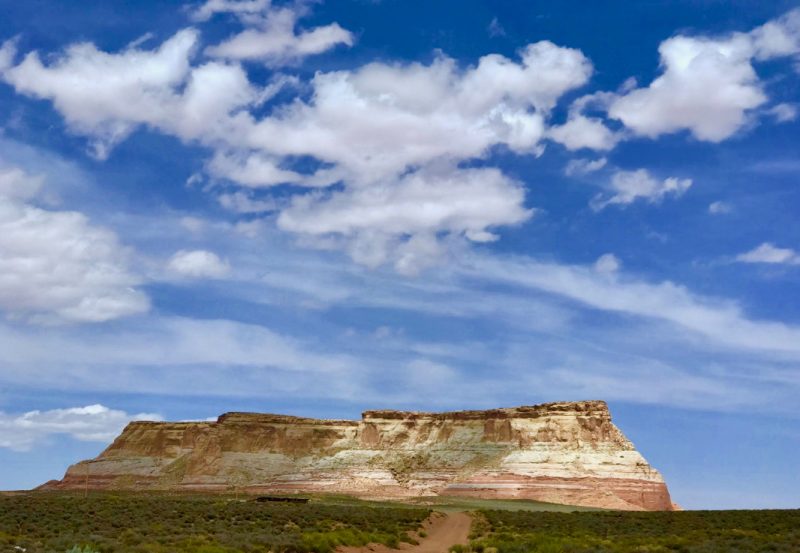 OUR RECOMMENDED TOUR COMPANIES  
Horseshoe Bend Canyon Tour Company(435) 275-4594 
We HIGHLY recommend Horseshoe Bend Canyon Tours for seeing both the Horseshoe Bend Slot Canyon and the Navajo side of Horseshoe Bend! Horseshoe Bend Tours offers multiple tours at various price points. The company is extremely professional, is family-owned and operated, and offers a lounge, coffee, restrooms, provides water, lollipops and protein bars and an unforgettable adventure.
The whole family made us feel like we had joined the family too. In fact, we had taken the Canyon tour and ended up wanting to go to Horseshoe Bend again the same evening. We hadn't signed up for the Canyon/Bend combination tour but the family said for $30 they would let us park on their acreage and they would pick us up at the gate and take us to the Bend.
It worked out so well! Trey led the group again and we only had to walk about 100 feet with Trey there to help, if needed.
Only 6 other people were with the group so access for photos was unmatched and we were only 100 yards from the much more crowded National Park Overlook! Trey knew we were hunting sunset shots and said, based on the following night's cloud cover, to just give him a call and he would get us to the Overlook once more! Trey is the best guide you could want-we HIGHLY recommend this company!
Antelope Canyon X by Taadidiin Tours Company
(928) 660-8890
Jackie owns the Antelope Canyon X tour company and her extended family owns the land on which 3 slot canyons are located.
There are two tours offered here (as of 2018).One is for those with smart phone cameras and is called the Hiking Tour and one is for photographers.
Tripods and gear are only allowed on the photography tour so we hopped into Sergio's SUV thirty minutes ahead of our 10 a.m.tour time. Sergio handed us off to Eugene – a real expert in photography, who led us into the first canyon.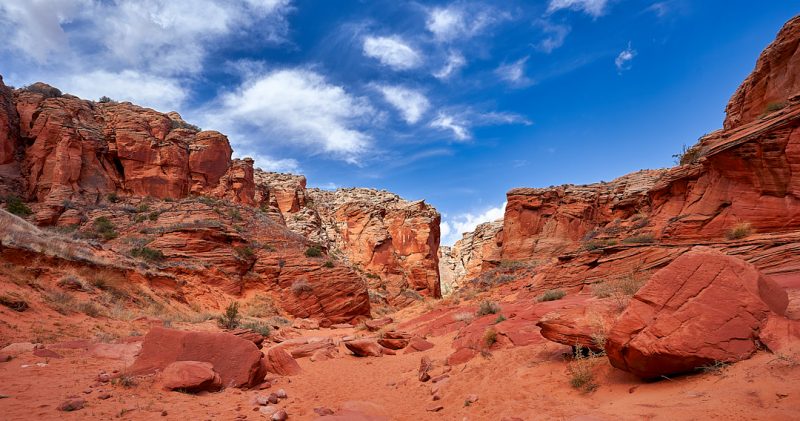 Regular tour groups came and went but Eugene gave us literally hours to photograph canyons 1, 2 and 3! He was extremely helpful to me (being a wanna-be photographer) by suggesting positions for photographs. Meanwhile, he gave Stu full-reign of anywhere he wanted to go. He spent 45 minutes just photographing the landscape located between canyons.

Robert's Navajo Song & Explanation of Dance   
Robert is Jackie's father. Stu and I estimate him to be in his late 70s or in his 80s. I'd seen Robert explaining the meaning of Navajo dance and drums to a tour group from China and, as luck would have it, Robert drove us from the canyon back to the base camp parking lot. Robert, Stu and I sandwiched into the front seat of his SUV for the ride.
We started talking to Robert about the old ways, tribal wisdom and the Navajo language. Robert is fluent in Navajo and estimates that only about 30% of the Navajo young people know the language. He is fearful that the stories and culture are being lost. I asked Robert if he would sing and explain dance to me while I videotaped and he said yes! But…he wanted to video away from it all so he turned the truck down a dirt road into native lands while the rest of the passengers wondered what was happening. "The lady wants to see something", he told them.
I was so honored to capture Robert's song and dance on native land. The other passengers eagerly disembarked and joined in as the wind blew Robert's hair and carried his voice into the vastness of space around us.    
WHAT ELSE YOU SHOULD SEE IN PAGE
GLEN CANYON DAM
Head to the Carl Hayden Visitor's Center at Glen Canyon Dam where you can join a tour with the Glen Canyon Natural History Association. With a tour, you can go to the bottom of the dam structure. Tours are on a first come, first serve basis. Remember, though, the Glen Canyon Dam is a federally-managed dam so the Department of Homeland Security regulations are strict and enforced. Armed guards are stationed throughout the facility. Bags and purses are prohibited on the tour.
GLEN CANYON NATIONAL RECREATION AREA  
This national recreational area has over 1.25 million acres! It stretches from Lees Ferry, AZ to the Orange Cliffs of southern Utah. Check for updates and closings at: https://www.nps.gov/glca/planyourvisit/seasonathalhours.htm   Trek to the Rainbow Bridge, see bats in Glen Canyon, or tour Lake Powell and Glen Canyon Dam.  
Also consider seeing Vermillion Cliffs National Monument on Route 89A in Page, These cliffs are called the "second step up" in the five-step Grand Staircase of the Colorado Plateau in northern Arizona and southern Utah.* Only a few people get to see the cliffs because you must obtain one of a very few limited permits. The site is also called, "The Wave."
A second, "New Wave" is located one mile past the Glen Canyon Steel Arch Bridge (opposite the turn-off to the Lake Powell Resort Complex). The "New Wave" is similar to the "Wave" which requires permits to visit. These rock formations are smaller in size, but require no permits and are free to visit.
Lake Powell and the Colorado River are great for any water sports! There are plenty of tours available from 1.5 hour lake boat rides to full day rafting on the Colorado River.   
Big Water Visitor Center is located 15 miles northwest of Page, just over the Utah border. This facility houses locally-excavated dinosaur bones and award-winning paleontology and geology displays.    
TRAILS     
A hike to the Hanging Garden is easy, guided and only 1 mile roundtrip. The Hanging Garden overlooks the Colorado River and Lake Powell. You really get to study the desert on this hike. You'll see lizard trails, coqui marbles, snake skeletons and maybe some small wildlife. The turn off for the Hanging Gardens is a quarter mile east of Glen Canyon Bridge on Highway 89. Parking is available at the trailhead off Highway 89. Look for a small white sign off the highway to find the guided tour.          
Dam Overlook: 940 feet roundtrip hike. Easy. From Highway 89, turn west on Scenic View Road about 1.5 miles south of the Carl Hayden Visitor Center. Take the first road to the right and park in the parking area at the end of the road. You walk downstairs and over sandstone.          
The Chains: distance varies as does the difficulty. Just east of the Glen Canyon Dam, take a gravel road heading north off Highway 89. Pass the Hanging Gardens Trail Head. Swimming should only be attempted here by experienced, strong swimmers.          
Horseshoe Bend: 1.5 miles roundtrip. easy. Approximately 5 miles south of the Carl Hayden Visitor Center on Highway 89, just south of highway marker 545, turn west on the first road that goes up a small hill. Drive a short distance west on the dirt road and park at the base of the hill. You must climb up and down a sandy hill.          
Antelope Point: distance varies as does the difficulty. Just a short distance from Page on State Route 98, turn north onto Route 222. This is a great place to explore with slickrock formations west of the parking area.          
Page Rim Trail: 10-mile dirt track which loops around Manson Mesa. Once you begin the trail, there are multiple exits from it. This trail is popular for local joggers and hikers.        
The Paria Rimrocks-Toadstools Trail is at Mile Marker 19 between Page, Az and Kanab, Ut on US 89. This is a moderate 1.5 mile round-trip trail leading to hoo-doos and balanced rocks. When you think you have reached the end of the trail, a short walk up some rocks leads to the main hoodoo "garden."    
For many more hikes, visit: https://www.nps.gov/glca/planyourvisit/day-hikes.htm.          
CLOSEST AIRPORTS TO PAGE, AZ    
There are five airports to choose from to reach Page, AZ.   
Phoenix Sky Harbor International: The drive to Page, AZ is 4 hours and 17 minutes. 
McCarran International: The drive to Page, AZ is 4 hours and 32 minutes.
Salt Lake City Airport: The drive to Page, AZ is 6 hours.
Flagstaff Pulliam Airport: The drive is 2 hours and 12 minutes.
Page Municipal Airport: Located in the City of Page, AZ.
LODGING AND FOOD     
There are several hotels in Page, AZ. We stayed at the Baymont by Wyndum at Lake Powell Hotel which overlooked Lake Powell. There is a Denny's restaurant nearby and free breakfast at the hotel. We were very pleased with the hotel.    Food options are in very informal restaurants and of the fast food variety.      
As we left Page, Arizona, we were already trying to figure out when we could get back to Page! It is unforgettable for anyone who marvels at nature's handiwork and loves the great outdoors.