SPECIAL UPDATE December 24, 2019
According to https://tinyurl.com/wxab7m4 traffic jams have led slot canyon tour operators to discontinue the popular photography-only tours of the slot canyon on the Navajo Reservation near Page in northern Arizona as of Dec. 20,  2019.  You can still take photos with your phone or camera on regular tours, but no tripods will be allowed.
As the number of visitors increased, tour operators found it increasingly difficult to carve out the extra time professional photographers need to get that perfect shot. Tour operators thus voted to cancel photo-only tours, Antelope Canyon Tours posted on its website.
Head to Page, Arizona! Numerous Slot Canyons and Horseshoe Bend near Page are unforgettable and should be on any photographer's bucket list. Do you need help with the photography permit process? Would you like recommendations on locations and tour companies?
WE HAVE YOU COVERED!
You must be accompanied by a guide on Navajo lands. You also need permits to photograph the slot canyons if you plan to sell, publish or share those photographs. 
We have two Navajo tour companies we strongly recommend. First, let's take you through the Navajo photography permit process.
PERMITS FOR PHOTOGRAPHY ON NAVAJO LANDS 
If you have plans to sell any stills, videos, or even post on social media for sale, you MUST have a photography permit from the Navajo Nation.
We found the process a little confusing but well worth the effort. Photographers who do not obtain permits prior to their travel/tours, have been turned away upon arrival.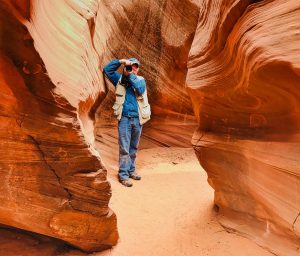 We also felt that since the Navajo Nation has scant resources to support themselves, a small fee for a permit is not only worth the trouble but something we want to support.
HOW TO GET A PHOTOGRAPHY PERMIT ON NAVAJO LANDS (as of 2018)
1) Contact the office of the Navajo Nation Parks and Recreation Office and request an application form.
Louis Tsinijinne, Media Representative
Navajo Parks and Recreation Department
P.O. Box 2520
Window Rock, AZ 86515
Phone: 928-871-7057
2) Send the completed application to the appropriate Navajo Parks and Recreation Office in the region you are visiting. Our tours were near Page, AZ so, in our case, this was the Lake Powell Office. You can find the appropriate office online.
3) While the fee is $50 per photographer (or $50 if you are a married couple), this is where the process became confusing to us. We were told the $50 fee covers both the tours we had reserved even though we planned on taking them on different days. The application cites use of only cash, money order or cashiers check.
However, when we contacted the office by phone, we were told a credit card was fine. Unfortunately, there is no spot on the application for a Credit Card number. We opted for the cashiers check and had it made out to the Payee requested: The Navajo Nation.
We then mailed the check and application together to the Lake Powell office. We created a paper trail just in case there were any problems. For clarification, we recommend contacting:
Shaina Begay-Smith, Office Assistant
Lake Powell Navajo Tribal Park
Phone: 928-698-2808
Fax: 928-698-2820
You'll see online that a Hiking Permit is also required for Navajo lands. The Hiking Permit fee of $5 is included in the photography permit so you don't have to go through a separate step to acquire one.
We didn't hear back as to whether our permit was issued before we left on our trip. We took our paper trail with us, if needed.  Turns out, the Navajo Nation had contacted each of our tour companies to tell them we had our permits.   The permit DOES cover different tour companies and different days during a 3-day span. Page, Arizona is small and the communication among the Navajo Nation and the tour companies is quite good.
WHERE TO GO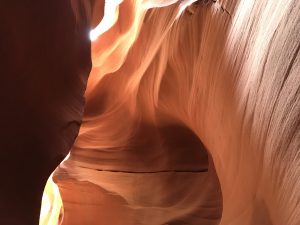 Photographers and tourists head in droves to the famous Antelope Canyon. The tours are sold out months in advance so even crowded tours of Antelope Canyon were not an option for us. We were also told that people photographing Antelope Canyon were shuffled along in crowds and were given 2-minute shifts to take photos. Given the opportunity, we probably would have put up with that approach.
However, we researched and found two tour companies offering spectacular photography opportunities at different Slot Canyons.
We highly recommend both tour companies in Page, Arizona for an epic experience.  
Note: You must access local Slot Canyons that are on Navajo land with a Navajo guide.
We used Antelope Canyon X Taadiddin Tours and Horseshoe Bend Slot Canyon Tours.  We recommend taking both tours.
RECOMMENDED NAVAJO TOUR COMPANIES
Both tour companies are family owned but differ from each other. Both offer extremely personalized service and the experience with each is excellent.
The Horseshoe Bend Slot Canyon Tour Company runs a silky smooth tour and has a sophisticated approach to client service.  There is a large, clean waiting area with a restroom, drinks and snacks.
Antelope Canyon X Taadiddin Tours does not, at first glance, seem very sophisticated. Clients gather at a trailer in a dirt parking area. No snacks, no water and no restroom. However, the knowledge of the Antelope Canyon X guides is invaluable. If you enjoy colorful personalities, you will love them!
Neither company oversold to make tours crowded. Neither hurries you through the Slot Canyons!  At Horseshoe Bend Slot Canyon, we had the company of only 11 people and were treated like family! At Antelope Canyon X, our guide told us to stay on our own as many hours as we liked as they brought non-photographers in for tours. The guide checked on us periodically and even suggested camera angles.
Antelope Canyon X Taadiddin Tours
This company offers 2 photography tours (one a hiking tour where handheld cameras are allowed and a photography tour where tripods are allowed)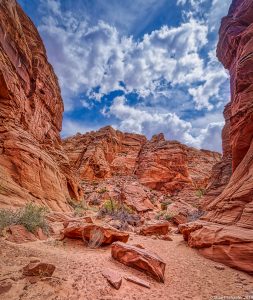 Reserve a spot on the tour with no charge. They prefer cash to credit cards at the tour office the day of the tour. Ask for Jackie who owns and operates the tours with any special questions. Open every day 9 a.m.-3:00 p.m. MST. Call for Reservations on Holiday weekends. $72.79 per person for photo tour. (2018 prices)
HWY 98, Milepost 308 in Page, Arizona (About 10 miles southeast of Page, AZ) 
No Reservations are Required.
antelopecanyonx@gmail.com/ Phone: 928-660-8961
Horseshoe Bend Slot Canyon Tours
Horseshoe Bend Slot Canyon Tours offers various tours, including one to the "Navajo side" of Horseshoe Bend. Prepayment for the Tours is required. Ask for Tim who operates the tours with any special questions.
This company is outstanding. Once we had been on the Horseshoe Bend Slot Canyon Tour, Trey, our guide, offered to pick us up any evening there might be a colorful sunset and he would take us to the Navajo side of Horseshoe Bend on Navajo Nation lands for $30. This company treated us like family and did anything they could to accommodate us as photographers. Trey even gave us a surprise by taking us to a Navajo Hogan. He was gracious in explaining Hogan history, Sweat Lodges, and giving us some history of his family.
821 US Highway 89, Page, Az
info@horseshoebendtours.com
www.Horseshoebendtours.com
(435) 275-4594
Adult $90.00 (2018 pricing for photography tour)
Page, Arizona became one of our favorite American destinations! Arizona's Slot Canyons are simply incredible. We have more information on Page and other Slot Canyons in our blog post, "Backroads Trip: Explore Page, Arizona" at: http://thetravelingseniors.com/our-page-arizona-visit/ and at: http://thetravelingseniors.com/magic-at-antelop…ear-page-arizona/
Page is only an hour and one half drive from Zion National Park so add it to your bucket list!