Fort Pickens National Park is at one end of the Florida National Scenic Trail on Santa Rosa Island in The Gulf Islands National Seashore. The Fort is an historic and scenic treasure! This part of Florida has the largest collection of 1800s forts and batteries open to the public of any national park.
It doesn't matter if you are looking for history, nature, hikes, sugar white sand beaches, fishing, biking or birdwatching-Fort Pickens has it all. Don't forget to take your grandchildren! This is a great stop for seniors with their extended families!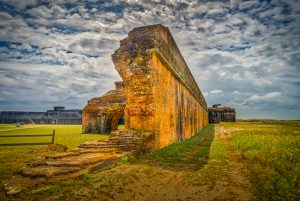 HISTORY
A Military Strategy
After the War of 1812, the United States decided to fortify all its major ports. It took 21,500,000 bricks to build Fort Pickens which was originally built to protect Pensacola Harbor from foreign invasion.
Construction began in 1829 just after Florida became a U.S. territory. Completed in 1834, the fort was a part of the "Third System" of coastal defenses and was used until 1947.  The Third System forts were started in 1816 and most were completed before the Civil War. These forts were intended to protect important harbors, cities, interior waterways and navy yards from attack by sea. Fort Pickens is the largest fort in this system and built to be the headquarters for Gulf Coast defenses.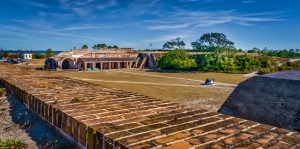 Civil War
By the Civil War, Fort Pickens had not been occupied since the Mexican-American War. However, the day Florida declared its secession from the Union, Union troops were moved to Fort Pickens.  Confederate forces began shelling forts along Pensacola Bay. The attack lasted two days.  The Confederate forces began to run low on supplies and, in 1862, they surrendered to Fort Pickens. Fort Pickens remained in Union hands. Fort Pickens was one of only three southern forts to remain under Union control throughout the war.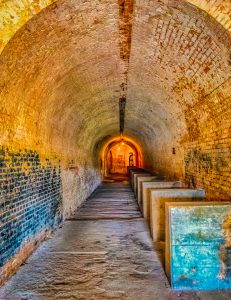 Geronimo
The fact that Geronimo was held captive at Fort Pickens makes it an even more fascinating site for those who love history.
Natives captured in the West were transported to the East Coast to be held prisoner. All of Geronimo's band was selected to be sent to Fort Marion in St. Augustine, Florida. However, a few Pensacola businessmen petitioned the government to have Geronimo sent to Fort Pickens because they saw a business opportunity.
From October 1886 to May 1887, Geronimo was imprisoned at Fort Pickens along with 16 other Apache warriors.
According to "The Real Story: Geronimo's Captivity in Pensacola" written by Drew Buchanan,  the editor of the local newspaper said, Geronimo would be "an attraction which will bring here a great many visitors."
The Apache men were separated from their families. Family members were moved to other Forts in the area.  In early 1887, tourists began arriving to see the fort and the prisoners. Admission to see the imprisoned warriors was 50 cents for adults and 25 cents for children. On a single Sunday, some 459 tourists visited the fort. In 1888, the fear of yellow fever led the Army to relocate the prisoners to a fort north of Mobile, Alabama. In 1894, the Apaches were moved to Fort Sill in Oklahoma. This is where Geronimo died in 1909 at the age of 79.
Geronimo was quite the entrepreneur in his later years and utilized his fame as a cultural icon. When he died, Geronimo had more than $10,000 in his bank account! In the book, "Once They Moved Like the Wind: Cochise, Geronimo and The Apache Wars," author David Roberts tells this story about Geronimo:
Notorious at the time of his surrender, Geronimo had only grown more famous during his years…in Alabama. As the train crept through Louisiana and Texas, he became the feature of the procession. Crowds gathered at whistle stops to cheer the celebrated warrior. Geronimo responded with his canny pragmatism…Geronimo was selling his autograph at twenty-five cents a copy. On subsequent train journeys, he cut the buttons off his coat and sold each for a quarter, then between stations sewed new buttons on, His hat went for five dollars.
As a cult hero, Geronimo rode in Teddy Roosevelt's Inaugural Parade in 1905, and it is said that he received more applause and cheers than the President! He made personal appearances at the Omaha Exposition and the St. Louis World's Fair.
Turn of the Century at the Fort
During the late 1890s and early 20th century, seven new gun batteries were constructed at Fort Pickens.
WWII
During World War II, U.S. Navy strengthened defenses at the fort because German U-Boats were known to be operating in the Gulf of Mexico. The WWII batteries, guns and bunkers can all be explored today.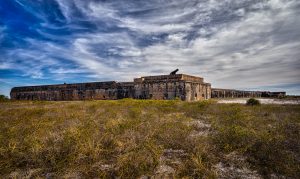 Today
What are you waiting for? There is so much to discover here! The fact that there are over seven miles of beaches along Santa Rosa Island is reason enough to head that way.
Bike around Santa Rosa Island! Have a picnic or camp at the campground.  Walk in the sand dunes and look for sea shells. Use the fishing pier (the pier can be used by visitors without a Florida fishing license).
Your grandchildren (both teens and young children) will love it. There are wide open spaces for running, nooks and crannies of the fort to explore, beaches for wading and swimming, kayaking and sea shells to collect.
Bring your cameras and binoculars! You will see osprey, brown pelicans, blue herons and eagles.
Fort Pickens
1400 Fort Pickens Road
Pensacola, Florida 32561
(850) 934-2600