Flora-bama! Is it a state, a tv show or a town? It is none of the above!
Flora-Bama is a one-building lounge located in Perdido Key, Florida on the state line of Alabama and Florida! Known as a honky-tonk and roadhouse, Flora-Bama is on Alabama State Route 182 and was built in 1964. When it was established in Escambia County, Florida, the county was "wet" while across the state line, Baldwin County, Alabama, was "dry". When you go, ask for the "Bushwacker" drink.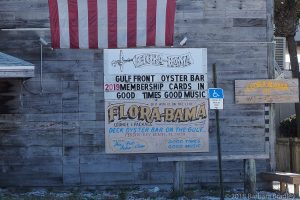 Before Hurricane Ivan, Flora-Bama had in the range of 20 bars on site and up to 4 live bands playing at once. Right on the Gulf of Mexico, the view from the deck is fantastic. Over the past 50 years, the Flora-Bama has been named either the #1 in the U. S. or the World by Playboy Magazine, Maxim, Delta Sky Magazine, Men's Journal, USA Today, CNN, The Huffington Post, Yahoo Travel, Fox News and many more.
There is live entertainment at Flora-Bama 365 days each year. with five stages for live music. Musicians may be local or a platinum recording artist!
Go the last weekend of every April and take part in the Mullet Toss!  The "Interstate Mullet Toss" is a huge event to throw a fish across the state line from Alabama into Florida and has created an annual beach party that can't be beat. The idea for the mullet toss was Jimmy Louis', a long-time Flora-Bama musician. He says:
Folks were getting their name in the Guinness Book of World Records for cow chip tossing. Why not?
These days, the Mullet Toss also includes an interstate tug-of-war and lasts for three days and is attended by tens of thousands of people. After the Toss, the fish are donated to the local zoo for animals to eat so the fish don't go to waste.
During the Mullet Toss:
There is a Miss Mullet Toss Bikini Contest

Attendees are encouraged to show their tattoos

The music ranges from country, southern rock, blues, to acoustic

The tailgating on Alabama 182 turns into one huge party

Eat oysters and get a "Bama Authentic Taco"

Chairs on the beach are free.
Each year, the Flora-Bama event raises more than $20,000 for local charities.
RULES FOR THE MULLET TOSS
You will toss one whole mullet across the Florida/Alabama state line

No gloves or sand on the mullet are allowed

Mullets will be picked out of a water bucket

Mullets will be thrown from a 10 foot circle down a designated alley way

No stepping out of the circle during the throw and follow-through

Throwing mullet out of bounds is an automatic disqualification

Only one chance is given to qualify for the finals

Six finalists in both the men's and women's divisions each day.
What a kick!
HAVE FUN!
If you love the goofy, schedule yourself for the Mullet Toss Weekend at Flora-Bama. (www.florabama.com)