Park Rangers are so cool! Meet one of our favorite Rangers and take a backroads trip to the Fort Scott, Kansas National Historic Site. You will learn about frontier fort life. Named for General Winfield Scott, who never even stepped foot in the state, Fort Scott is located on the border of what was a pro-slavery state and a free state as well as settled America and what was known as "Indian territory." Mention of dragoons can set imaginations on fire. So, naturally, we had to visit!
The site preserves 20 historic structures, eleven of which are original buildings. Fort Scott is furnished to the 1840s era but the history here covers 30 years.
From 1842-53, Fort Scott was charged with enforcing the promise of "a permanent Indian frontier." The fort's soldiers kept peace between white settlers and American Indian  tribes and patrolled overland trails. Fort Scott was one of a line of forts from Minnesota to Louisiana. 
Fort Scott was abandoned in 1853 as the frontier spread westward.  Two years later, the buildings were sold at auction and the fort became the town of Fort Scott.  
The town of Fort Scott was important during the Bleeding Kansas era from 1854-61 when Kansas and Missouri fought each other over the the issue of slavery. Kansas was a free state. Walk through the town! The buildings are some of the best preserved examples of 1800 architecture we have seen.
During the civil war, the U.S. Army returned to Fort Scott and the fort functioned as a Union supply base, hospital, training ground and recruitment center.
If you have ever wondered about soldiering on the plains, this is the place for you!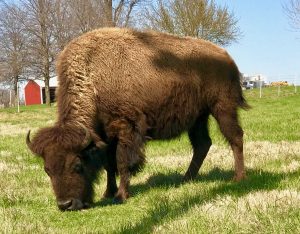 Fort Scott is open daily from 8:30 a.m. to 4:30 p.m. November 1 to April 30. Summer hours are 8:00 a.m. to 5:00 p.m. May 21-October 31. Closed on Thanksgiving, Christmas and New Years Day. Fort Scott Phone: 620-223-0310