"How did they do that?" When we visit a place, a theme or question about the place usually pops into my mind. I know, weird.  In Oconee County, South Carolina, the question was, "how did they do that?" 
Oconee County is the westernmost county in South Carolina and couldn't be more different from how you picture the coastal areas in the state. The Cherokee word, "Ae-quo-nee," means "land beside water." Here, three huge man-made lakes (Keowee, Jocassee, and Lake Hartwell) dot the hills. Oconee County is also home to 67 summits, ridges, ranges and mountain trails. 
Picture 90,000 acres of protected forests, historical sites, hikes, fishing and small southern towns.
Oconee Station STATE HISTORIC SITE
I started wondering, "How did they do that?" immediately as we approached the Oconee Station State Historic Site. How did the pioneers and early settlers hack their way through thick trees and brush to establish homes and towns?  The Oconee Station State Historic Site is remote and in the middle of a dense forest. In fact, the park today is 210 areas of forest.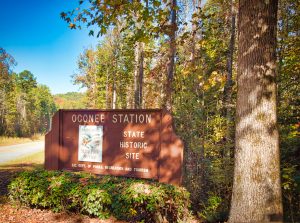 We drove a narrow winding road through a very thick forest to the parking area near two historic structures.  We caught sight of the stone Oconee Station/Blockhouse and William Richards home in the park after walking up a gentle hillside. In the clearing, we saw a stone blockhouse and the William Richards home on a slope before us.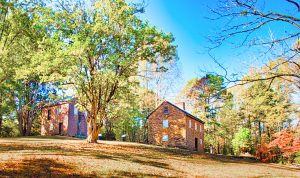 I have ordered the people to build blockhouses, where they are exposed and intimidated, to fly with their families, in case of alarm. I have frontier blockhouses built and building, at suitable places along our frontiers at the distance of about 8 or 10 miles apart. I have ordered trusty spies to be constantly kept at Tugalo and at the Oconee Mountains, as these are the spots…which will be most exposed.

General Robert Anderson 1792
The first Oconee Station was built before 1760. The spot was the farthest point in South Carolina to which white settlers ventured prior to the Revolutionary War.
The current stone blockhouse dates from 1792 (when Oconee was the western frontier) and was built as a military post to protect settlers from the Cherokees. Ironically, the military eventually was used to protect the Cherokees from settlers. As many as 30 soldiers were stationed at the blockhouse at any given time. Troops left the site in 1799, and this was the last blockhouse to be decommissioned in S.C.***
| | |
| --- | --- |
| Front of stone blockhouse, built in 1792 | Side view of the stone blockhouse |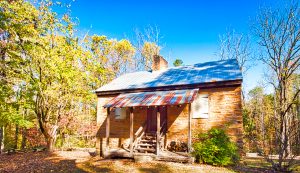 Following the decommissioning of the blockhouse, it was used as a trading post. Deerskin was popular in Europe and it is claimed that thousands of deerskins were traded at the stone blockhouse by both Native tribes and hunters. In return for the skins, they received goods like weapons, cotton and linen fabric, rum and metal tools.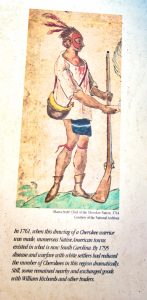 William Richards, from Ireland, arrived at the post in 1795. Richards had been a soldier in the Revolutionary War. He saw an opportunity and built the current brick house at the site and established a trading post in 1805.  This house is thought to be the first brick house in northwest South Carolina.
In the 1800s, this house served as a stagecoach stop.
| | |
| --- | --- |
| Richards' house front window | Richards' house and trading post from the side |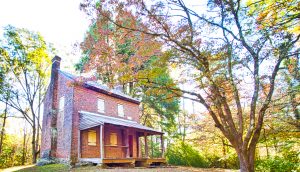 Amazingly, there were no other people at the park on this warm day in early November. We had plenty of time and room to sit and reflect on the people who both defended this place and called it home.
Accessibility to the Historic Structures
There is a paved parking lot with a small ranger station. The historic structures are on a hill but the path is a gentle climb. Any senior should be able to walk it easily. There are restrooms and picnic tables at the park, making it very comfortable. 
THE REST OF THE PARK
A short distance toward the entrance to the park from the parking lot is a sign that shows the way to Station Cove Falls, a 60- foot waterfall. From the sign, it is about a 1.5 mile hike to the falls. However, if you go out the park entrance to the right, park at the 3rd utility pole. The falls are only a 3/4 mile hike from there. Near the falls is a 4-acre pond.
There is also a small portion of the Oconee Passage Trail (a part of the famous Palmetto Trail), a 3.2 mile walk from Oconee State Park to County Highway 95. It passes near Station Cove Falls.
There is lodging and camping available in nearby Oconee State Park: http://www.southcarolinaparks.com
Directions:
FREE. There is a $2.00 honor system charge to park as you enter the area.
Oconee Station State Historic Site, on the National Register of Historic Places
500 Oconee Station Road, Walhalla, South Carolina 29691
Phone: 864-638-0079
oconeestation@scprt.com
Grounds are open 9 a.m.-6 p.m. daily.
Tours of the Historic Structures: 1 p.m.-5:00 p.m. Saturday and Sunday. Guided tours also available by appointment.
Ranger Office is open: 11 a.m.-noon, Thursday- Sunday
Pets allowed on leash
STUMPHOUSE TUNNEL
The second time I thought, "How did they do that?" was at our second stop, Stumphouse Tunnel in Walhalla, South Carolina. Ok, I thought, we are going to see a tunnel. I was admittedly a little ho-hum about it.
Let me tell you-Stumphouse Tunnel is COOL!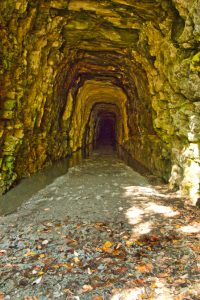 Park signs stated that people in Charleston thought a tunnel was needed in 1835 to make a shorter route for the Blue Ridge Railroad between Charleston and the Ohio River Valley. ****
Work began on Stumphouse Tunnel in late 1853. It is the largest of three railroad tunnels started before the Civil War to improve the route from Anderson, South Carolina to Knoxville, Tennessee. About 1,500 Irish miners, who lived in a village on top of the mountain, cut through the blue granite with hand drills, chisels, hammers and black powder! Four shafts meant miners could cut through ten rock faces at one time!*****  "How did they do that?"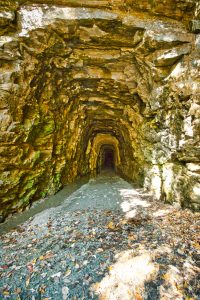 Clemson University bought the tunnel in 1951 and cured blue cheese here for many years!
Accessibility to and in the Tunnel
There is a paved parking lot directly below Stumphouse Tunnel. There is also a paved drive only open to pedestrians that rises gently to the actual tunnel location. It is a very short walk.
However, the tunnel floor is extremely uneven and wet with water dripping from above. Be certain you bring a flashlight and sturdy shoes. The temperature is a constant 50 degrees, so you may want a jacket. Humidity is 85%. There are streams of puddled water along each side of the tunnel's floor. The floor itself has many puddles so watch your step, and be prepared for those soaked dips in the floor.

There are no restrooms or drinking water.
The Tunnel is open daily except Christmas Day and during inclement weather from 10 a,m,-5 pm.
                                       PLEASE NOTE THE WARNING OUTSIDE THE TUNNEL
                                                                                   ↓

No, the tunnel is secure and there is absolutely no danger entering it. The Tunnel is solid. The park service DOES have a sign posted NOT to enter the tunnel with shoes you have EVER worn in any other cave. They also warn NOT to wear the same shoes you wear into the Tunnel into any other cave. Fungus carried on shoes can be deadly to the bats living in the tunnel.
ISSAQUEENNA FALLS
There is a separate gravel parking area for Issaqueena Falls that is clearly marked. This is a beautiful 200-foot waterfall and is named for a legendary Indian maiden.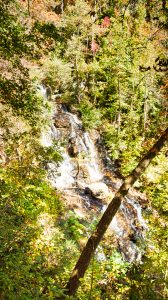 Accessibility
You must cross a small bridge twice on the way to Issaqueena Falls. The walk is up a very gentle slope and easy to walk. The path is uneven, however, with roots of trees so a walking stick is handy for older folks. The walk is a short one to a wooden platform where you get a great look of the cascading falls.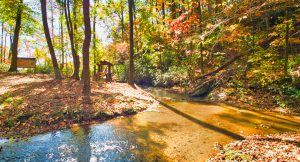 Directions:
Off SC Highway 28 in Stumphouse Tunnel Park, Walhalla, South Carolina
Phone: (864) 638-4343
Free.
Suggested Route: from Highway 85, take Exit 1 to SC 11, then SC 28. From Walhalla, drive west on SC 28 for 6.9 miles. Turn right at the sign for Stumphouse Tunnel Park. Park and walk across the footbridge on the west side of the parking lot.
Open daily 10 a.m.-5 p.m. except for Christmas Day or during inclement weather.
THE CHEROKEE FOOTHILLS SCENIC BYWAY (SC 11)
There is more!
The Cherokee Foothills Scenic Highway (SC 11) is listed in the book, "Drives of a Lifetime." The Byway runs from the Georgia/South Carolina border at Lake Hartwell to historic Gaffney.
We were reminded while driving the Blue Ridge Parkway in North Carolina, (see our post: The Ultimate Guide to N.C.'s Blue Ridge Parkway)  many modern roads and highways actually follow the trails used by ancient Indigenous People and early explorers and settlers.
In the case of The Cherokee Foothills Scenic Byway, the 130-mile road follows the route used by the Cherokees and the English and French fur traders.*
Side trips from the Byway include: **
Take Highway 76 into apple country in Oconee County.

Take Highway 28 north to Walhalla, the county seat.
See Lake Jocassee.
Take Highway 276 north to Caesar's Head State Park.

Go see the oldest bridge in South Carolina, the Poinsett Bridge. Signs for the bridge are on Highway 11.
See Campbell's Covered Bridge off of Highway 11, the only remaining covered bridge in South Carolina.
Head north on Highway 14 to Landrum for good food and Highway 176 south back to Highway 11.
WALHALLA
Walhalla is the county seat of Oconee County and there is more to see there!
The Walhalla State Fish Hatchery is located just outside of town at 198 Fish Hatchery Road, Highway 107 in Mountain Rest, SC. The Hatchery is a huge hit with grandchildren!
They put trout in the stream, at peak, up to 5-6 day each week. The Fish Hatchery is the only one in South Carolina and was built in the 1930s. Approximately 150,000 rainbow, brown and brook trout are raised here each year. It is open from 8 a.m.-4 p. m. daily.
Downtown Walhalla has memorials to the War Between the States and more historic structures.
| | |
| --- | --- |
| Museum of The Cherokee, 70 Short Street, Walhalla, SC | Oconee History Museum, 123 Browns Square Drive, Walhalla, SC |
There is so much to do and see in Oconee County!
We think you'll love Oconee County, South Carolina as much as we do! There are more waterfalls, historic sites and natural gorges than we can list. Happy travels!
*https://www.visitgreenvillesc.com
***http://www.oconeecountry.com/oconeestation.html
*****https://en.m.wikipedia.org/wiki/Stumphouse_Mountain_Tunnel#/media/File:Stumphouse_Tunnel_sign,_back_side.jpg