Take a tour of Kansas City, Missouri and you'll discover that the city is more than you might think! Stu and I spent a fascinating few days exploring the city where I grew up.
THE LIBERTY MEMORIAL
Our first stop was the Liberty Memorial and newly-designated National World War I Memorial and Museum.
The Liberty Memorial is America's official memorial for the men and women who served and died in World War I. Momentum to build the Memorial ballooned shortly after the Armistice in November 1918.
Soon after the end of the war, a group of 40 Kansas Citians raised more than $2.5 million for construction in only 10 days. That is the equivalent of $34 million in today's dollars. The Memorial was dedicated in 1921 with more than 100,000 people in attendance including then Vice-President Calvin Coolidge and General Pershing. In 1961, the Liberty Memorial was rededicated by President Harry S Truman.
Don't miss this historic site! In 2004, the Museum and Memorial was designated by Congress as the nation's official WWI Museum with a new 80,000 square foot Research Center and Museum. The tower is 217 feet high and was built from 1923-1926. Plan to spend the better part of an entire day in the Museum. It holds over 3,000 artifacts and shows old films from the war.
The National WWI Museum & Memorial, 2 Memorial Drive, Kansas City, Missouri 64108; Phone: 816-888-8100
Hours: Tuesday-Sunday 10 a.m.-5 p.m. Closed Monday. Summer hours: Daily: 10 a.m.-5 p.m. and Saturdays: 9 a.m.-5 p.m.; Adults $16, Seniors (65+) $14, Youth $10 and Children under 6 Free. Military Discounts.
UNION STATION
Want to see a Beaux-Arts grand old lady?  Go see Union Station in Kansas City! Union Station is the second-largest operating train station in America. Built in 1914, Union Station saw peak traffic during WWI, with the arrival and departures of 79,000 trains. This station is 850,000 square feet and originally had 900 rooms on 10 levels. Designed by Chicago architect, Jarvis Hunt, Union Station's ceiling soars to 95 feet with three glittering chandeliers (each weighing 3,500 pounds).
Passengers and those meeting them upon arrival used to say, "Meet me under the clock." The clock is in the Grand Hall and has a face that is 6 feet in diameter.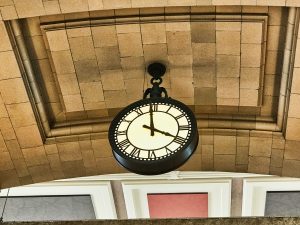 While there are only four train departures per day from Union Station now, the Station operates with private funding only. It houses a Stage Theater, an Interactive Science Center, a large 3D Movie Screen, restaurants and shops. You can also find the region's largest Planetarium there.
UNION STATION MASSACRE
Frank Nash was convicted of murder, assault and armed robbery. His first conviction was in 1913. After serving 5 years of his second sentence, Nash was released in Oklahoma and began a 25-year sentence at the Federal Penitentiary in Leavenworth, Kansas. Frank Nash escaped from Leavenworth Federal Penitentiary in Leavenworth, Kansas and fled to Oklahoma. After three years on the loose, federal law enforcement agents captured Nash and were returning him to Leavenworth when a shoot-out took place.
In 1933, some of Nash's gangland friends cooked up a scheme to free Nash when he arrived in Kansas City. While leaving Union Station, unarmed FBI law enforcement officers walked with their handcuffed captive, Nash, to a Chevrolet parked directly in front of the east entrance to the Station. According to historians, a green Plymouth was parked about six feet away. Two men ran from behind that car with machine guns. Another man crouched "behind the radiator" of another car 15 feet away and opened fire. Four  FBI agents and the fugitive Nash were gunned down by gangsters.  One of the gunmen was Charles "Pretty Boy" Floyd. There were only three survivors.
The Massacre was front-page news all over the country and native Kansas Citians are happy to point out the "bullet holes" on the outside of the Station.
The Union Station Massacre changed the FBI. Until the shoot-out, FBI agents didn't have the authority to carry guns. A year after the Kansas City shooting, Congress gave the FBI authority to carry firearms and make arrests.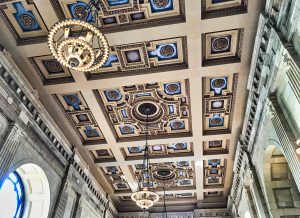 THE COUNTRY CLUB PLAZA
The "Plaza" was the first outdoor shopping center in America to plan for shoppers' arrival by automobile.
There are more than 30 statues, murals and tile mosaics on the Plaza and reproductions of famous Seville landmarks. For example, the Plaza boasts a half-sized Giralda Tower of Seville, which is the tallest building on the Plaza. Reproductions of San Francisco's Path of Gold streetlights glow in the evening and people from all over the city come to stroll.  See more about the Plaza on our blog at: http://thetravelingseniors.com/kansas-citys-country-club-plaza/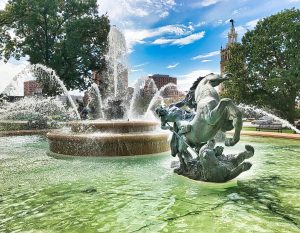 NELSON-ATKINS MUSEUM OF ART
If you are an art lover, make certain you visit the neo-classical Nelson-Atkins Museum of Art! This Gallery has what is perhaps the nation's foremost collection of Asian art. The Chinese art collection is incredibly extensive. The interior cloisters are magical!
The Nelson-Atkins Museum of Art, 4225 Oak Street, Kansas City, Missouri 64111; Phone: 816-751-1278
Hours: Wed. 10 a.m.-5 p.m.; Thursday-Friday 10 a.m.-9 p.m.; Sat-Sun. 10 a.m.-5 p.m. Closed Monday and Tuesday. Admission is FREE.
WESTPORT AND OTHER NEIGHBORHOODS
Be sure to drive through Kansas City's unique neighborhoods. Some of the more notable include:
Westport: (between 39th Terrace and 43rd Street to the north and south and Main Street and SW Trafficway on the east and west.  Originally a "jumping off" point for the Santa Fe, California and Oregon Trails, Westport has historical markers, funky boutiques, trendy restaurants and diverse people watching.
River Market (approximately 5th and Main): historic City Market (see our blog post at: 

http://thetravelingseniors.com/the-historic-cit…t-in-kansas-city/

) is close by and young professionals love the upbeat new condos and lofts.
Brookside: If you love stately old homes, you will love Brookside. Brookside boasts its own historic outdoor shopping area with boutiques and restaurants. There are two specialty markets, and many coffeehouses. Brookside hosts a nationally recognized Art Fair and annual St. Pat's Day Warm-Up Parade.
The Crossroads: (approximately 19th Street and Baltimore Avenue, directly south of downtown and north of Crown Center). This is the Arts District and dozens of galleries are located in renovated warehouses and industrial buildings. This district hosts "First Fridays" every month from 6-9 p.m.
18th and Vine: Internationally recognized (along with Bourbon Street in New Orleans) as the birthplace of jazz music and African-American owned businesses. Legendary jazz musicians made 18th and Vine their home in the 1930s and 40s including Charlie Parker. Today, this district includes the Mutual Musicians Foundation, the offices of the African-American newspaper, The Call, The Blue Room Jazz Club, the American Jazz Museum and the Negro Leagues Baseball Museum. Blocks away is where the song, "Kansas City" was written. Joan Crawford started her career as a dancer in this district.
Valentine: This neighborhood is just north of Westport. Houses here were built in the early 1900s and include the architectural styles of Shirtwaist, Arts and Crafts, Colonial Revival, Georgian Revival and bungalow.
Ward Parkway: Follow the 4-mile gorgeous boulevard by the same name heading south from the Country Club Plaza and you will see the mansions of such notables of the past and present as: Richard Bloch (co-founder of H&R Block), Peter Brown (CEO and Co-founder of AMC Theaters), Scott Ward (CEO of Russell Stover Candy), the 1912 Corrigan-Sutherland home at 55th and Ward Parkway (Sutherland Lumber), and Keith Tucker (former CEO of Waddell & Reed mutual fund company).
There is so much more in Kansas City! Visit and you will be surprised!