Readers write us and say they would love to travel more but they are divorced or widowed. Most are women. 
Stu is a fabulous travel partner, but I am here to tell you that I love, love, love traveling alone. It is true that I have been on my own quite awhile and traveled for work.  Over time, I got used to eating in restaurants by myself (I always took a book at first), and have experience hailing cabs and negotiating airports. But I am an introvert. I am also about to be 70.
I want to share what I've learned by traveling alone in hopes you will break the mental barrier and get out there yourself. That's what it is, you know. Only a mental barrier. Each time I "broke that mental barrier,' breaking it became easier. Honestly, now I don't even think about it before heading out for an adventure.
LESSON ONE: I LEARNED TO MOVE ON
Move on. Many people have loved traveling with their spouse for decades and just don't believe they could enjoy travel as a single. You WILL enjoy yourself! In the beginning, expect to want to turn to your spouse/children/friend when you want to exclaim about a beautiful sight. It'll happen. Fight through it. Over time, exclaiming to yourself (or pet or journal) will feel just as satisfying.
With my children grown and settled, and after a spurt of travel directly after retirement, I got to a place where I thought, "I feel like I'm kinda just waiting around for my life to end."  That sounds a lot more dramatic than I intend. I was wasting time just sitting around. I had places I had always dreamed about seeing and experiences I didn't want to miss.
I made the decision that being retired should NOT be about waiting for anything. Instead of holding you back, getting older should actually be a motivation, don't you think? Think about it-what are YOU waiting for?
LESSON TWO: I LEARNED TO MAKE MYSELF A PRIORITY
Making yourself a priority when you haven't done so for, perhaps, 40 years takes practice. I'm not certain men go through the same sort of life priority-setting process we women do as we age. I know once my children were out on their own, I found myself a little unsure about life. I needed to look back to who I was before marriage and family.
What were my dreams then? When was the last time I put myself first? When was the last time I had the freedom to make decisions that only impacted me?  (For you men out there, this is a real "thing.") So, ladies, take yourself through these questions, if you haven't already:   
What are your REAL obligations to others now?

What are your obligations to yourself?

Who do you want to be now?
What do you want to do?
How do you want to live?
LESSON THREE: I LEARNED TO START SLOWLY AND EXPAND HORIZONS OVER TIME
In my case, the Memorial Weekend after my divorce, I decided to give solo travel a try. The trip would be three days in a nearby town so if anything felt weird or scary, I could just head home. That short trip was one of the best I've taken because something important happened on that trip.
My trip was to  Chestertown, Maryland. It's a picturesque and historic small town that has slumbered for centuries along the Chester River. It had a tea party before the one in Boston! I booked a room at a B&B. As I settled in, the B&B owner asked if I was alone and I replied, "yes." "That's a shame," she said.
Gulp! What? Why? Can't I have just as much fun by myself? Well, of course I can!! Call it the rebel in me.
Sure, there were a couple of awkward-feeling moments during that very first solo trip but I had a fantastic time! It gave me the confidence to travel further from home.
For my first solo overseas trip, I went to Belize because, aside from always wanting to go, English is the language and the U.S. dollar can be used everywhere you go. Couldn't be easier than that. Again, my confidence skyrocketed.
As you get more practice traveling and feel more comfortable, go further!
LESSON FOUR: I LEARNED TO ENJOY MY OWN COMPANY
Look, traveling solo means you get to go when you want, wherever you want, by any means you want, and set or change your plans at any time! Such freedom feels fantastic!
I talk to myself, joke with myself and watch people. I linger at dinner when I'm alone and have a lot of fun watching people. There are times when I smile smugly to myself when I notice couples around me arguing or eating in complete silence. Being with someone else is NOT always heaven.
LESSON FIVE: I LEARNED TO BELIEVE IN MYSELF AND TRUST MY INSTINCTS
I have developed skills I never had before.
I have learned to be aware of my surroundings at all times. I have learned to follow my gut about other people and places. I have learned how to pack "light" and still have everything I need.
LESSON SIX: I LEARNED MY OWN LIMITS AND HOW TO SET BOUNDARIES
There are some trails that are too difficult due to my age. There are places I think could be dangerous. I have only so much energy and I am shy. With my limitations, there are things I will not ever see and places I will never get to visit. That's ok. There is so much else out there!
If I am the least bit uneasy or uncomfortable, I don't engage and I go somewhere else.  I do not drive or sightsee  solo at night. I go to my hotel, camping spot or hostel right after I have dinner (sometimes before). I don't partner with other travelers (many will tell you that is the best part of traveling but it just isn't comfortable for me). I don't go to anyone's home, hotel or other place where I am alone with a stranger. When on the street, I don't check directions on a map-I use my cell phone instead so it isn't as obvious I am a tourist and vulnerable.
LESSON SEVEN: I LEARNED TO WORK THROUGH BEING AFRAID

I was afraid to start. Of course! That's NORMAL! Stretching out of your comfort zone and taking risks feels scary. But, think about it.  How else are you going to grow as a person?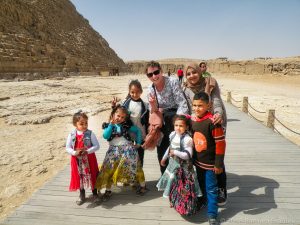 I know, that sounds too simple. My son has traveled alone through Asia, New Zealand, Chile and Central America. I once asked him, "Aren't you ever scared?"
"Sure," he said matter of factly. His tone sounded like he was saying, "Duh," in no uncertain terms. Somehow, it really struck me. HE fights through those feelings. I can too!
Don't get me wrong. I've had "Oh, my God, what am I doing?" moments as my plane is about to land in a foreign place. I was pretty scared as I landed solo in Egypt. It had been a dream of mine from age 7 and when my daughter volunteered to babysit my beloved dog, I was sort of stuck. I had run out of excuses! Well, I had to quit talking and dreaming and DO it! 
I giggle to myself about this, but I remember thinking, "Well, I guess I could die. But, at least, I'll have died making my lifetime dream come true." It may not be enough for you but it was (and is) enough for me. How much longer do I have anyway? Wouldn't I rather pass on knowing I had the adventures I dreamed of?
Turns out, I sat by a woman from Cairo on the plane and she gave me her telephone number in case I got into a situation while visiting. She also spoke for me as I entered the country to make me more comfortable before we each headed our separate ways.
LESSON EIGHT: I LEARNED PEOPLE ARE GENEROUS AND KIND ALL OVER THE WORLD
That last brief snippet about the woman on the plane is one of hundreds I can tell.

People everywhere are incredibly generous and kind. They are happy to help travelers in any way possible. Travel bonds people into a sort of "club" in which fellow travelers take care of each other. I also find that people take great pride in their city (country) and will work hard to give you a great experience.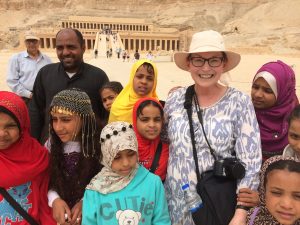 Perhaps the most important lesson of all is that I learned I can travel solo and have the time of my life! You can too!