Don't bypass our American state parks!
The most awe-inspiring state park we have visited, to date, is the incredible 5,362 square acres of Deadhorse Point State Park in Utah! When you enter, Deadhorse Point State Park is a tease. It is so unassuming UNTIL you reach an overlook!
This state park is a neighbor to Arches National Park and Canyonlands National Park. It rivals the national parks in every way!
Driving the Deadhorse Point Mesa Scenic Byway (U-313) was spectacular! This road took us through miles of red rock canyon country. The Byway is 35 miles long and takes 2 hours to drive at the minimum. You should plan for more time, however. Be certain you have fuel, snacks, water and are ready for no services.
Well, there ARE some services that are privately owned, but we had to pay $6.00 per gallon for gas. This is remote country.
To find the Scenic Byway, head north from Moab on US-191. Start looking for the Deadhorse Point State Park sign at about the 9 mile mark and turn left (west) onto SR-313.You will ascend the plateau which will involve negotiating some hairpin curves. We took the fork in the road at 14-15 miles that leads to the stunningly beautiful Deadhorse Point State Park.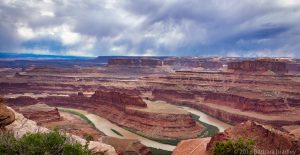 The Colorado River snakes though vertical cliffs 2,000 feet below you. The colors change with the light. Snow-capped mountains in the distance serve as the dramatic backdrop to the canyons carved by ice, water and wind. The views are similar to a mini Grand Canyon and Horseshoe Bend combined!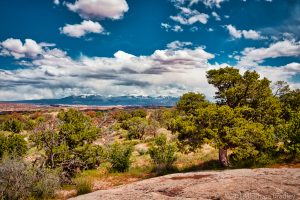 It is all about the views in Deadhorse Point State Park!
OVERLOOKS
There are natural overlooks all along the road inside the park. There are also:
Be sure to stop between Deadhorse Point Overlook and Meander Overlook!  The views are incredible!
The legend of how the park got its name is that cowboys corralled wild mustangs at the point of the cliffs in the 19th century. The cowboys kept the horses from falling over the cliffs but the horses went without water so long that all died.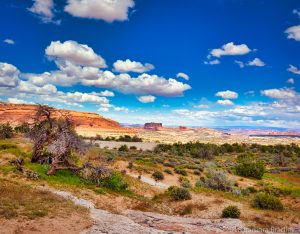 VISITOR CENTER
As in most parks, the Visitor Center is a great spot to become oriented to the park. This one even has an art gallery! The park's trails are accessible from the Visitor Center parking lot.
TRAILS
Try one of the four trails in Deadhorse Point State Park. Each one is fairly moderate in difficulty:
Dead Horse Rim Loop Trail: (moderate) 5 miles. Dogs allowed but must be on a leash.
Dead Horse Point State Park Short Loop Trail: (easy) 1 mile. Good for seeing wildlife. Dogs allowed but must be on a leash.
Big Horn Overlook Trail: (easy): 3 miles with wildflowers and good for all skill levels.
Intrepid Trail: Big Chief Loop (moderate): 7.9 miles. Best from March until October.
Here is a link to a map of the Trails: Final-Intrepid-Trail-System-Map
CAMPGROUNDS
The Park has yurts in two campgrounds! You can stay in the yurts and have access to full restroom facilities. Just be aware, however, that there are no shower facilities in the park and the nearest services are 35 miles away in Moab.
Kayenta Campground has 20/30/50 amp electrical hookups and tent pads. This campground has flush toilets, a dump station and a small shade shelter.
Wingate Campground was new in 2018. The campground has 21 RV and tent sites with 20/30/50 amp electrical hookups. There are 11 hike-in tent sites and 4 new yurts. The hike into this area is only 200 yards. This campground has two restrooms with flush toilets, one vault toilet, a dump station while all sites have a shade shelter and tent pad.
Moenkopi Yurts: There are 5 yurts and a new restroom with flush toilets. Each yurt has a bunkbed, futon bed, tables, AC/heater units, lamp and BBQ grill.
If you take Highway 313 out of the park, turn left and you can drive toward the Island in the Sky District of Canyonlands National Park, ending at Grandview Point. This district of Canyonlands sits on top of a 1500 foot mesa. An additional 20 miles of paved road leads to some of the most spectacular views in the Canyonlands.
If you are visiting Utah and looking for some of the most beautiful views in America, go to Deadhorse Point State Park!!
Deadhorse Point State Park is 32 miles from Moab, Utah.
Directions from Moab:
Drive 9 miles northwest of Moab on US 191 and then 23 miles southwest on Utah 313. The drive from Moab takes about 45 minutes.
Hours:  The park is open year round, 6 a.m.-10 p.m. The Visitor Center is open 9 a.m. to 5 p.m. year round; closed on Thanksgiving, Christmas Day and New Years Day.
Day Use Fees:
(valid for 3 consecutive days)
$20 per vehicle up to 8 passengers

$15 for Seniors over age 62

$10 per motorcycle

$4 for pedestrian or cyclist (biking into park)

Commercial day-use fee is $4 per person
Phone: 435-259-2614