"Your best chance to see alligators is on the causeway because the water is low", she said. " The birds and gators have been really active." The three carloads of strangers who were bunched into the office of the Donnelley Wildlife Management Area  (DWMA) got excited at that news. "If you hike the trails, be sure to be on the lookout for rattlesnakes," she added.
"As in Diamondback Rattlers?", asked one young man. I decided right then to stick to the DWMA Driving Tour!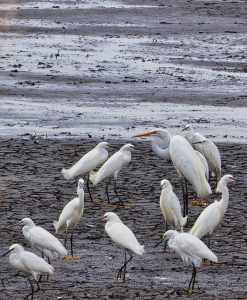 South Carolina's ACE BASIN
The ACE Basin in South Carolina consists of approximately 1,000,000 acres of diverse wildlife habitats that include pine and hardwoods, forested wetlands, fresh, brackish and salt water tidal marshes, barrier islands and beaches. As a result, the basin hosts bountiful wildlife resources, including such endangered and threatened species as bald eagles, wood storks, ospreys, and loggerhead sea turtles.
In the mid-1700s, tidal swamps bordering rivers were cleared and diked for rice farming. After the rice business declined in the late 1800s, wealthy sportsmen purchased many of the old plantations for hunting retreats.
That stewardship of the land for wildlife saved the ACE Basin for us today. The ACE Basin has been designated as a world class ecosystem under The Nature Conservancy's Last Great Places program.
Today, the mission of the ACE Basin Project is to maintain the natural character of the basin through wise resource management. The Project assures that farming, forestry, recreational as well as commercial fishing and hunting can continue in the area.
DONNELLEY WILDLIFE MANAGEMENT AREA
Between Beaufort, SC and Charleston, SC, there are 8,048 acres in the Donnelley Wildlife Management Area near Green Pond, South Carolina. I pulled into the main entrance across from the junction of SC 303 and US 17. Donnelley is in the heart of the ACE Basin (the collective basins of Ashepoo, Combahee and Edisto Rivers).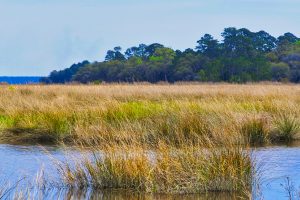 I took the 11-mile DWMA driving tour and was happily surprised by all the wildlife I saw! The tour should take about an hour to 1 1/2 hours to drive, depending upon how slowly you drive and how often you stop. The drive took me 3 hours since I kept stopping to watch birds, alligators, photograph pastures and examine native plants.
The DWMA is an important place for bird watchers. Look at this PARTIAL list of birds in the DWMA! 
| | | |
| --- | --- | --- |
| Black-crowned Night Herons | Great Blue Herons | Boat-tailed Grackles |
| Bald Eagles | Northern Flickers | Snowy Egrets |
| Brown-headed Cowbird | Belted Kingfishers | Northern Mockingbirds |
| Wild Turkeys | Wood Storks | Swallow-tailed Kites |
| Wilson's Plovers | American Oyster-Catchers | Acadian Flycatchers |
| Swainson's Warblers | Brown-headed Nuthatches | Painted Buntings |
Download the map of the DWMA Road Tour:
https://www2.dnr.sc.gov/ManagedLands/mlands/ml_images/docs/donnelleydrivingbroc.pdf
The tour starts at the DWMA office. After a few yards, you will cross a dike dividing an old rice field, called a backwater. This is where I began seeing egrets, herons, ibises and rails!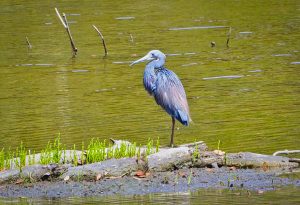 The DWMA also maintains open fields and woods that serve as a resource for feral hogs, deer, quail, wild turkeys and more. 
It was at the DWMA's Lodge and causeway that the wildlife started making me catch my breath!  The causeway serves as a partition between a freshwater reserve and a brackish water area. Wood ducks nest there. But there is much more! I watched Bald Eagles soaring in the skies. Wading birds, shorebirds and alligators were just hanging out!!  There were dozens of alligators! 
I have to admit that I was a little freaked out seeing dozens of HUGE alligators! Even walking the 1/2 mile long causeway, I watched both sides of the pathway closely! There are about 200 alligators living in the DWMA these days and it seemed like most of them were sunning the afternoon I visited! The gators were so much bigger than I had imagined. Most seemed at least 7 feet long and I wondered as I watched them how they find enough to eat to fill out their girth! I was told that in late spring you can hear the alligators' low growl as they try to attract a mate.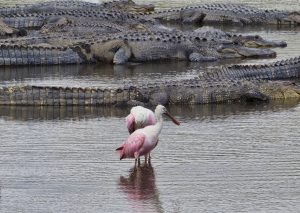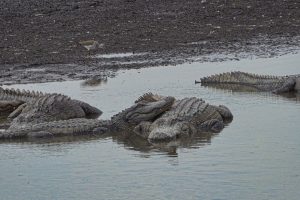 | | |
| --- | --- |
| Roseate Spoonbill | Wood Stork |
| | |
| Double-crested Cormorant | |
In addition to marshes, DWMA has peaceful forests. The quiet punctuated with birdsong is enthralling.  Plan to spend an entire afternoon if you are a bird watcher! If you are a "birder" and appreciate seeing wildlife in natural habitat, DWMA should be on your travel list!
While I hope DWMA doesn't become too crowded, this gem hiding along the highway is incomparable!
Donnelley Wildlife Management Area
585 Donnelley Drive
Green Pond, SC 29446
Free of Charge
https://www2.dnr.sc.gov/ManagedLands/ManagedLand/ManagedLand/58