Where can you take a walk to get an early morning coffee downtown and possibly see a bear? Where can you rub elbows with people who have bought jewelry on Main Street worth tens of thousands of dollars? Where can you find more than 500 trails and countless waterfalls for those who want to spend as much time as possible in nature? Where can you attend an afternoon tea? Highlands, North Carolina!
When you visit Highlands, North Carolina, you will be totally charmed. This mountain town is quaint and sophisticated. At an elevation of 4,117 feet, Highlands has everything! Highlands is a sleepy picturesque town until summertime. In summer, Highlands' population explodes with those wanting to beat the heat. You see, the weather in Highlands could be called perfect-except in February.
THE GREAT OUTDOORS
If you love the outdoors, Highlands has waterfalls, trails and views that are incomparable.
THREE OF MANY WATERFALLS
Dry Falls:  Remember your favorite characters walking behind a waterfall in the movie, "Last of the Mohicans?" Dry Falls (also known as Upper Cullasaja Falls) is that waterfall. Drive a short distance northwest of Highland and you cannot miss the 75 foot high waterfall. The falls are only a short walk from the parking area. Directions: from downtown Highlands, drive 3.5 miles west on Hwy. 64 into the Cullasaja River Gorge (a little less than a mile past Bridal Veil Falls). Parking is on the left for 25 cars.
Bridal Veil Falls: You used to be able to drive behind Bridal Veil Falls! That part of the road is now blocked off for safety reasons.  It doesn't matter though, because this 60 foot waterfall is right by the highway. Find Bridal Veil Falls 2.5 miles west of Highlands in the Cullasaja River Gorge. Roadside parking is available.
For a bit of a hike, visit Glen Falls. The 1/2 mile trail down to Glen Falls' first observation deck is no problem even for us as seniors. If you walk another 1/3 mile, you will find the middle section of the falls. Here you can watch the falls drop a sudden 60 feet before reaching the third section. The hike back up to the parking area took we oldies about 15 minutes, with stops. The Falls are worth it! On the way back to the parking area, you will see trail fork to the left. That trail will take you to the top portion of Glen Falls and a fantastic view of the waterfall and mountains.  Glen Falls is a triple waterfall. (Directions: From corner of Main Street and NC 106, follow NC 106 west for 1.6 miles. Turn left at the sign for the Glen Falls Scenic Area, then IMMEDIATELY right onto a gravel road. The road crosses a bridge and ends in a small cul-de-sac where you can park.)
TRAILS (see Alltrails.com or Highlandsinfo.com)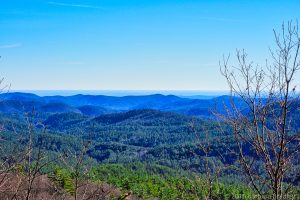 There are more than 500 trails near Highlands! There isn't space to discuss even a very few of them! Be assured, if you love to hike, you will not be disappointed.
For seniors, a great starting point is the Whiteside Mountain Trail, a 2-mile loop trail that is moderately easy. The view at the top is beautiful!  (Directions: From the corner of Main Street and NC 106, follow Hwy. 64 East for 5.4 miles. Turn right onto Whiteside Mountain Road (SR1600). There is a sign for the Whiteside Recreation Area. Follow for 1 mile to the signed parking area on the left. There is a $2.00 per day fee for the Recreation Area.) Another easy trail is Sunset Rocks, a 1.2 mile long trail that leads to an outcropping with another great view ( you must park on the street and walk up the trail to Sunset Rocks). Drive south on Main Street from Hwy. 64 approximately 2 blocks. Park on the street on the right.
SHOPPING
If you love to shop, plan to stroll both sides of Main Street.  Sidewalks in the summer will be full of laid back and relaxed tourists (with their dogs) slurping an ice cream treat or sipping some of Buck's Coffee. Main Street is full of galleries, goods created by artisans, tony jewelry with prices to match, elegant antiques, furniture, clothing boutiques, and outdoor outfitters. This is not regular tourist fare!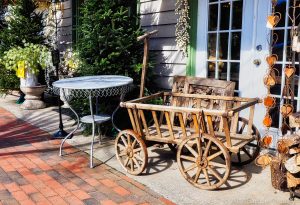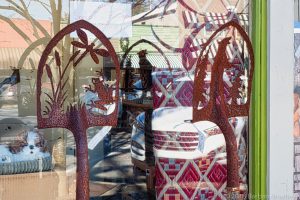 FOOD
Chefs work to please in Highlands.  There are too many gourmet and Spectator restaurants to list, so we only mention three. 
Ristorante Paoletti has been in Highlands since 1984 and is an elegant and sophisticated restaurant. Executive Chef & co-owner is Kevin Paoletti. (reservations accepted) 440 Main Street, (828-526-4906).
Madison's at Old Edwards Inn is a farm-to-table restaurant. Chef Huera takes great pride in the dishes that come from his garden. There is a Sommelier to help your selection in the Wine Garden. 445 Main Street, (828-787-2525).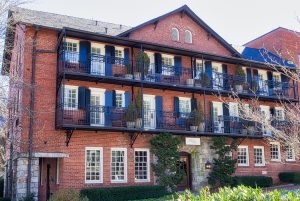 Wolfgang's Restaurant and Wine Bistro has been serving Highlands for 24 years. Chef Wolfgang Green served as Executive  Chef for the Brennan Family of Commander's Palace in New Orleans. Southern Living named Wolfgang's the "Best Place for Dinner in Highlands." North Carolina's Our State magazine named Wolfgang's the "place you must eat in Macon County."474 Main Street. (828)526-3807.
There are also informal eats available. Try Sports Page Sandwich Shop, The Pizza Place of Highlands and Satulah Mountain Brewing Company for starters.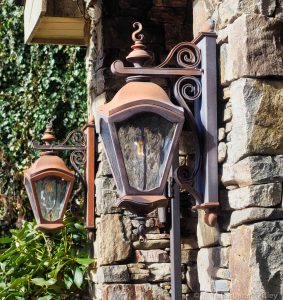 THE ARTS
Yes, there is even more to enjoy in Highlands!
The Bascom: A Center for the Visual Arts is a jewel in the mountains. The Bascom's 6 buildings host exhibitions, educational classes, ceramics and events. 33 Franklin Road (828) 526-4949. The Bascom is open year round.  (Monday-Saturday 10 a.m.-5 p.m.); (Sunday Noon-5 p.m.) Free Admission.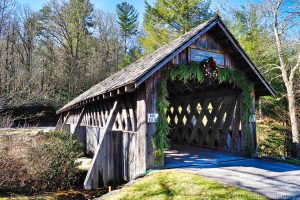 The Highlands Playhouse, 362 Oak Street (828)526-2695,  hosts movies and live theater in the summer. The Playhouse is one of America's oldest professional summer stock theaters. Three to four plays are produced each summer and there is a summer camp for would-be actors.
Highlands also hosts the Highlands-Cashiers Chamber Music Festival each summer! This is a regular concert series consisting of five weeks of concerts and a final Gala Concert and Dinner which are held Fridays and Sundays at the Highlands Arts Center and on Saturdays and Mondays at the Library in nearby Cashiers.
RESEARCH AND CONSERVATION
One of my favorite haunts in Highlands is the Highlands Biological Research Station, 265 N. 6th Street, (828) 526-2602. The Station "celebrates the integrity of the 'biological crown of the southern Appalachian Mountains'". The Biological Research Station is a partnership with the University of North Carolina and is administered by Western Carolina University. Workshops and classes are available to all age groups. My favorite part of the Research Station is the Cherokee Garden where you can stroll through medicinal plants historically used by the Cherokee Nation as remedies for ailments. There is a lot we can learn from that garden!
The Highlands Nature Center,  930 Horse Cove Road, (828-526-2623) was founded as the museum of the Highlands Biological Station in 1927. The Nature Center is now housed in the Clark Foreman Museum. Exhibits and year-round educational sessions focus on the biodiversity of the Plateau. There are activities for youngsters in the summer and summer nature camps for children ages 3-14. Younger campers learn about nature and the plants and animals in the mountains. Older campers actually conduct scientific research, observe nature and take field trips into the Nantahala National Forest.
HIGHLANDS HAS IT ALL!