Hike the Bartram Trail in North Carolina! This is a hidden trail that many people may miss.
We love to hike and explore but we aren't youngsters anymore. So we search for trails or parts of trails that we can negotiate fairly easily. We aren't against hills and a steep trail as long as that portion doesn't last forever!
The Bartram Trail can be difficult but we found a portion that was tailor-made for us with unending views as the reward.
TRAIL HISTORY
The Bartram Trail was established to honor naturalist William Bartram, who spent four years (1773-1777) exploring the southeast documenting the flora and fauna of the "new world."
The North Carolina portion (there are Bartram trails in South Carolina, Georgia, Florida and Alabama also) follows the route Bartram took on his travels. This trail covers 42 miles in North Carolina's Nantahala Forest.
Depending on where you catch this trail, it can be challenging. The N.C. Bartram Trail runs from Rabun County, Georgia and into the Little Tennessee Valley South of Franklin, NC and northwest of Highlands, N.C.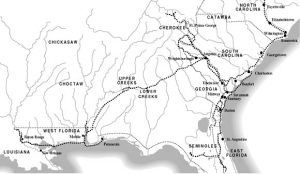 HIKE THE EASY PORTION
The Bartram Trail via Wallace Gap is great for novice hikers and we oldies. We found some small waterfalls along the creek, crossed a few small bridges and walked to William's Pulpit and a scenic view to the west of the Nantahala Forest. We found this section very doable as seniors. It is a beautiful hike for wanderers of all skill levels and a great location for photography.
Near the top, the 100 foot long rock shelf was the perfect spot to see a long-view vista of the Mill Creek Valley.
Once you reach the final ridge line,  you will see a sign that says, "William's Pulpit." The Pulpit was named after a retired minister and former president and founder of the Bartram Trail Society. This is the destination for this portion of the Trail. There is a small connector trail beside the sign and you will find incredible views of the Nantahala Mountains.
A picnic on top is a real hiking treat! When finished, just turn around and follow the Trail back down. While the total hike is 4 miles, just keep in mind what Stu always says, "the second half is all downhill!"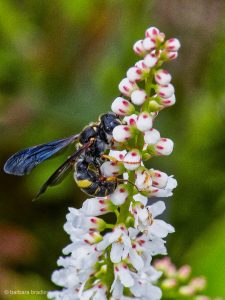 DIRECTIONS
From the US Highway 441/U.S. Highway 64 junction in Franklin, North Carolina, drive west on US Highway 64 for one mile and turn right at the red light onto Sloan Road. In 0.3 miles (passing the Nantahala Ranger Station on the right) you will come to a stop sign at the intersection of Sloan Road and "Old Murphy Road."
Take a slight left onto Old Murphy Road to an immediate right onto Pressley Road. In 1.1 miles, Pressley Road turns into Ray Cove Road (no turn needed). Continue for another 0.6 mile and the Wallace Branch access to the Bartram Trail.
You will find a dead-end road and parking for approximately 6 vehicles. Start at the end of Ray Cove Road/Pressley Road and work your way up along the "Yellow Blazed" trail. From this point, it is about a 2 mile hike to William's Pulpit. 
PACK RIGHT
Pack:
More water than you think you will ever need
A North Carolina Bartram Trail Map
Fully-charged cell phone or communication device.
Be certain to:
Let others know where you are going

Check the weather outlook

 
Drink plenty of water

Buy or download a North Carolina Bartram Trail Map

Consider reading Bartram Travels, William Bartram's account of what he discovered and encountered on the Trail.