Take a coastal trip to historic New Bern, North Carolina and spend some time walking through 300 + years of American history!  We were enthralled with New Bern's many Historic Heritage Tours, including the:
Revolutionary War tour

Civil War tour

Architectural Walking tour

Churches & Cemetery tour
Historic Homes tour
Walk to Remember tour

African-American Heritage tour
New Bern has four historic districts with homes, stores and churches dating as far back as the early 18th century. Picture strolling New Bern's tree-lined streets and walking by colonial homes!  We felt as if we were pedestrians in early America on each city block! New Bern has over 150 sites on the National Register of Historic Places and is the second oldest town in North Carolina.
We found the brick sidewalks, colonial architecture, picket and iron fences and graceful homes reminiscent of Williamsburg, Va. The city is stunningly beautiful.
COLORFUL BEGINNINGS
Early colonists named New Bern after Bern, Switzerland. Settlers were almost wiped out due to a lack of provisions, disease and the Tuscarora Indians who attacked and murdered settlers. The colony, however, survived.
Christ Church parish was founded in New Bern in 1715 with the first church building erected in 1750. King George II of England gave the church a silver communion service, a prayer book and a Bible in 1752 that are still in use today.
Even before the Revolutionary War, New Bern was a destination for pirates. In fact, nearby Beaufort, NC has one of Blackbeard's houses, "Hammock House," where his men and a wife stayed during shore leave. Blackbeard's famous ship, "Queen Anne's Revenge" was discovered in the shallow waters off the Beaufort County coast. 
EARLY GOVERNMENT & "FIRSTS"
New Bern became the first seat of colonial government of North Carolina. Many "firsts" took place in New Bern. These are only a few of them:
North Carolina's first printing press was set up on the corner of Broad Street and Middle Street in 1749.
The first public bank in North Carolina was established here in 1778.
North Carolina's first bookstore opened in New Bern in 1783.
The state's first postal service was established here in 1790.
The first Roman Catholic Church and parish in North Carolina is here.
The first motion picture theatre in the state was built in New Bern.
The first Jewish Synagogue in North Carolina was established here.
Pepsi was invented and first served in New Bern in 1898 by a local pharmacist, Caleb Bradham. Bayard Woottenk, a groundbreaking female photographer, designed the first Pepsi-Cola logo.
A four-faced turn-of-the-century

Baxter clock replica is located on Pollock Street.

The 

extremely rare

Seth Thomas post clock

 replaced by the replica was one 

of only three Seth Thomas post clocks

still in use at the time it was removed. 
TRYON PALACE
The original Governor's Palace (called the Tryon Palace after the first royal governor), was completed in 1770 and is the most significant colonial structure in New Bern. The Palace served as the capital of North Carolina from 1770 until the state government relocated to Raleigh in 1792.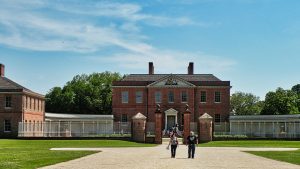 The Palace was a political center of our country during the American Revolution. New Bern was the first city in America to celebrate George Washington's birthday, so Washington visited New Bern and danced at the Tryon Palace!
At the Palace, costumed guides showed us the buildings and working craftspeople and interpreters made the grounds and gardens come to life.
A 65-million dollar History Center has been added recently to the Palace and Gardens complex.
The 1800s
New Bern was actually the largest city in North Carolina during the 1800s with an economy based on trading and the slaves who were victims of the plantation agriculture.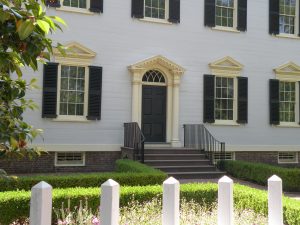 New Bern is located at the confluence of the Neuse and Trent Rivers and was one of America's major port cities in the 1800s. After the state government was moved from New Bern, the city focused on developing trade via shipping routes to the Caribbean and New England. It was part of the Triangle Trade in sugar, slaves and desired goods. The population grew to 3,600 in 1815.
The Civil War
In the Civil War Battle of New Bern in 1862, federal forces captured and occupied New Bern until the end of the war in 1865. Nearly 10,000 enslaved African-Americans escaped during this timeframe and made their way to Union camps for protection and freedom. After the January 1863 Emancipation Proclamation of President Abraham Lincoln, slaves in Union-occupied territories were declared free. 
Since Union forces occupied the city throughout the Civil War, New Bern did not suffer the destruction seen in many other southern cities.
African-American Heritage & Culture
In the 1700s, New Bern became known as a popular town for freed slaves in colonial America.
After the Civil War, those freed continued to pour into New Bern to start new lives in the town's distinguished free black community. As a result, New Bern has a strong African-American heritage and is rich in black culture.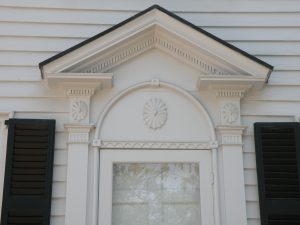 As far back as 1800, New Bern's slaves outnumbered whites. Once freed, many free men found work as seamen, stevedores, and peddlers. In 1860, free blacks comprised nearly 13% of the city's population. By 1877, the city had a majority African-American population.
Don't miss the fascinating African-American Heritage Tour!
Pepsi Cola
To add to the City's history, New Bern is where Pepsi was born! Caleb Bradham developed Pepsi in his pharmacy in 1898. Naturally, we had to visit The Birthplace of Pepsi-Cola Store and learn more! The Birthplace is open Monday-Saturday 10-6 and Sundays 12 until 4 p.m.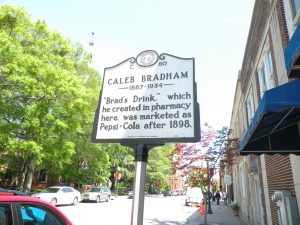 If you love history and architecture, you need to visit New Bern!