You don't have to leave your pet behind when you take a road trip unless you want to! As seniors, we love our pets and approximately 37% of us travel with our pets.
Use these steps to take a road trip with your pet.
PREPARE FOR THE TRIP
If your pet has never been on a road trip before, get him/her ready by going for short drives. Increase the time of the drive gradually. We recommend putting him/her in a crate each trip so he/she gets used to it faster. Talk reassuringly to your pet and reward him/her for good behavior.
Purchase the right carrier or crate.
Make certain the crate can be made skid-proof and is large enough for your pet to change positions periodically.
Bring reassurances from home.
Bring favorite toys, a blanket that reminds your pet of home and a collapsible water bowl for outdoor adventures.
Plan for the weather along the route and at your destination(s).
For example, short-nosed and furry dogs may need a cooling vest in hot weather and smaller dogs who have a hard time regulating body temperature may be more comfortable with a sweater in chilly areas.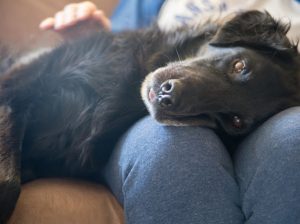 Use the crate/carrier carefully and label it!
Close the crate/carrier securely but don't lock it. You need to be able to get into the crate quickly if there is an emergency. Attach your pet's identification, along with your contact information on both your pet and the carrier/crate.
If you don't plan to use a crate/carrier.
If you don't use a crate or carrier, make certain your pet rides with his/her head inside the window at all times. Keep pets in the back seat in a harness that connects to the seat belt buckle.
Research the pet rules of your destination(s) and each of the states you will be driving through.
Check the requirements of the states you will be visiting or driving through. Rules and laws vary, by state. Check the specific health, vaccination and quarantine regulations of each.
Let your Vet know when you plan to travel. Make certain immunizations, certificates and tests are all up-to-date. If your pet takes any medications, requires special food or flea and tick prevention, make sure you have plenty for during the trip and for at least a week when you return home.
Minimize stress for you and your pet by asking the Vet about any sedation options for the trip. Be sure to have a microchip implanted in case your pet gets lost. Bring medical records with you.
Make a list of  Vets along your route and at your destination(s). Include phone numbers, addresses and hours of operation.
Consider buying Pet Insurance

. There are pet insurance plans you can find online that will suit your budget and your pet's needs.
Check out helpful websites.

Burkert's GoPetFriendly.com

,

PetTravel.com

,

BringFido.com

and others have advice on

hotels, restaurants, beaches, stores, campgrounds off-leash parks and local veterinarians

.

In fact,

GoPetFriendly.com

even has a

Road Trip Planner

that can map your route with pet-related services along the way.

BringFido.com

has

reviews of 25,000 pet-friendly hotels and rentals along with a searchable activity planer for each destination!
ON THE ROAD
Never leave your pet alone inside a car. Avoid theft, heatstroke and freezing temperatures! Even on days when the temperature outside is in the low 60's, the temperature inside a closed car can reach over 100 degrees in an hour. Leaving windows partially open increases the chance that your pet will jump out a window or a well-meaning passerby will reach into the car. IF you are traveling solo and you need a restroom, lock your animal in the car with a bowl of water and set a five-minute timer so you are back to the car right away. You may want to post a sign in your window that you will be back at a certain time so people know they don't need to rescue your pet.
Restrain your pet. Not only will your pet travel safely, some states now require harnesses or a carrier by law. In those states, the driver can be charged with distracted driving if pets are on the driver's lap, have their heads out a window, or move around in the car in such a way as to block a driver's vision.
Plan your route and timing to accommodated pet stops

. Keep your pet on a leash at each stop.
Research which lodging options are pet-friendly

before you book a room.  

There are Apps for that!

Check out

Bring FIDO

. Even if you know your lodging choice is pet-friendly,

make certain the room you book allows pets

. Some hotels have particular rooms set aside to accommodate pets. Ground floor rooms are much easier for walking your pet. Check with your lodging choice to see if they have enclosed areas for dogs to exercise as well as grassy areas for potty breaks. If you have a barker on your hands, ask for a room away from other guests.
Stay on schedule as much as possible.

Try to feed your pet at the same times of day as you do at home.
Have

an emergency plan

with your pet at all times. Include your contact information, your Vet's contact information, and instructions for how to care for your pet (feeding, medications, and preventive products).
Keep your

pet hydrated and fed, but not full

. Pets get dehydrated while traveling. Be aware that drinking water that comes from a place your pet isn't used to can cause digestive problems. Bring bottled water for your pet to avoid GI upset.
NOW GET OUT THERE AND ENJOY YOUR TRIP AND YOUR PET!