Ahhh. Close your eyes and picture a seacoast island with early American history, charmingly upscale shops, a fetching downtown filled with restaurants, luxurious golf courses, as well as enclaves of picture-perfect homes (both old and new). That's the resort destination of St. Simons Island, Georgia! 
I drove to St. Simons from Savannah on Highway 17 and the trip there took a little longer than 90 minutes. I spent a day exploring St. Simons Island and needed more time to relish my surroundings!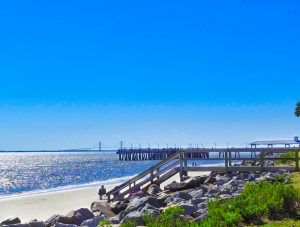 Ω
HISTORY
Remnants of shell rings left behind by Native Americans have been found that are 3,000-5,000 years old!
The "Golden Isles" were explored by Spaniards 400 years ago in search of gold. St. Simons is the largest (12 miles long and 3 miles wide) of the four "Golden Isles," just off the coast of Georgia. The islands are called "The Land of Five Flags" for solid historical reasons.
1st Flag: In 1526, Spain claimed the islands when 600 Spanish colonists settled here among Native Americans who had been on the island already.
2nd Flag: From 1562-1564, French explorers sought a haven for French Huguenots and built fortifications.
3rd Flag: Spanish troops beat back the French in 1565 and re-established rule until the early 1700s. Spain retreated from St. Simons Island in 1702.*
4th Flag: General James Oglethorpe established Fort Frederica in 1736, the most expensive fort in the American colonies. The British rule lasted until the American Revolution in 1776.
5th Flag: The Confederate flag flew during the Civil War.
Ω
FORT FREDERICA NATIONAL MONUMENT
Rivals Spain and Britain fought over this part of North America. When Spain's strength began to weaken, Britain busily tried to build an empire from Maine to Carolina. To stabilize its claims and offer citizens back home a vision of a utopia in the Americas, Britain started a colony in Georgia-the last of the original 13 colonies.
In 1732, King George II granted  all the land between Savannah and the Altamaha River and west from the River to the Pacific to a Board of Trustees.* The first shipload of people, led by James Oglethorpe, landed in 1733.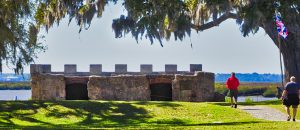 The settlers first built a fort to protect against Spanish invasion. A town was built over the years and included homes and shops along "Broad Street." By 1740, the town had 1,000 inhabitants. I walked Broad Street and explored the ruins and remains of the town and fort.**
| | |
| --- | --- |
| Fort Frederica | Insignia of the British Royals on a cannon at Fort Frederica |
| | |
| --- | --- |
| Remnants of Barracks at the Fort | Typical soldier encampment |
By the beginning of the American Revolution, Fort Frederica became obsolete. Townspeople started turning to agriculture and started plantations to grow rice or cotton.
Fort Frederica
6515 Frederica Road
St. Simons, GA 31522
Free
Ω
PLANTATIONS
I walked along Gascoigne Bluff which fronts the Frederica River on the western side of the island. This was the site of a Native American settlement long before Charles and John Wesley landed here with James Oglethorpe.  I found out that Live Oak timbers milled here in 1794 were used in the building of the "Old Ironsides."
In 1874, timbers were cut here for the Brooklyn Bridge.   The Hamilton Plantation is long gone at this site but the Cassina Garden Club has restored and maintains Slave Cabins from the Plantation Era here. Two of the original 4 slave cabins remain. Each of the slave cabins was designed as a "duplex" to house two families each and were built in 1833.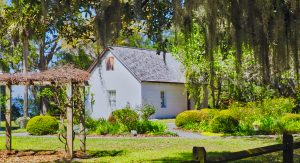 I had never heard the term, "Tabby." Tabby is a type of concrete made by burning oyster shells to create lime then mixing it with water, sand, ash and broken oyster shells. I found Tabby referred to all over the low country.  It was fun to learn more about Tabby at this site.
| | |
| --- | --- |
| Slave Cabin | Tabby exposed on one of the Slave Cabins |
Ω
A LONG RELIGIOUS HISTORY
Directly across a dirt road from the Slave Cabins is the United Methodist compound, Epworth by the Sea, a conference and retreat center for United Methodists in the South Georgia Conference. Epworth by the Sea is named to honor the boyhood home in England of John and Charles Wesley, founders of Methodism.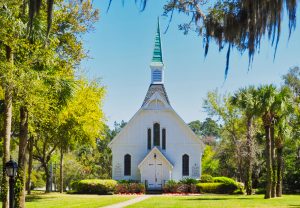 100 Arthur J. Moore Drive
St. Simons, GA 31522
Ω
My favorite place on St. Simons Island was the Christ Church. Surrounded by centuries-old Live Oaks, members have been worshipping under those Oaks since 1736. Reverend Charles Wesley conducted his very first service under one of the trees and that Oak still stands.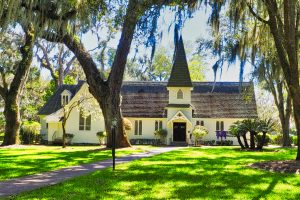 The history of the church spans hundreds of years. Inside, there are plaques on the pews in which President Calvin Coolidge, President Jimmy Carter, and President George W. Bush sat during services on separate occasions. One of the stained glass windows celebrates the work of Charles and John Wesley preaching under the trees. Another window has been authenticated as an unsigned Tiffany window.
| | |
| --- | --- |
| Interior of Christ Church | Christ Church Stained Glass, showing Georgia's founder Oglethorpe with Chief Tomochichi and his son. |
Just think, this church was founded a short 70 years after the island was first settled. The first church building at this site was built in 1820. After Union troops destroyed it, the current church building was built in 1885.
The lavish grounds are magnificent. The church graveyard is particularly fascinating. There are some unmarked graves here that are known to date from 1796. The oldest marked grave is dated 1803. Docents keep the church open for visitors 364 days each year.
Christ Church
6329 Frederica Road
St. Simons, GA 31522
912-638-8683
Free
Ω
A beautiful garden surrounds a memorial to the Wesley brothers  just down the road from the church.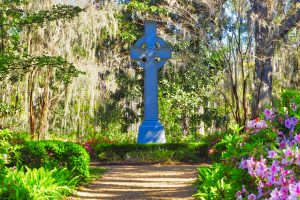 Wesley Memorial Monument
6510 Frederica Road
St. Simons, GA 31522
Free
Ω
ST. SIMONS LIGHTHOUSE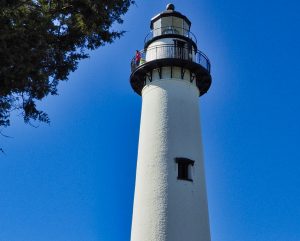 The St. Simons Island Lighthouse was built for $13,775 in 1807. President James Madison appointed James Gould from Massachusetts as the first keeper. That lighthouse was blown up by the Confederate forces to keep it out of the hands of the Union Navy in 1861.
The current lighthouse and Keeper's dwelling were completed in 1872. The light was converted from kerosene to electricity in 1934 and was automated in the mid-1950s so no keeper is now needed. The view from the top is outstanding!
101 12th Street
St. Simons Island, GA 31522
M-Saturday: 10 a.m.-5 p.m.
Sunday: 1:30 p.m.-5 p.m.
Adults: $12; 6-12 years of age, $6. Military Discount of $2 with ID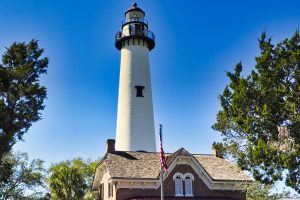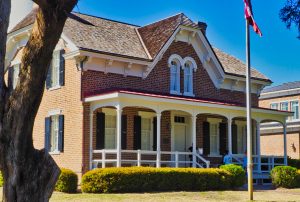 Ω
RESORT ACTIVITIES
There is so much else to see and do on St. Simons Island! Your passions for golf, food, beaches, and sunshine will all be met here! Put St. Simons Island on your travel list!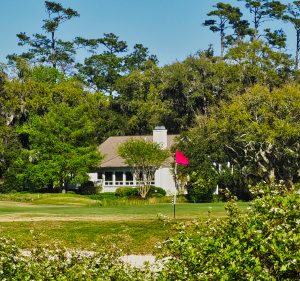 *Article by Mary Downing Koon, New Georgia Encyclopedia. 2006. www.georgiaencyclopedia.org
**Fort Frederica National Monument, GA Brochure, National Park Service, US Department of the Interior