Do you love quirky little towns? Do you love the low country of South Carolina? Do you love communities with festivals and events all year round? If so, get yourself to Old Bluffton, South Carolina! Bluffton has been called the "last true coastal village of the south."*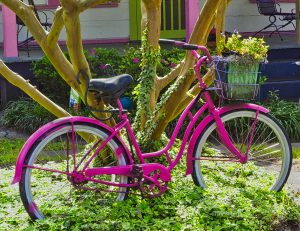 Bluffton was named the #5 "Happiest Seaside Towns" by Coastal Living Magazine. Bluffton, originally a resort area during the summer for inland planters, it was a ferry stop between Savannah and Beaufort, SC. It is only a 12-minute drive from Hilton Head!
The arts community and historic preservation communities are alive and well in Bluffton. Shops and galleries give Bluffton a unique, happy air. It is so charming and inviting that the approximate 21,000 residents are finding Bluffton the fastest growing community in the entire state. Thursdays are a busy day in tiny Bluffton with the Farmers' Market lively with shoppers after 2 p.m. Find fresh herbs, vegetables and seafood there! 
There are historic buildings to see in Bluffton, but perhaps the main attraction is just walking the 1-mile square old town, heading down to the May River to see oyster boats, sipping sweet tea at an outdoor cafe, or fresh roast at a local coffee shop. The town is so small, it is easy to walk everywhere. Visitors from Hilton Head Island can make parking hard to find so walking is your best bet to see everything.
A good place to start seeing Bluffton is to stop at the Hayward House & Museum at 70 Boundary Street. The house was originally a summer home for a local plantation owner in 1840. It is one of 8 antebellum houses still standing in town. The Hayward House contains the Caldwell Archive, valuable historical materials documenting the history of Bluffton and Beaufort County. Historians consider the collection one of the largest collections of archival materials in the State of South Carolina. Open to the public, M-F, 10 a.m.-4 p.m.; and Saturday, 11 a.m.-2 p.m. A 30-minute docent tour is $8 for adults, $2 for students and free for children under age 10.
One of the most stunning historic buildings is the Anglican Church of the Cross (110 Calhoun Street, Bluffton).  It stands today on a bluff overlooking the May River. The Gothic-style church was built in 1854 and was designed by famous architect, E.B.White. The builders sent off to England for the rose-colored stain glass in the windows. In 1863, most of Bluffton was burned by Union troops, but the church was spared.
The original woodwork in the church is remarkable and the grounds of the church are exquisitely serene. Docents will give you a free tour of the church. Don't miss this church when in Bluffton!
| | |
| --- | --- |
| Church of the Cross | Secondary Entrance to the Church of the Cross |
| Sunday morning at the Church of the Cross | Grounds of the Church of the Cross |
| Church of the Cross | Church of the Cross grounds bordering the May River |
Also be certain to see the Campbell Chapel AME Church. It has the oldest edifice in Old Town Bluffton. The building was built in 1853. The church was purchased in 1874 from the Bluffton Methodist Church by nine former slaves. Docents and congregational members are happy to give you a tour.
As you stroll Bluffton's side streets, you will find many historic homes.
Art is important to the people of Bluffton. Works of art and galleries are on almost every street. The Palmetto Oaks Sculpture Garden (11 Palmetto Beach Lane) explodes in color and metal! Admission is free.
| | |
| --- | --- |
| One of many galleries | Sculpture |
| Sculpture and town map | Directional sign |
At the intersection of Bridge and Wharf Streets you'll find what is the oldest freedman's house in Bluffton. Freed slave, Cyrus Garvin (who later declared his name was really Cyrus Garvey), built the house in 1870. Garmin was an ingenious and talented businessman.
Cyrus became a registered voter in 1868 and proved to be a skilled businessman and land speculator. He was working as an agent on Ephraim Baynard's Montpelier plantation in 1868. By 1870, Cyrus was farming 75 acres and 10 years later he was farming 100 acres. In 1878, he acted as agent for the St. Matthews Baptist Church and helped the congregation acquire land for a church building.
| | |
| --- | --- |
| Garvin-Garvey House, built in 1870 | View of May River from the Garvin-Garvey House |
Don't forget to bring your swim suits to Bluffton! Paddle boat tours, kayaks, canoes and fishing tours await! There are also nature, wildlife and eco tours. Go dolphin and whale watching! Not interested? Go golfing or be pampered at a local spa!
| | |
| --- | --- |
| Bluffton cafe | Bluffton street view |
| I had a delicious brunch at the Corner Perk | Corner Park in Bluffton |
We hope you can tell that you need to add Old Bluffton, South Carolina to your list!!
*www.hiltonheadisland.org/bluffton