We felt as if we were just walking through a nature park at Arcadia Mill in Milton, Florida. We were actually visiting Florida's first and largest antebellum industrial complex! There is beauty in the Arcadia Mill woods but also the beastly in the Mill's history. A large part of Arcadia Mill's history is industrial slavery.
The Arcadia Mill site was a huge complex with various mills, a grist mill, a blackmithshop, a mule-drawn railroad and a sixteen-mile long log flume! The vast complex was built and operated with industrial slavery.
The industrial site began with a sawmill. It grew to have a second sawmill. Later, a textile mill was run by slaves. Arcadia Mill was in business for 38 years (from 1817-1855) and played a huge role in the political and economic development of northwest Florida.*
At its busiest, the complex included two lumber mills, a textile mill, a bucket factory and one of the oldest railroads in Florida. A portion of the operations included a quarry for ironstone.
Shipping records indicate that Arcadia Mill produced over 250,000 board feet of timber per year by 1835 and production increased to at least 900,000 board feet by the end of the decade.**
The archeological site is open to the public and owned by the University of West Florida and managed by the UWF Historic Trust.
SLAVES AT THE ARCADIA MILL COMPLEX
Mill owners, Joseph Forsyth and Ezekiel Simpson bought and sold slaves to labor at the complex. 
Laborers built a 1,400 foot long and 15 foot-high dam to hold back a 160-acre saw mill pond. They built a water-powered, wood frame, two-story sawmill on the dam and a second water-powered sawmill about 350 feet downstream from the dam. A 700 foot-long mill race was dug along the dam, which carried water from the mill pond to the second lumber mill.
One archeologist has estimated there were approximately 110 slaves working for the mill owners in the 1850s. Male slaves were used to labor in the sawmills. Dr. Brian Rucker amassed records of the slave labor used at the sawmills for his book, Arcadia: Florida's Premier Antebellum Industrial Park.*** He states:
Then later when the textile mill was operating in 1845, a gentleman traveled to Virginia and purchased the 40 female slaves. The thought was that women and children had smaller hands and could manipulate the machinery better.
The site manager of the Arcadia site wrote that, "So, we know the initial textile laborers were females, but later there were men, young boys and girls…"*****
From 1845 to 1855 living arrangements included many female-specific households, a nursery that may have also served as a household, and multiple single-family households. Remember, at its height, the population at Arcadia was comprised of at least 110 slaves, including 79 females and 31 males. Among the 110 slaves, 98 were older than 9 years of age.***
We know from ledger books that clothes were being purchased for them, food was being provided. We know from some personal accounts that perhaps these slaves were allowed to have garden plots and chickens and sell livestock on their own time.****
Archeologists have found a pipe bowl and pipe stems. They have also found an intact leather shoe heel and several naval buttons. Rylan Thomas, in his UWF Master's thesis, was able to trace the buttons and find documents showing that the Arcadia owners were able to buy Naval surplus clothing for their slaves."***
According to the 1850 Manufacturing Schedule, there were 95 laborers at Arcadia Mill, including 28 males and 67 females (U.S. Bureau of the Census, 1850c). In addition to slaves owned by the company, some of the slaves employed in the factory belonged to individual stockholders.(Escambia County Circuit Court Records of 1853)
In Forsyth's last will and testament, he left 24 slaves to his widow to be auctioned off. Those slaves may still have descendants in the area.
Today, we generally think of slave labor being used in agricultural settings. However, slaves in the south were often used in industrial work.
"HUSH ARBORS" OF TODAY
Today, "Hush Arbors" are held. These memorial programs are held to remember the forgotten slaves of Arcadia Mill. "Hush Arbors" were secret meeting places created by slaves outside plantation quarters.
Such sacred spots were often in forests, dugouts and hollows by the river bank. During "hush arbors," slaves would sing and yell into pots to let out their frustrations and practice religious traditions. Some believe that "hush arbors" were the beginnings of African-American spiritual music.
If you are interested in reading more about the slaves and slave life at Arcadia, we recommend reading Rylan Thomas' Masters Thesis called, Industrial Slavery at Arcadia Mill: An Historical and Archeological Investigation, written in 2010. The thesis is available in the UWF, Department of Anthropology. It is fascinating.
MILL GROUNDS
We walked the elevated wooden walkway through the old industrial complex. Happily, the boardwalk and a bridge are wheelchair accessible and safe for small children. The 1/4 mile walk winds through the trees with signs pointing out remnants of the mill complex. There are also hiking trails. Access to the grounds is free.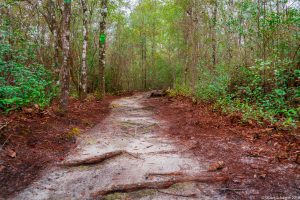 There is also a Visitor's Center and Museum that traces the history and purpose of the Arcadia Mill. The Center has a children's area with hands-on displays. We recommend going to the Visitor's Center and Museum first so you will have the historical background necessary to appreciate the signs on the boardwalk. Otherwise, you may find yourself disappointed since you cannot view the archeological work at the site.
We spent 2-3 hours at Arcadia Mill and took tons of nature photographs! What a fascinating history it has! It IS a swamp so take bug spray!
Arcadia Mill
5709 Mill Pond Lane
Milton, Florida 32583
Phone: 850-626-3084
There is limited parking along Mill Pond Lane and paved parking in the Mill Pond Lane cul-de-sac.
Hours: Visitor Center: Tuesday-Saturday 10 a.m.-4 p.m., with exception of major holidays. The grounds are open year-round sunrise to sunset. Dogs allowed on leash.
*University of West Florida www.uwf.edu
**Industrial Slavery at Arcadia Mill: An  Historical and Archeological Investigation. Ryan Nathaniel Thomas. 2010. 
***Rucker, Brian R. Arcadia: Florida's Premier Antebellum Industrial Park. Published, Bagdad, Florida. Patagonia Press. 2005.
****WUWF. Details the Lives of Slaves at Historic Arcadia Mill by Sandra Averhart. February 23, 2015.