We are HUGE fans of the writings of Mark Twain (Samuel Clemens)! His book, Roughing It, written in 1872 is a side-splitting comedic recounting of Twain's misadventures in the Wild West.
Just think about his "River Novels"-the hair raising and hilarious tales told in The Adventures of Tom Sawyer and The Adventures of Huckleberry Finn! Have you wondered about the setting for those childhood stories of Tom Sawyer, Huckleberry Finn and others? That setting is Hannibal, Missouri!
Twain was deeply connected and devoted to the Mississippi River. We recommend reading his book, Life on the Mississippi, written in 1883.  His love for the river began when he was a boy in Hannibal, growing up within a block of the Mississippi. Twain served as a river boat pilot when he was older which only deepened his connection to the river.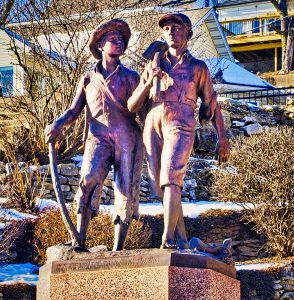 2019 IS THE BICENTENNIAL OF HANNIBAL
I had wanted to visit Hannibal since I can remember!
It was a cold, snow covered trip as we drove from St. Louis to Hannibal, along the Mississippi River but was totally worth the trip! Not only can you view the stomping grounds of Tom and Huck but the town itself is an historic cityscape!
Hannibal is a walk into the 1800s! Brick streets are lined with the places explored by Huck, Tom and Becky.  As we found out, the house where Samuel Clemens grew up is directly across the street from Becky Thatcher's house and his own father's law office.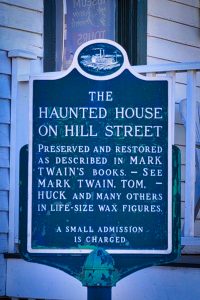 The Twain landmarks are within steps of each other which makes Hannibal a perfect place for senior travel.
The Mark Twain Boyhood Home and Museum Properties is a self-guided tour and includes 7 buildings in Hannibal. One of those buildings, the Museum Gallery, has 15 original Norman Rockwell paintings on display. 
Huck Finn lived on the street directly behind the Clemens' house with the ultimate playground of the Mississippi River a block down the street. There is no wonder that the kids' adventures were wild and wooly!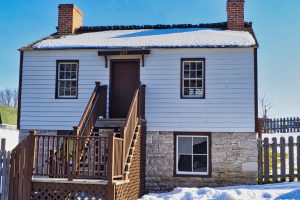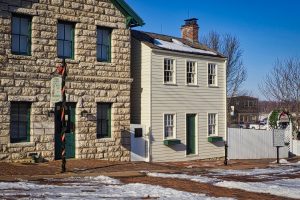 Start your stroll through Hannibal at 415 North Main Street at Twain's Boyhood Home and Museum. (573) 221-9010. The building is open daily from 9 a.m. to 5 p.m. The museum in the Clemens' house has artifacts such as Clemen's typewriter and writing desk.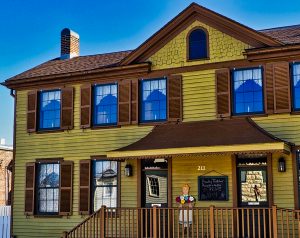 If you visit from May 1-November 2, take a dinner cruise aboard the Mark Twain Riverboat on the Mississippi. The one-hour sightseeing cruise costs $21 for people ages 13 and up; $12 for children ages 5-12 and is free for children ages 4 and under.  
You can even explore the Mark Twain Cave! The Cave is written about in about 5 of Twain's books. This cave was also used by Jesse James to hide out following his 1879 back robbery in Saverton, Missouri. Some say his graffiti signature is among the hundreds in the cave today!  
There is an adjoining campground which is open April 1 through October each year.
Guides will take you through the Cave at 300 Cave Hollow Road from Memorial Day to August 20th at 9 a.m.-8 p.m.; from August 21-October at 9 a.m.-6 p.m.; from November-March at 10 a.m.-4 p.m.; and from April-May at 9 a.m.-6 p.m. There are NO steps which makes it perfect for seniors and young children.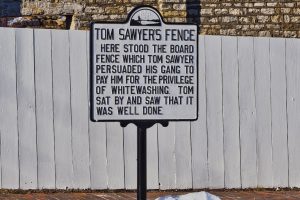 Multiple theaters and actors in Hannibal bring Mark Twain to life. Be certain to check out performance times and locations at: www.visithannibal.com.
HISTORIC DOWNTOWN HANNIBAL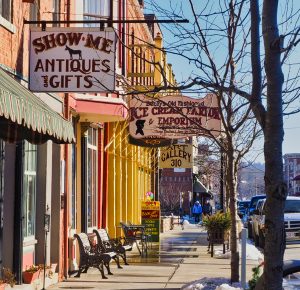 Downtown Hannibal is full of eateries, galleries and boutiques. Shopping and strolling here is relaxing and scenic! Take a look at the architecture in the photos below!
| | |
| --- | --- |
| Hitching Post in Downtown Hannibal, MO | Downtown Hannibal, MO |
| Hannibal, MO: "America's Hometown" | Hannibal, MO |
| Storefront in Hannibal, MO | Lace Curtains in Downtown Hannibal, MO |
| | |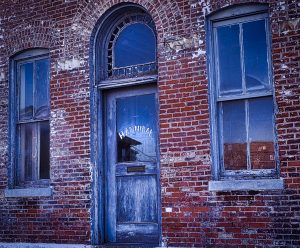 If you love the writings of Mark Twain and have shared in the adventures of Tom, Becky, and Huck along the Mississippi, be sure to visit Hannibal, MO which inspired it all!