If you want to experience other-worldly terrain, take a backroads trip to the Petrified Forest and Painted Desert!
The Petrified Forest National Park's headquarters are located about 26 miles east of Holbrook, Az along Interstate 40, which parallels the BNSF Railway's Southern Transcon, the Puerto River, and historic Route 66.
In fact, the Petrified Forest National Park is the only national park site that contains a segment of the Historic Route 66 alignment. The northern portion of the park extends into the Painted Desert.
Teddy Roosevelt created the Petrified Forest National Monument in 1906. It has over 50,000 acres of designated wilderness.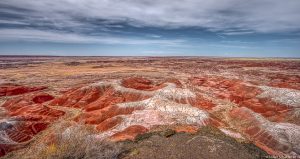 We drove the Petrified Forest Scenic Drive, a 28.9 mile trail. It is breathtaking! There are also backcountry hikes in the Petrified Forest such as  The Red Basin Trail and Martha's Butte Trail. Blue Mesa Trail is one of the more popular hikes in the park and is a 0.9 mile loop that is only moderately strenuous and offers wonderful views.
For seniors, many of the trails in the park are rated as "easy," including:
Painted Desert Rim Trail

Crystal Forest Trail

Long Logs and Agate House Loop Trail

Giant Logs Trail

Puerco Pueblo Trail

Old Jasper Forest Road

Martha's Butte Off-Trail Route

Painted Desert Rim Trail to Kachina Point
In the center of the park are the petroglyphs of Newspaper Rock and the ruined village of Puerto Pueblo.
Pueblo Puerto was built by the ancestral Pueblo people and was occupied between 1200 and 1400 A.D. We were amazed to learn that the park is home to over 10,000 years of human history, with more than 800 archeological and historic sites!
To the north, don't miss the Painted Desert Inn, a 1930's adobe building which houses Hopi murals. Photography from the Painted Desert Inn location can't be beat!
We have to mention the Ravens that are everywhere! We had a lot of fun talking to and almost stalking the birds which we found so unusual.
Painted Desert and Petrified Forest
1 Park Road #2217
Petrified Forest, AZ 86028
Phone: (928) 524-6228
Directions:
From the north:
a 27-mile road runs through the Petrified Forest National Park, from exit 311 of I-40, south to US 180. The town of Holbrook, AZ is 26 miles east of the park. The Visitor Center is at the north end and there is a small museum at the south entrance.