Gypsum sands sparkle during sunset and the views are absolutely amazing!  The dunes of White Sands National Monument begin at the park road and go on like a sea of sand! White Sands National Monument turned out to be a spiritual stop in our travels and should be a true bucket list destination for retirement travel.
Huge dunes of gypsum extend over 275 square miles of desert in New Mexico. White Sands was established as a National Monument in 1933 and is said to be the largest gypsum dune field in the world. The gypsum is from 250 million years ago when the southwestern U.S. was covered by the Permian Sea. 
As you enter the park on the paved road, some plant life, including yucca and a few grasses, survives.  Further into the park, however, vegetation ends and there are unending white sand dunes.
You can bring sleds! The gift shop will sell you sleds to take on the dunes. Children and teens were enjoying sand "surfing" the evening we visited.  Dogs were enjoying the freedom of the dunes with their owners.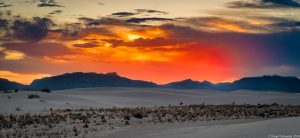 There are three short nature trails and one longer hike in White Sands.
Playa Trail (0.15 mile long) leads to a small dry lake bed.
Dune Life Trail loops for one mile around dunes to the southeast edge of the park.
Interdune Boardwalk is a 0.2 mile raised walkway across flat land between two lines of dunes.
Alkali Flat Trail is a 4.6 mile loop across soft, shifting sands and can be challenging.
We drove the 8-mile loop drive at sunset. Allow 30 minutes to drive the loop. Dunes at the end of the loop drive can be 50 feet high! If the moon is out, you can play on the dunes because they reflect so much light! 
Take the free sunset hike. It takes approximately one hour. The further you hike off the roads, the better the view becomes!
Enjoy the stillness and sense of wonder at the White Sands National Monument. Don't miss this spectacular natural wonder.
White Sands National Monument
Sunday-Saturday 7 a.m.-9 p.m.
(575) 479-6124
Note: White Sands National Monument is next to the White Sands Missile Range. The park, therefore, closes during missile testing. Call to make certain the park is open for your visit.
Directions:
From Alamagordo, NM: About a 15-minute drive. Head west on Highway US 70. The Visitor Center is located about 15 miles west of Alamogordo on the north side of the road.
From Las Cruces, NM: About a 1 hour drive. Head east on Highway US 70 toward Alamagordo. The Visitor Center is located about 52 miles east of Las Cruces on the north side of the road.