Towering rock needles, arches and canyons ribbed with bright bands of red and white rock await you in the Needles District of Canyonlands! We explored the Needles District in the southeastern part of Canyonlands National Park. The "Needles" was named for the colored spires of Cedar Mesa Sandstone that dominate the landscape and may be considered the most "backcountry" of the Canyonlands districts.
The landscape is indescribable and we found the experience one-of-a-kind! This district has a visitor center, ranger programs, a scenic drive and campgrounds, including the Squaw Flat Campground.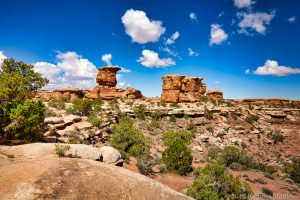 There are four districts in Canyonlands:
The Needles District

The Sky District

The Maze District

The Rivers District
Canyonlands is the largest park in Utah and we didn't have time to explore each of the districts. For example, the Needles District is only 15 miles south of the Island in the Sky District but you have 137 miles to drive to reach it. That's ok. What a great reason to get to Utah again soon!
For more detailed information and a map of the area, see the National Park Service map of the Needles District here.
GETTING THERE
The Needles District is about 40 miles south of Moab and 15 miles north of Monticello, Utah.
The drive to Canyonlands from Moab is a scenic wonder! The landscape changes as you drive with the colors and light on the rock formations creating a fantasyland. We drove out of Moab toward the park on U.S. Route 191 in San Juan County. What a great road trip!  Right next to the road about 24 miles south of Moab is Wilson's Arch. This arch is Entrada Sandstone and spans 91 feet and is 46 feet high!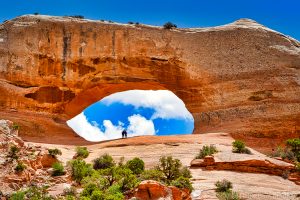 The sign at the Wilson's Arch pull-off says the Arch was named after Joe Wilson, a local pioneer who had a cabin in nearby Dry Valley. Wilson's Arch is right off the parking area so you needn't hike to enjoy it.
We turned from US Route 191 onto the Indian Creek Scenic Byway (Utah Highway 211 west). It is a LONG road but what beauty! This paved road is the only one leading in and out of the Needles District. The total distance from Moab to the Needles District is about 75 miles and takes about 1 1/2 hours. Once you reach the Needles entrance, you'll drive about 10 miles or 30 more minutes.
PERMITS
Permits are now required in the Needles District for:
vehicle, motorbike, and bicycle day-use trips on White Rim, Elephant Hill, Lavender Canyon and Peekaboo/Horse Canyon roads.

all overnight trips

all day-use and overnight river trips
TRAILS
There are great trails in the Needles District! There are also numerous ruins to see.  Enjoy the easy loop trail walk to the Roadside Ruin (only .25 miles long). The trail is a .03 mile, nature walk that takes about 30-minutes round-trip. This leads to a granary, used by Ancestral Puebloans some 700-1,000 years ago.
Drive .6 miles and take the first road on the left, then left again on the next dirt Road and follow it for 1.1 miles to a parking area. You'll find the Cave Spring Trail (easy). You can climb down 2 ladders and see "wet" areas. The cave was used by ancient cowboys and as recently as 1975!
A different trail, Pothole Point, is an easy .6 mile loop and starts from Park Road 5.8 miles from the Visitors' Center. Be prepared for a 45-minute hike where there is no shade whatsoever.
More challenging is the Slickroad Foot Trail, a 2.4 mile loop that takes you to 4 viewpoints and takes approximately 2 hours to hike.
At the end of the paved road (1 mile past Slickrock Trail) is Big Spring Canyon Overlook. There is a 5.5 mile trail (one-way) but you can enjoy the canyon even just sitting in your car.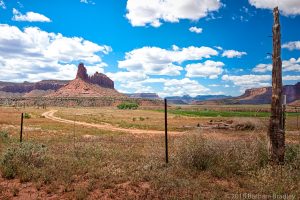 CAMPGROUNDS
Squaw Flat Campground is 4 miles from the Visitors' Center where you can take the 3-mile Elephant Hill access road to see Elephant Hill. It is a long drive but it's a great way to see the Needles District. The campground has 26 sites with fire rings, picnic tables, bathrooms and running water. The camp sites in the Needles District can be reserved at: Recreation.gov.
There are NO RV hookups or dump stations in the campground.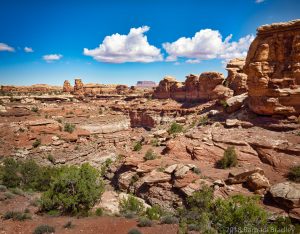 DRIVING OFF ROAD
Get ready, adventurers! There are 50 miles of 4×4 backcountry roads leading to small campsites, trailheads and natural wonders in the Needles District. These roads can be so rough that pets are not allowed even in vehicles so be ready! Be aware that you need a day-use permit on Elephant Hill, Horse Canyon/Peekaboo and the Lavender Canyon roads.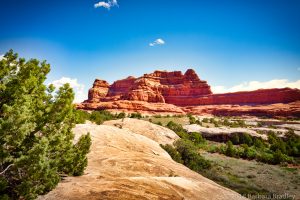 VISITOR CENTER
The Needles Visitors' Center is open spring through fall (9 a.m.-4:30 pm).  Inside you'll find exhibits, maps, books, obtain backcountry permits, an orientation movie and park rangers on duty. There is also a picnic area there. If you visit in winter when the Visitors' Center is closed, you are required to self-register for backcountry permits outside the Center's entrance. Water is available year-round and bathrooms are open all year too. There is a payphone outside the Visitor Center.
We spent a whole day in the Needles District and cannot WAIT to get back to Canyonlands National Park! A visit needs to be on your bucket list!
Contact:
2282 Resource Blvd.
Moab, Utah 84532
Phone: 435-719-2313
Fees:
Individual Entrance to Canyonlands: $5 (Good for 7 days) Applies to motorcycles, bicycles, and walk-ins.
Vehicle Entrance to Canyonlands: $10 (Good for 7 days). Includes all vehicle occupants.
Local Passport: $25 (Good for 1 year). Good for entrance to Arches, Canyonlands, Hovenweep and Natural Bridges.