Take a backroads trip on one section of the "Mother Road"- Old Route 66 and see the historic Rio Puerco Bridge in New Mexico.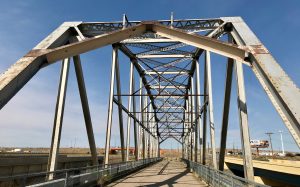 The Federal Government funded the Historic Rio Puerco Bridge on Route 66 in New Mexico in 1933 as part of President Roosevelt's effort to use emergency monies for highway construction. Completed within a year, the bridge opened the Laguna Cutoff to transcontinental traffic. In 1937, the alignment officially became U.S. Route 66.
The Kansas City Structural Steel Company conceived the structure, and F.D. Shufflebarger was in charge of constructing the bridge. The Rio Puerco Bridge has a 250 foot long span and is one of the longest single span steel truss bridges built in New Mexico.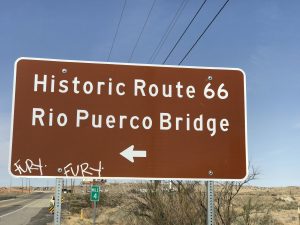 The bridge consists of 10 panels measuring 25 feet in length, each with its top cord at a different angle, as is characteristic of Parker truss design bridges. The 25-foot wide deck is concrete with an asphalt surface and rests on steel stringers. This design was selected partially because it was commonly used during the late-1920s and 30s, but also because it was particularly suitable for this bridge, which needed to withstand a river capable of massive flooding that had washed away previous bridges along the Rio Puerco.
In 1957, the truss was remodeled, and the lower portal struts were removed and replaced by lighter struts that were inserted above to create a higher clearance. Metal guardrails were added to protect the truss members. This bridge served motorists on Route 66 for many years, and when I-40 was completed, the Rio Puerco Bridge became part of a frontage road across the Rio Puerco.
The structure was listed in the National Register of Historic Places in 1997.  In 1999, the New Mexico State Highway and Transportation Department replaced it but preserved the historic bridge. Though currently closed to car traffic, the old bridge is open for people to walk across, allowing visitors a glimpse of the old Highway 66 slowly curving and dipping as it disappears into the vast New Mexico desert.
Question: Have you driven Old Route 66? Tell us your favorite section of the drive!