Even in May, it was over 100 degrees. This is the desert, after all. But May also means the desert is in bloom. We found Sabino Canyon unique and gorgeous in every way. 
Sabino Canyon is in the Santa Catalina Mountains and has a unique landscape neither of us had ever experienced before. Saguaro Cactus, Palo Verde trees, Cholia and Prickly Pear Cactus are all over the canyon.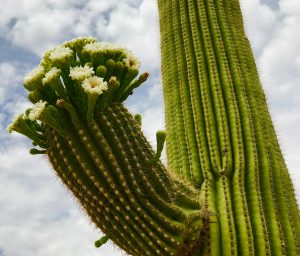 Stop first at the Visitors' Center which is open every day from 8-4:30, except for Christmas and Thanksgiving. There, you can pick up trail maps, books and other information.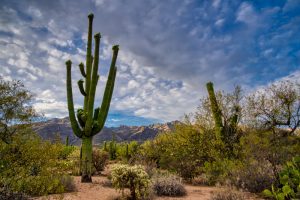 THE TRAM SYSTEM
The Canyon has been closed to private vehicles for years and, for us, the climb was too steep to hike the 3.9 miles to the top.  Luckily, there is an eco-friendly tram. Catch the tram at the Visitors' Center. The tram will take you to the top of the Canyon on the Sabino Canyon Tour or to Bear Canyon (Seven Falls Trailhead). You are allowed to get on and off the tram for free at any of 9 stops.
Narration on the tram is available in both English and Spanish. Be aware that the tram takes cash only. The trip on the tram is narrated and takes about an hour round trip. It is a great way to travel the easy way! We love that those who cannot negotiate the trails in the Canyon can still see the terrain and wildlife.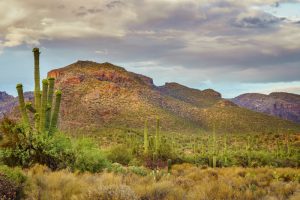 Wildlife in the canyon includes deer, javelina, skunks, tortoises, rattlesnakes and mountain lions. If you ride the tram at night, bring a black light flashlight. Scorpions light up like neon under black lights.
Tram prices for 2020 are as follows:
| | | |
| --- | --- | --- |
| | Sabino Canyon | Bear Canyon |
| Adults | $12 | $6 |
| Child 0-12 | $7 | $4 |
| Infants under 3 | Free | Free |
An alternative is to hike up and only ride the tram down the Canyon. There is a "hop-on fare" from the top for $7 in Sabino Canyon and $4 for Bear Canyon.  Be aware that during busy times, there may not be space on trams heading down the Canyon. Be prepared for such a situation with plenty of water and a patient attitude. Trams arrive approximately every 30 minutes.
Tickets for the tram sell out quickly each morning so get yours early.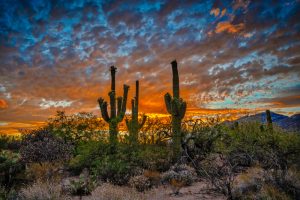 The heat is so dry that you will dehydrate quickly! Take at least twice as much water as you think you will need, wear sunhats and sunscreen!
HIKES IN SABINO CANYON
Many hikers and walkers in Sabino Canyon just follow the concrete drive that runs from the Visitors' Center up the Canyon. (For me, the concrete was nice because it is easier to spot dangerous slithery critters on pavement.)  To be serious, we DID leave the pavement and walk trails.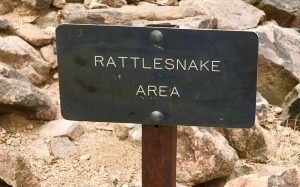 In fact, we had an adventure dodging rattlesnake holes one evening! See our blog post: https://tinyurl.com/yx6k24hs
Locals flock to Sabino Canyon in the evening when it is cooler. Bikers, hikers and photographers were in good supply each evening we visited.
Heading to Sabino Canyon each evening to photograph sunsets became our favorite activity in Tucson! The skies and views never disappointed! The sunsets were some of the most magnificent we have seen. 
| | |
| --- | --- |
| All Photos by Stu Schaefer | |
| | |
| | |
Trails in Sabino Canyon
The Hiking Project (https://tinyurl.com/qrq3gue) summarizes the trails in and near the Canyon as follows:
IMPORTANT INFORMATION
Location:
Sabino Canyon is located at 5900 North Sabino Canyon Road in northeast Tucson.
Hours: 
Sabino Canyon is open 24 hours a day except Christmas and Thanksgiving. The Visitor Center is open 8-4:30 each day.
Fees:
$8.00 per vehicle per day. The National Park Pass will waive that fee.
Accessibility
Even if you are not an able or avid hiker, the area close to the Visitor Center is flat and easily walkable. Apart from the paved road up the Canyon, the area is sandy dirt and trails are easy to identify.  Getting off the trails is easy and encouraged, but watch for plants that can trip you and crawling critters you may not want to meet. 
Walkers and wheelchairs are easy to use on the paved road.
Drinking Fountains and Rest Rooms:
There are 13 water fountains or spigots and 12 restrooms available for use in the Canyon. For the locations, see https://www.google.com/amp/s/www.tucsontopia.com/sabino-canyon/amp/?client=safari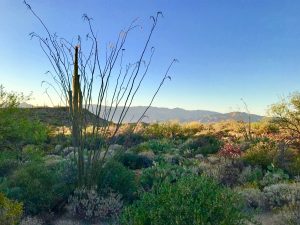 Parking
Try to park in the main parking lot near the Visitor Center. There is a second, overflow lot, but it is 1/4 mile further down the road.
Note: No pets are allowed and no restaurants are located in the Canyon.
WE REPEAT: TAKE AT LEAST 2X THE WATER YOU NORMALLY DRINK. OUR TUCSON FRIENDS CARRY WATER EVERYWHERE THEY GO IN TUCSON BECAUSE DEHYDRATION SETS IN QUICKLY!
Tucson, Arizona draws millions of visitors. Tucson is home to excellent food, relaxing spas, interesting museums, and wonderful people. When there, DO NOT MISS SABINO CANYON!
YOU WILL NOT FORGET YOUR TRIP!