The Amish purposely include a mistake in their quilts because only God is perfect. During the Dust Bowl, worn-out clothing was re-purposed into quilts to keep families warm.
Like you, I have quilts made by my grandmothers, great aunts, and my mom. Growing up, I snuggled under the quilts, tracing the pattern and fabrics with my finger as I settled down for the night. One family quilt went to my daughter and son in-law as a wedding gift. 
Quilts are family heirlooms; symbols of the creativity and strength of women. Quilting Circles find women (and some men) "solving" world problems and sharing the warmth of friendship while creating works of art. I dearly love them. 
Donna Sue Groves, a field representative of the Ohio Arts Council, decided she wanted a quilt square on her barn to honor her mother, a lifelong quilter. With friends from her community, Donna Sue decided that if they were going to paint one square, they might as well paint 20. They thought that the quilt squares might entice tourists to visit rural communities and, in turn, boost the rural economy. Soon, other communities were contacting Donna Sue to see if they could join her quickly expanding project. And join they did! The result is America's Quilt Trails!
Follow a Quilt Trail for a day trip.  Quilt Trails are perfect for senior travel. Take your grandchildren and have them play Sherlock Holmes as barn quilt spotters! Quilters will especially enjoy searching out barn quilts and identifying each quilt pattern.
Special thanks go to Susan Dodson of Smoky Mt. Barn Quilts for her help identifying the quilt patterns you see here. Susan does custom, hand-painted quilts of various sizes. So, if you want a barn quilt of your own, please contact Susan: 
Smoky Mt. Barn Quilts

Susan Dodson

(865) 475-7032

Smokymt.barnquilts@gmail.com

Smokymt.barnquilts on Instagram

Smokymt.barnquilts on Facebook
There are now Quilt Trails in 43 states! Here are a few:
Country Barn Quilt Trail, Western New York
Barn Quilt Association, Garrett County, Maryland
Appalachian Quilt Trails, Eastern Tennessee
Yadkin Valley Quilt Trail, North Carolina
Oconee Heritage Quilt Trail, South Carolina
Paint Creek Patterns, Ohio
Southern Ohio Barn Quilts
Barn Quilts Of Sac Valley, Iowa
Southern Quilt Trail in Georgia
Quilt Gardens in Indiana
Grand Traverse County, Michigan
Oktibbeha County Barn Trail, Mississippi
The Boonslick Area Quilt Trail, Missouri
Upstate Heritage Quilt Trail, South Carolina
Terry County Quilt Trail, Texas
Wisconsin Barn Quilt Trails
To search for a Quilt Trail near you, go to: barnquiltinfo.com
The quilt square project has taken a strong hold in Appalachia in rural counties throughout Kentucky and Tennessee.
MY SEARCH FOR BARN QUILTS IN TENNESSEE
I started by depending on GPS for barn quilt sightings. However, that method soon proved frustrating. Some barn quilts mentioned online were LONG gone. Other times, GPS took me on roundabout routes. I followed one gravel road up a mountain in Tennessee that was covered in ice. My car got stuck sideways on a narrow stretch of road and I spent about 35 minutes freeing my car (please don't follow icy, remote roads-lesson learned!). There were even times when GPS had me traveling the same stretch of road several times in search of the "next" barn. I decided to depend on luck instead.
Of course, luck needs help so I headed to Rutledge, Tennessee, one of the places where the Appalachian Quilt Trail (AQT) is headquartered. Scenic Route 11 W from Knoxville to Rutledge has barn quilts every few hundred yards. Rutledge is surprisingly small, even for a rural town. The churches and tiny schoolhouse in Rutledge were Americana at its best.  My eyes, though, were focused on the quilt blocks so I moved on. 
Highway 90 heading south from Rutledge back to Highway 40 has several gorgeous barn quilts too!
See a list of barn quilts, by county, in Tennessee at vacationaqt.com.
Among the barn quilts I photographed in Tennessee were the following: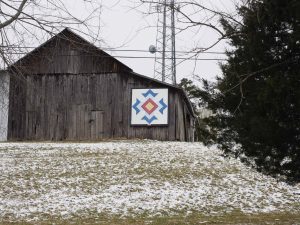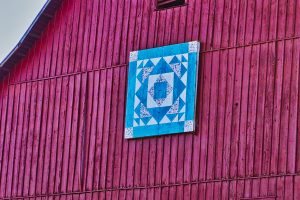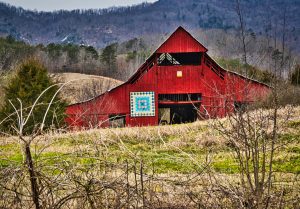 Trip Around the World in Grainger County, TN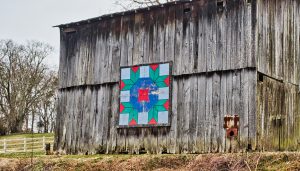 Hands Around the World, Highway 90 South from Rutledge, TN in Grainger County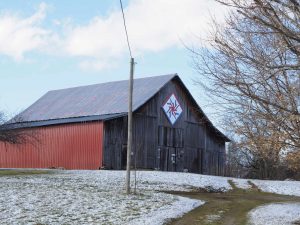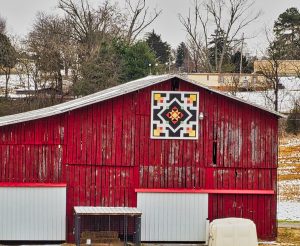 Echo Valley Farm, Jefferson County, TN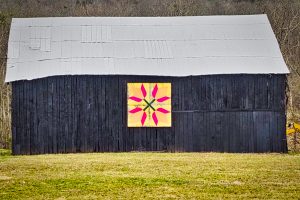 Tennessee Tulip, Grainger County, TN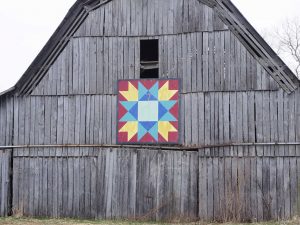 Mountain Variation in Grainger County, Tn
I only drove a portion of the Appalachian Quilt Trail in Tennessee. The Appalachian Quilt Trail boasts more than 130 quilt barns in 19 counties in Tennessee! For details on the Tennessee barn quilts, check out:
Appalachian Quilt Trail: (888) 775-4278
Celtic Quilt Trail in Houston County
A Stitch In Time: National Civil War Quilt Trail in Stewart County: (931) 202-5706
Northeast Tennessee Quilt Trail: (423) 753-4441
Quilts in the Smokies Trail: (877) 237-3847
Southern Middle Tennessee Quilt Trail: (931) 762-6913 ext. 3
Upper Cumberland Quilt Trail: (931) 284-1777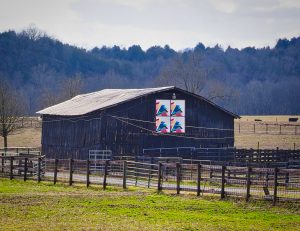 ONE KENTUCKY QUILT TRAIL
The first quilt square in Kentucky was painted and hung in Carter County by local volunteers with support from the Gateway Resource Conservation and Development Council. I photographed the following barn quilts (mostly in Boone County, Ky). For a listing of counties in Kentucky with barn quilts, go to: artscouncil.ky.gov.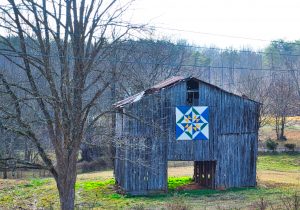 Boone County, KY
Sunbonnet Sue found on 1590 heading south, Boone County, KY

Boone County, KY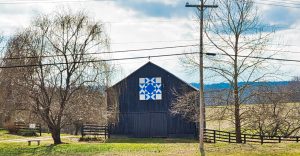 Highway 90 E in Boone County, KY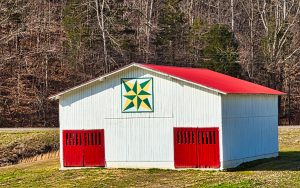 Mariner's Compass, Highway 90 E, Boone County, KY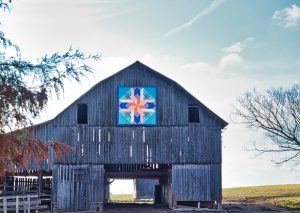 Boone County, KY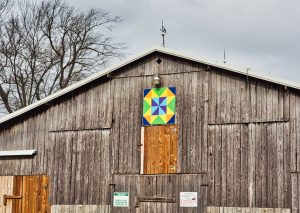 Pieced Star, Boone County, KY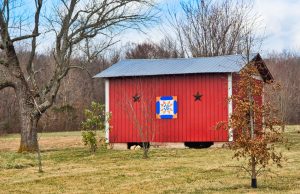 Star In A Star Variation, found in Summer Shade, KY on Highway 90 S in Boone County, KY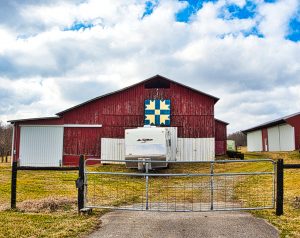 Goose Tracks or Signal, Boone County, KY
Bird of Paradise, found in Marrowbone, KY on Highway 97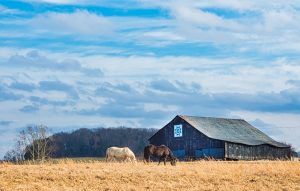 Boone County, KY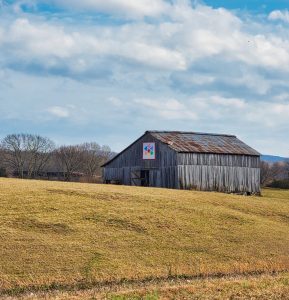 Novel Star Variation or Morning Star Variation, Boone County, KY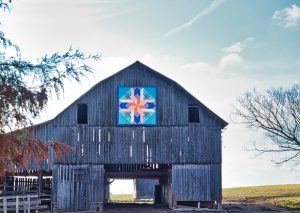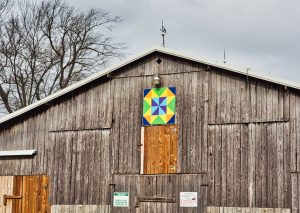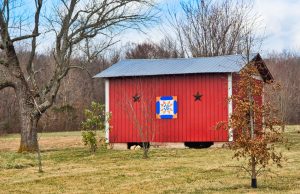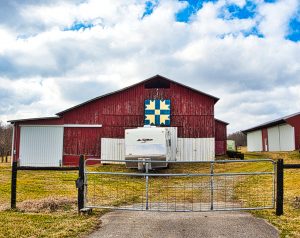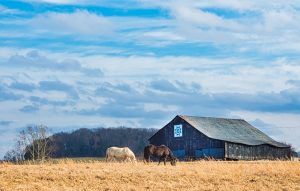 If you love quilts as much as I do, you will devote lazy afternoons to following America's Quilt Trails. Send Photos! Help me identify the quilt patterns I don't have names for in this post! Enjoy!!!