As seniors, we all grew up with Davy Crockett! (well, Fess Parker) He was brave enough to fight bears,  courageous enough to tame the frontier and stood for always doing what is right. He was also a real American. This particular senior travel was meaningful to us because Davy is a childhood hero of ours. My brother and I actually had a Davy Crockett clubhouse in our backyard!
We decided to track Davy Crockett through Tennessee to learn more about the man who preferred to be called David Crockett!
HOW DO YOU TRACK Davy Crockett IN TENNESSEE?
We tracked Davy to four locations in the state. You can track him too!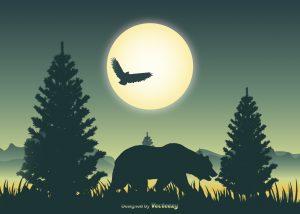 CROCKETT STOP 1:  BIRTHPLACE 
The TV ballad says Davy Crockett was "born on a mountaintop in Tennessee."  Not so.
Davy Crockett was born near the town of Limestone, Tennessee in 1786, so we first headed to the David Crockett Birthplace State Park which is about 10 miles east of Greeneville, TN. Davy Crockett was the fifth of nine children born to John and Rebecca Crockett. 
Crockett himself said that he was born "at the mouth of Lime Stone, on the Nolachucky River." When we arrived at the park, we sat on the banks of the river and imagined Crockett's family bathing, getting water, fishing and hunting in and around the Nolachucky River.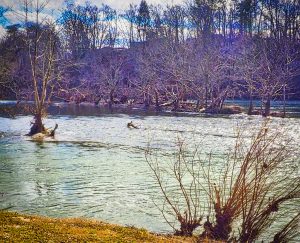 Crockett said his brothers almost drowned in the Nolachucky trying to paddle over "a fall in the river, which went slap-right down." *
The re-creation of the Crockett Homestead in the David Crockett Birthplace State Park was the most satisfying stop on our entire journey. 
The Park is remote and uncluttered. No city parking lots or buildings encroach here. The countryside is quietly peaceful which allowed us to feel as if we were spying on life as it was lived on an 18th century farm. We walked quietly in deference to the history here and to honor all pioneers.
Although we saw original buildings at later stops, the Homestead allowed our imaginations to soar.
The original Crockett cabin was dismantled and the timbers reused by the people who purchased the land from Crockett's father. Those same timbers were, in turn, used once more to build the replica of the Davy Crockett birth cabin which stands today.
| | |
| --- | --- |
| Davy Crockett replica birth cabin in Davy Crockett Birthplace State Park, TN | "Window" and mud mortar of the Crockett birthplace cabin, TN |
| | |
| --- | --- |
| Chimney of re-created birth cabin. |  Pony on the Homestead |
The recreated typical 18th century farm allowed us to walk into the past.
| | |
| --- | --- |
| | |
| Unmarked cross with date on Homestead | Poles in Vegetable Plot |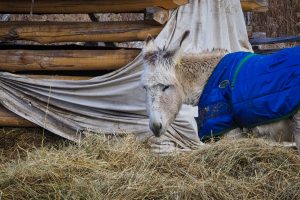 David Crockett Birthplace State Park
1245 Davy Crockett Park Road
Limestone, TN 37681
(423) 257-2167
GPS Coordinates: 36.2068-82.6582
Crockett's father taught him to shoot a rifle when he was just 8 years old. As a youngster, he eagerly accompanied his older brothers on hunting trips. But, when he turned 13, his father insisted that he enroll in school. After only a few days of attendance, Crockett fought the class bully and was afraid to go back lest he face punishment or revenge. Instead, he ran away from home and spent more than two years wandering while honing his skills as a woodsman.**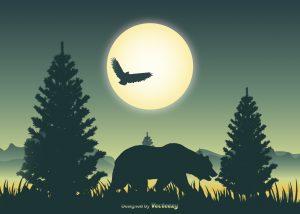 CROCKETT STOP 2: JOHN CROCKETT'S TAVERN
The Crockett family moved to Morristown, TN, a few years later. Here, Davy's father, John, opened a Tavern. The Tavern was our second stop.
We couldn't help being surprised at the distance the Crockett family traveled to relocate from Limestone, TN to Morrisville, TN!  It took us almost an hour via US 11 N to drive the 43 miles between the two locations! Think of the determination and logistics it took to travel that far west in the early 1800s!
We were a little disappointed by our stop at the Crockett Tavern in Morrisville, TN. The first disappointment was that the reproduction of the Crockett Tavern closes for the winter season so we were unable to get inside. Further, historians actually believe the original site of the Tavern was, in reality, nearby-where a gas station is now. Secondly, the Tavern is located on the side of an old 2-lane highway among normal small town industry and businesses. Those surroundings take away some of the magic of the replica Tavern. Even with that, the building is beautiful!
| | |
| --- | --- |
| Joints of Crockett Tavern in Morrisville, TN | Crockett Tavern in Morrisville, TN |
| Crocket Tavern windows in Morrisville,TN | |
John Crockett Tavern Museum
2002 Morningside Drive
Morristown, TN 
Hours: May-Oct: Tuesday through Saturday, 11-5;  Closed Sunday-Monday.
(423) 587-9900
Call before arrival to make certain the Tavern Museum is open.
In 1813, after the War of 1812 broke out, Crockett served as a scout in the militia. He was stationed in Winchester, Tennessee. He later joined the mission to seek revenge for the attack by Creek Indians on Fort Mims, Alabama. After the Creek Indian War, he re-enlisted in the militia as a third sergeant. He was discharged as a fourth sergeant in 1815 and went home to Tennessee.
Lawrenceburg, TN was the next home to Davy Crockett. This is where Davy launched his political career and failed as an entrepreneur. A flood destroyed a mill and distillery complex he built. There is a replica of Davy Crockett's political office in Lawrenceburg.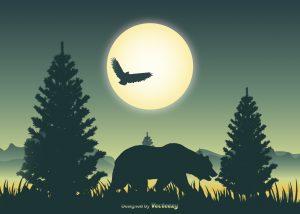 CROCKETT STOP 3:  LAST HOME IN TENNESSEE
Crockett's last home in Tennessee is in Rutherford, a very small town two hours north of Memphis.  Colonel Crockett lived here from 1822 until the fall of 1835.
We found ourselves both reverent and annoyed in Rutherford. This cabin was restored from the timbers Crockett used in his last home. The museum inside has furniture, tools and more from the 1800s. His mother, Rebecca is buried here, making it an important historical site in the saga of Davy Crockett.  The fact that this was Crockett's last home before leaving for Texas makes it especially interesting and emotional.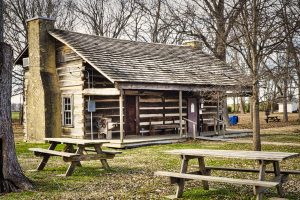 However, the circumstances of this historic site appear to be an after thought which is disappointing. The cabin and grave are on a small plot of land virtually surrounded by a school parking lot.  To us, it is a lesson in preserving historic sites before it is too late to also preserve the prestige, ambience and importance of each.
Davy served as a member of the Tennessee  State House of Representatives from 1821-1823. In 1825, he again ran for U.S. Congress.  In 1829, Crockett ran as a critic of President Andrew Jackson and strongly opposed Jackson's Indian Removal Act. He was the only person from the state to oppose the bill. Crockett subsequently lost his seat in Congress.
| | |
| --- | --- |
| Rebecca Crockett's grave, Davy Crockett's mother, Rutherford, TN | Original timbers on Crockett's last home in TN |
| Crockett's Crockett's last home, Rutherford, Tn | Dovetail detail on Crockett's last home in TN |
His reputation as a frontiersman grew during these years. Crockett became a professional hunter. He would kill black bears, sell their pelts, oil and meat to support his family. During the winter of 1825-1826, Davy said he killed 105 bears in just 7 months!
He campaigned for Congress once more wearing buckskin. His campaign strategy was to tell funny stories, carry and share both whiskey and chewing tobacco. This approach worked!  He finally won a set in the U.S. House of Representatives in 1826.
He was elected to Congress once more in 1833, the same year he wrote his autobiography. By this time, Crockett was a national living legend.
Davy Crocket Cabin and Museum
219 Trenton Street, Old Highway 45 W
Rutherford, TN 38369
(731) 414-4028
Call prior to arrival to make certain the cabin is open.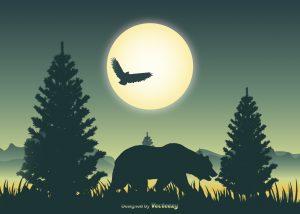 HEADING TO TEXAS
Davy's Congressional service ended in 1835, when his re-election campaign ended in defeat. At age 50, upon losing his Congressional seat, he is reported to have said, "Go to hell, and I will go to Texas."
See our blog post in which a Texan talks about why the Alamo is sacred at: http://thetravelingseniors.com/the-traveling-se…iew-at-the-alamo/
and our video on the Alamo at: http://thetravelingseniors.com/videos/
Though the settings were sometimes a disappointment, there is no denying the historical and emotional connections to be found tracking Davy Crockett in Tennessee! If you love history and Davy Crockett is a figure you greatly admire, we recommend following the footsteps of Davy Crockett through Tennessee!
*Wikipedia
**Biography.com