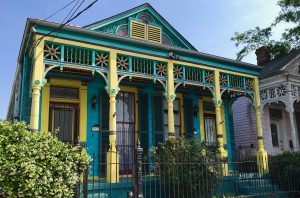 New Orleans: Let the Good Times Roll! The Big Muddy. The Big Easy. The Mighty Mississippi. The Mardi Gras City. What can you say??????? GOOD TIMES, GOOD FOOD AND GREAT MUSIC, that's what!!!
More than Bourbon Street (although you just HAVE to go there!), NOLA is a kick in the pants, a cultural experience, and a place no one should miss!
Hotel
We were lucky enough to stay at the AC Hotel New Orleans Bourbon at 221 Carondelet Street in New Orleans. A block from Canal Street where we crossed into the French Quarter, the location was perfect! The hotel does not have a restaurant but who cares? New Orleans means gourmet food, people!
Oceana Grill
Our first meal was at Oceana Grill (739 Conti Street), sitting amongst the world-famous music venues and nightlife of the French Quarter! We were seated in the interior courtyard and WOW! The seafood, Cajun and Creole food was incredible, the atmosphere romantic and quaint and the dessert-well, just look! The Shrimp Creole was out of this world and the service was superior! Vegetarian dishes are available too. Go around 7 p.m. and you'll avoid the crowds. Oceana (oceanagrill.com) is moderately priced for New Orleans and has hosted such celebrities as Drake, John Goodman, Fats Domino, Mark Wahlberg and more! Oceana serves breakfast, lunch and dinner. (Breakfast: 8 a.m.-1:00 p.m.; Lunch: 10 a.m.-4:00 p.m.; and Dinner: 4 p.m.-1:00 a.m.)
Neon Lights & Watching People
We strolled Bourbon Street and Stu took photography to a fun level by photographing all the neon signs at night.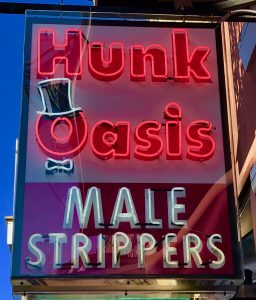 Street vendors, hawkers and trick dogs abound as the music wafts into the streets making the crowds joyous! We stayed late just walking and watching. People watching is an Olympic sport on Bourbon Street!
The Mighty Mississippi
Next morning found us on the Riverwalk, watching the River Boats, barges and early morning people working along the Big Muddy! We sat on a bench as the Mississippi rolled by. I couldn't help it. "Old Man River" kept playing in my head. The bridge across the Mississippi is almost a work of art. Always look behind you for views (as my pal, Stu, always says). At the Riverwalk, the NOLA skyline looms behind you giving you a perspective that cannot be beat.
Trolleys and Neighborhoods
We boarded a trolley ( see our trolley post) with our $3.00 per day passes and rode to the end of the lines. One took us out to the City Park which houses the Museum of Art, the Sydney and Walda Besthoff Sculpture Garden, and where children can ride a small train. NOLA's city park is larger than Central Park. Century-old trees and ponds make the park a respite from nighttime revelry.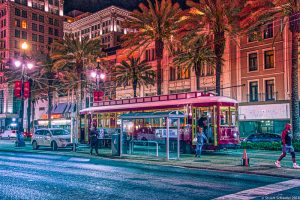 The trolleys are so easy to use.  It is such a relaxing, inexpensive way to see New Orleans' neighborhoods. Don't miss the Garden District! Charming oak-shaded streets are lined with beautiful homes from single-story cottages to massive mansions and lavish gardens. Lafayette Cemetery is filled with ornate, 19th-century tombs while boutiques and antique shops intermingle with restaurants, cafes and local bars on Magazine Street.
Go to the Arts District (Warehouse District) and spend a day touring the nationally renowned museums and galleries just a few blocks from downtown NOLA. Across the Esplanade from the French Quarter, you will find the Faubourg Marigny & Bywater Neighborhood. If you are up for a ferry ride, go to Algiers and see one of the city's oldest and quietest neighborhoods-from there, photographers will find spectacular skyline views.
The Treme' neighborhood is so colorful and Lakeview and West End Boulevard take you to the Lakeview neighborhood, giving you a taste of living on the coast and is, again, only a short ride from downtown. Round out your tour with Eastern New Orlean's historic Holiday Cross neighborhood, the 9th Ward and Gentilly Terrace.
Bourbon Street Food
As night fell, it was back to Bourbon Street! We had a wonderful meal at Bourbon House, 144 Bourbon Street (bourbonhouse.com). Dickie Brennan's Bourbon House is all about seafood. Breakfast, lunch and dinner are all delicious here! We both ate seafood platters here for a total of $75-yes, we splurged. We were celebrating the beginnings of our 5-week sojourn and, besides, how often do you get a chance to eat NOLA's gourmet food?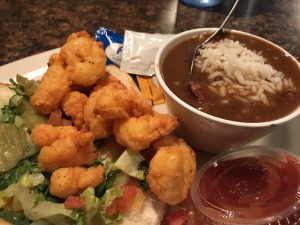 One of our favorite places on Bourbon Street is Cafe Beignet at 334 Royal Street. Open 7 a.m.-10:00 p.m., this is a go-through-a-line place for food that is fine but the huge attraction here is the live jazz!!! Get some sweet tea, sit at one of the many wrought iron tables, listen to a bubbling fountain and the golden melodies.
The place is packed at night with people sitting on nearby walls and standing in the street listening to "When the Saints Go Marching In", and favorites made famous by Blue Eyes himself. Sing along! Our evening was filled with a sweet southern breeze, starlight, cold drinks, meeting people and singing along to some of our favorites!
As we left the City, we headed straight to the famous Cafe Du Monde for beignets!!!! If you are in NOLA, you HAVE to have beignets! AMAZING! The lines for the Cafe were a block long so we went unfulfilled, I'm afraid. A bonus though was a drive through streets of "shotgun" houses and brightly-painted Victorian cottages. See? You simply cannot lose when you visit New Orleans!
Question: What is your favorite restaurant in New Orleans?