When Stu and I first cooked up a 2018 backroads trip from Florida to the Grand Canyon and back, we had no real idea what it would cost. We researched online blogs and found someone who had posted that a recent trip from Florida (where I planned to meet up with Stu) to the Grand Canyon cost about $3,700. So, we each budgeted about $4,000 apiece for the trip. We didn't set an end date for our trip or a precise budget. We planned to stay on the road as long as we wanted. This road trip ended up being from northwest Florida to southern Utah and back and lasted 36 days.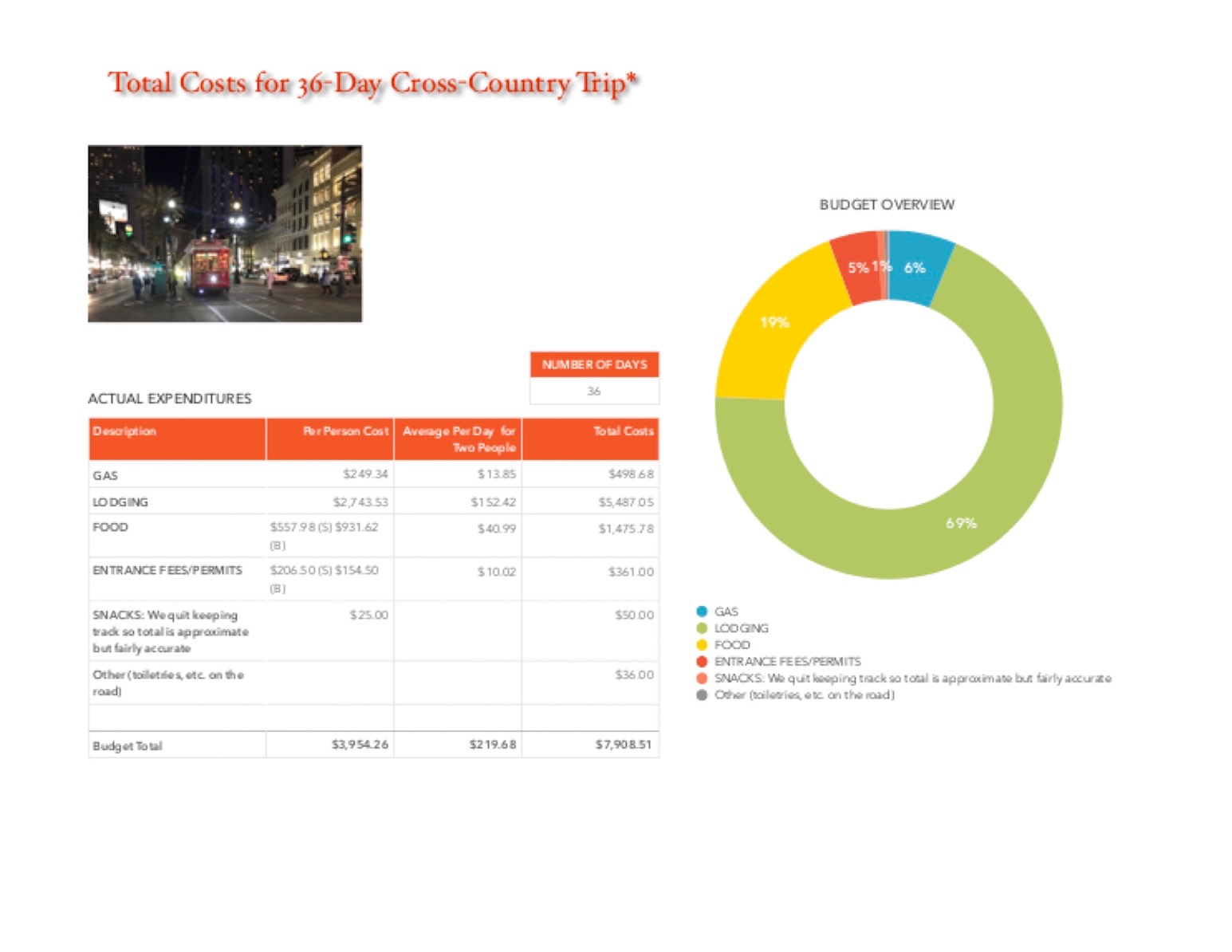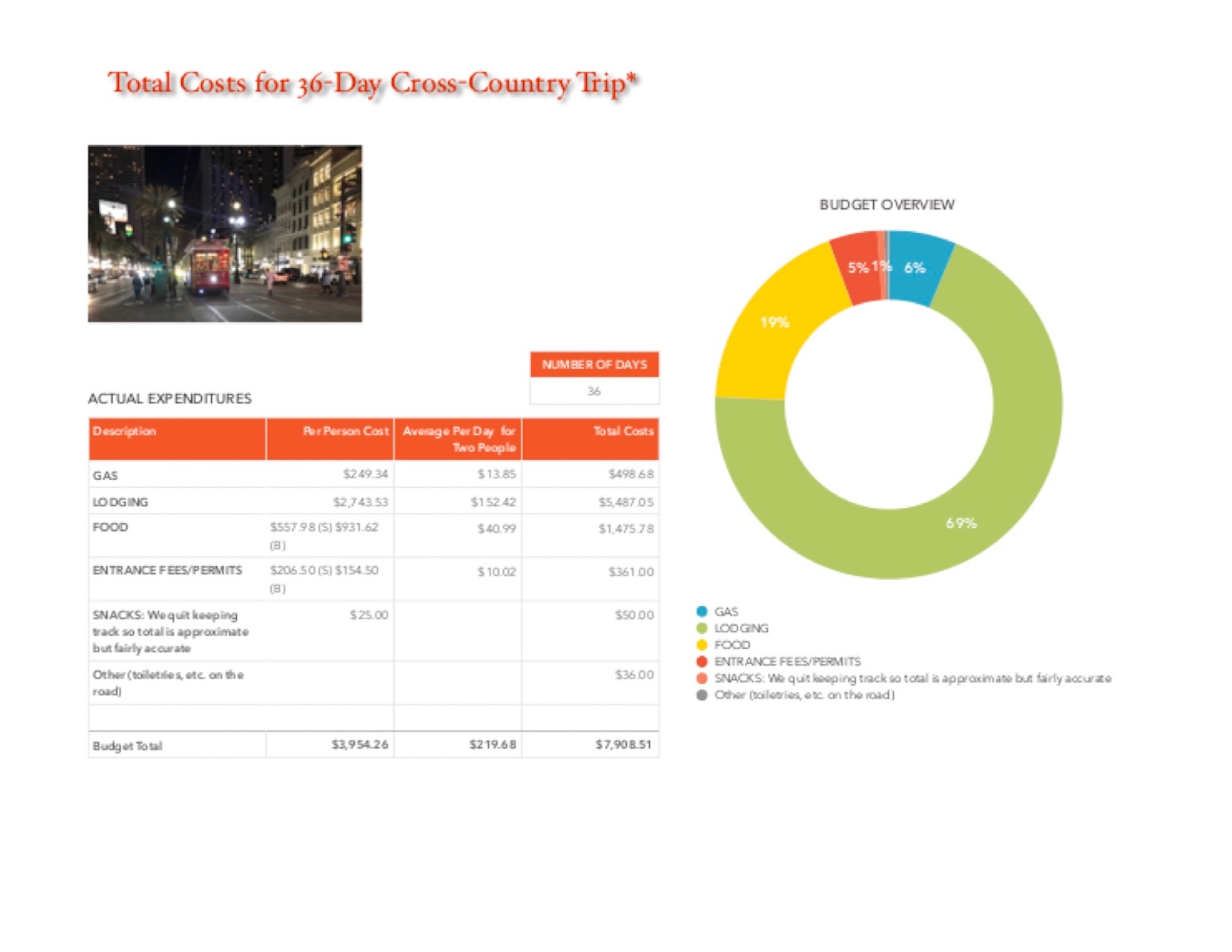 CASH
Each of us took different amounts of cash to start the trip. Stu never had to hit an ATM at all during our 36 days. I stopped at an ATM 3 times during the trip so I had the added costs of the ATM fees. (some towns didn't have a Walmart where you can buy a 10 cent item and withdraw money-ALWAYS cheaper than an ATM)
We agreed that we would each pay our own way. And we did!
We kept track of gas, food, lodging, snacks and supplies in a small notebook and kept all receipts to refer to when the trip was over. Credit card statements also helped track expenses. We may try one of the great apps available for two people to keep track of expenses next time but this method worked just great for us. By the end of the trip, Stu owed me for gas and food but I owed him for lodging. He smiled as I wrote him a check for $355.85. Amazingly, we were within $141.34 of each other on gas costs!
GAS
We took turns filling the car with gas. The most expensive gas we encountered was in Page, Az at $3.90 per gallon. The least expensive gas was $2.59 per gallon. The SUV we were driving got about 31 miles to the gallon on the highway. One tank of gas let us travel over 400 miles!
FOOD
Since we were paying for our own meals, we each ate whatever we wanted. If you look at the expenditures, you can see I ate like a horse! I am going to argue that it is understandable when my standard dinner is thanks to Lean Cuisine!
The most expensive dinner was in New Orleans at $75 for the both of us (we didn't conserve in NOLA because the food is so incredibly good)! Our cheapest lunch was in Springdale, Utah at a wonderful Mexican restaurant (two soft tacos for $2.99!).  One night in Levelland, Texas, a pizza place tried 3 times to make us a pizza. It took over an hour but we hadn't noticed because we were talking each others' ears off. Finally, the pizza arrived (it was good) but due to the delay, they only charged us $5.00 for the pizza (we STILL think someone made a mistake).
Our goal was to only eat in mom & pop places and local diners to guarantee great home cooking and local flavors. There were, however, times when we had to resort to fast food and stopped at Taco Bell, Burger King, IHop and Denny's. Keep in mind that sometimes we ate gourmet meals and sometimes grilled cheese. One evening, I wasn't hungry so Stu bought a $6.00 frozen Lean Cuisine in the hotel's incidentals shop. By contrast, in Arizona one evening, a delicious dinner was three courses.
LODGING
Lodging ate our money. Stu isn't into camping. After the first week's spending, we oldies decided to share a room with two queen beds at night. Being pals, we shared a bathroom and it worked out great! That helped keep expenses down a lot.
However, we stayed in comfortable hotels with lots of amenities and splurged in New Orleans; Springdale, UT; and in Tusayan, AZ near the Grand Canyon and on the way back to Florida in Biloxi. There were hotels where the room cost us $55.00 for the night. Some cost close to $300 per night. Luckily, Stu has a Best Western Rewards card and we concentrated on using Best Western Hotels. We were really impressed overall since each one offered free hot breakfasts and other amenities that were important to us.
We have a separate post on Choosing Lodging As Seniors 
that discusses our criteria for selecting hotels. On this trip there was only one time when the hotel Internet was not useable. That killed us posting for a night and put us behind in our blog work and photo post-processing. Over the course of a 36-day trip, Stu attained enough Best Western points to attain Platinum status. He is SO excited about that!
We decided not to worry too much about saving each day. We were on the trip to have fun and adventure. And that is just what we did!
If you have any questions about how we spent money on this trip, email either of us on the blog.
BY THE WAY, WE EACH CAME IN UNDER WHAT WE INDIVIDUALLY BUDGETED FOR THE ENTIRE TRIP.  ON TO THE NEXT ONE!!!
*My expenses getting to Florida to meet up with Stu are not included in the expenditures.