Take a backroads trip through rolling grassy hills covered with bluebonnets and other wildflowers on The Camino Real de los Tejas National Historic Trail. See nps.gov/elte/planyourvisit/maps.htm.
Once a year, my grandmother, in her 80s and 90's would take a trip from Kansas City to Texas to see her son and the bluebonnets. Now I understand the bluebonnet part.  I don't think Stu or I expected the beauty of the eastern Texas hill country since neither of us had ever been there. Waving grass, wildflowers, huge skies and curving backroads is the image that comes to mind when someone says, "a perfect spring/summer day." THAT is the eastern Texas hill country. The breeze feels fresh, the fields are green and your memories will attest to the beauty of "the real America."

Not only that, traveling the El Camino Real de los Tejas Historic Trail is taking an adventure into the past. You'll find stories of trailblazers, explorers, missionaries, and settlers, and how they helped shape the history, culture and landmarks while you explore America. Follow this backroads route and you can trace the history of Texas and northwestern Louisiana along trail segments, river crossings, historic sites, and communities.
HISTORY
In 1598, Don Juan de Onata led 500 colonists through remote and unfamiliar territory in what is now Texas and Louisiana. The route became known as the El Camino Real or "the Royal Road". For many years, it was the longest road in America and is a thoroughfare dating from the 18th century Spanish colonial era in Spanish Texas.
The corridor that would become the Camino Real de los Tejas National Historic Trail was begun on expeditions that took place between 1686 and 1690 to find and destroy a French fort. The route was refined in 1691-1692 by the first governor of Spanish Texas, to make connections to the Spanish missions in East Texas.
THE ROUTE
The Camino Real de los Tejas National Historic Trail is not a single road but is a network of regional routes separately known as the:
Camino Pita

the Upper Presidio Road

the Lower Presidio Road

the Camino Arriba and,

the San-Antonio-Naogodoches Road of the mid-19th century.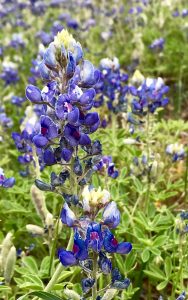 In 2004, President George W. Bush signed into law the El Camino Real de los Tejas National Historic Trail.
This is a backroads trip not to be missed!
Question: Have you seen Texas Bluebonnets in the spring?