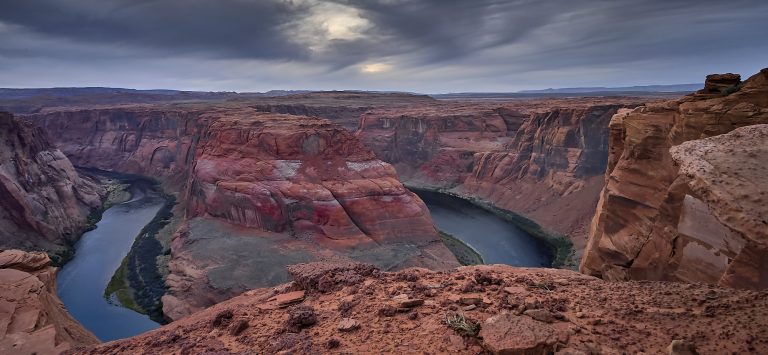 Horseshoe Bend located in Page, Arizona is a horseshoe-shaped incised meander of the Colorado River. Was able to capture this early evening shot during our visit to the area in April 2018.
After you park your car it's about 1.5 mile round trip walk to view the river.The parking area is located just off U.S. Route 89 within southwestern Page. Things have changed since our visit in 2018 as there is now a fee to park your car.
Horseshoe Bend Fees are as follows:
Motorcycle: $5
Car or RV: $10
Commercial Van/Bus: (Passenger Capacity up to 14) $35
Commercial Bus: (Passenger Capacity 15-35) $70
Commercial Bus: (Passenger Capacity over 35) $140
Hours of Operations: 
Horseshoe Bend is open year-round from sunrise to sunset. Their busiest times of the day are between 9:00am to 11:00am in the morning and 4:30pm to 6:30pm in the evening. If you enjoy fewer crowds, try scheduling your hike around these busy times. There is no overnight parking or camping allowed.
This is definitely one of those you need to add to your bucket list. Oh and absolutely don't forget your camera.
Please visit this link CITY OF PAGE ARIZONA for up to date information about Horseshoe Bend.